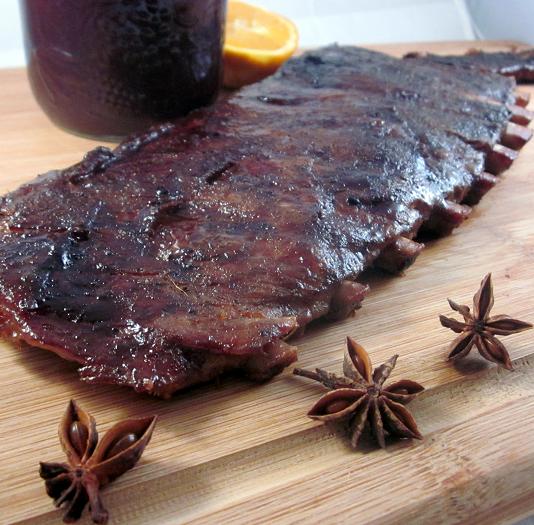 This BBQ Sauce is as close to an original recipe as I've ever come up with. I know, nothing is new and every recipe has already been thought of by someone, but I take some pride piecing this frankensauce concept together. It's a traditional American backyard BBQ sauce at heart (with a built-in balance of sweet, sour, spicy and salty that I learned from Nick at Memphis Blues BBQ House) with summer blackberry sweet-tartness as it's body and the brain of a Chinese fire-roasted duck. It's just thing to slather all over fatty pork ribs.
Pork spareribs are a super cheap cut from the lower portion (down near the belly) of the pig's rib cage. They have long been a thrifty-yet-delicious staple in Chinese, Vietnamese, Southern and South American cooking. If you can find a "St. Louis Cut" rack, that means you've got a butcher nice enough to remove the (oftentimes aggravating) rib tip and cartilage flap for you. This makes a nice rectangular-shaped rack 'o ribs that needs very little processing before you can throw it over coals.
If you're BBQ has been stolen by your good buddy Ross, don't worry! *laughs* You can actually cook your ribs low and slow in your oven (same recipe, just ignore all the charcoal talk). It's a tasty substitute, but you lose that primal, smoky quality that only comes from burning coals.
Luckily I've got a spare BBQ loitering in my back yard, an outdoor lounge chair, a book about oysters my Southern family sent me and a couple hours of late summer sun to squeeze out of this long weekend.
Blackberry Hoisin Sauce (Makes roughly ¾ cup)
Ingredients
1 ½ Tbls. (22ml) Vegetable Oil
½ Medium White onion (100g -chopped)
2 Large Garlic Cloves (12g – smashed 'in chopped)
½ Thumb of Fresh Ginger (8g – chopped)
½ cup (120ml) Red Wine
13 oz. (368g) Fresh Blackberries (washed and picked through for bugs)
½ Cinnamon Stick (0.5g)
2 Star Anise pods (0.6g)
2 Long Orange Zest Shavings (4g)
2 Tbls. Brown Sugar
1 oz. (30ml) Soy Sauce
1 oz. (30ml) Balsamic Vinegar
3 Tbls. Chinese Hoisin sauce
2 ½ Tsp. Cornstarch (mixed with an equal amount of water)
Method
Fire up a sauce pot on medium heat and add the vegetable oil. Sauté the onions, garlic and ginger nice 'n slow for 3 minutes without browning.
Splash in the red wine (Fssshhh!) and bring to a simmer. Add the blackberries, cinnamon, anise and orange zest. Slap a top on and simmer on low heat for 10 minutes.
Carefully Strain the solids out and reserve the liquid in a heatproof container. This liquid is both boiling hot and will stain anything it touches! Exciting! Wipe out the sauce pot and pour the liquid back in. Add the soy, vinegar and hoisin sauce and bring it back up to a simmer.
Whisk the cornstarch and water mixture into the simmering sauce and keep it moving at that temperature for a minute or so. The slurry will thicken the sauce immediately to a consistency that will coat the back of a spoon (nappe). The sauce can be refrigerated for up to a week, and the balance of flavours actually improves after a night sitting in the dark.
BBQ Pork Spareribs (Serves 2)
Ingredients
1 ½ lbs. Pork Spareribs (rib tip and cartilage removed)
1 Tsp. Sichuan Peppercorns
2 Star Anise Pods
1 Tsp. Fennel Seeds
3-4 Whole Cloves
½ Cinnamon Stick
1 Tbls. Kosher Salt
½ Tsp. Black Pepper
1Tbls. Brown Sugar
½ Cup Blackberry Hoisin Sauce (recipe above)
Method
Trim the thin membrane off of the bone side of the spareribs – Take a knife and scrape the tip along one of the bones. Once the membrane breaks, grab the edge with a paper towel and slowly pull down the rack. With practice the membrane should come off as one mass, but if it rips just make another incision by the nearest bone and start again.
Buzz up the Sichuan peppercorns, anise, fennel seeds, cloves and cinnamon in a food processor or coffee grinder nice and fine. Mix with the salt, pepper and sugar and rub generously all over both sides of the spareribs. Let the rubbed ribs sit at room temp for about ½ hour before throwing them on the grill.
Prepare your grill by heating up your charcoal and spreading them in a single layer over only half of your BBQ's bed. Close the lid and keep your eye on that temperature gauge. During the 3 hours total that your ribs will be cooking the temperature cannot go any higher than 275-300˚F (140-150˚C).

 

Once it hits this ideal temperature, place the ribs on the side of the grill without any charcoal underneath and close the lid. We don't want to directly grill the ribs, just slowly render it in it's own fat through indirect heat. If you want to add some smoke to this process you can toss a chunk of apple or cherry wood or whatever you want onto the coals.
After about 40 minutes the temperature will start to dip inside the BBQ as the coals burn themselves out. Add a handful of fresh charcoal over top of the older stuff and re-seal the lid. It will only take a couple minutes to get the new charcoal lit. Repeat this process every time the charcoal burns out.
After 2 ½ hours in the BBQ, carefully remove the ribs (watch out! They're already so tender that they'll rip apart with the slightest force) baste them all over in the blackberry hoisin sauce and wrap them tightly in tinfoil. Put them back on the unlit side of the BBQ and close that lid for a final lap. At this point I usually go play in the garden for the next half hour or so. The heat in the BBQ will gently die off and your ribs will hang out, keep warm and finish getting all tender and delicious. You can give it a last lick of BBQ sauce at this point just before you dig in, just remember to serve with lots of napkins!
Music For Grilling This To:
Willie Dixon – I Am The Blues