A lifetime ago I wrote a rambling treatise on how to stay sane in the culinary industry. I'll spare everyone and summarize what, back then I thought would save cooks from burning out in a pre-covid world that already had it in for our tortured little industry: Love. You really had to love eating and kitchen folk and the process of cleaning, prepping and transforming food. I'm ashamed to admit it but despite my own words etched into the internet, I abandoned my tribe nearly two years ago after losing the love.
Fortunately people much smarter, more resourceful and talented stuck around. People like Joe, Carmen and the team over at More Eatery love what they do and do a damn fine job of it. They opened a restaurant in the middle of the pandemic, in a small town that often doesn't understand good food, in the abandoned location that housed a legendary local diner. Any one of these factors alone would have smothered a fledgling kitchen, but they quickly clawed their way to the top of the town's eating scene and have had a regular clientele since, me included.
It's got to be love. You feel it when you walk in the door, confronted with stacks of cookbooks, and jars of various fermentation projects on every shelf. I've thumbed through Gabrielle Hamilton's Prune Cookbook countless times while I wait to get seated or pay our bill. It's that same vibe you have hanging out with friends who know and love cooking, munching on bits and pieces while waiting to flip a grilled cheese with prosciutto.
Speaking of which, the sandwiches are out of control! I know that's jumping ahead a bit, but when the options for lunch include sammies with Korean fried chicken with pickled cukes, Grilled turkey with lemon ricotta and flank steak with chimichurri rojo you have to dive right in. even the grilled breakfast sandwich is top notch. A good sandwich game is a enough to draw me and a good bit of our town eating crowd to their table, but there is more… Not a pun, but apt.
The coffee bar is great, the seating is perfectly situated to give both the illusion of space and the intimacy of long table-style dining. The décor is fun: I never got their peace sign logo until I started to see the collection of likely cheap and royalty-free peace sign art on the walls… Smart branding right there. The little cactus at each table still confuse me, but I'm not a deep thinker so give it time.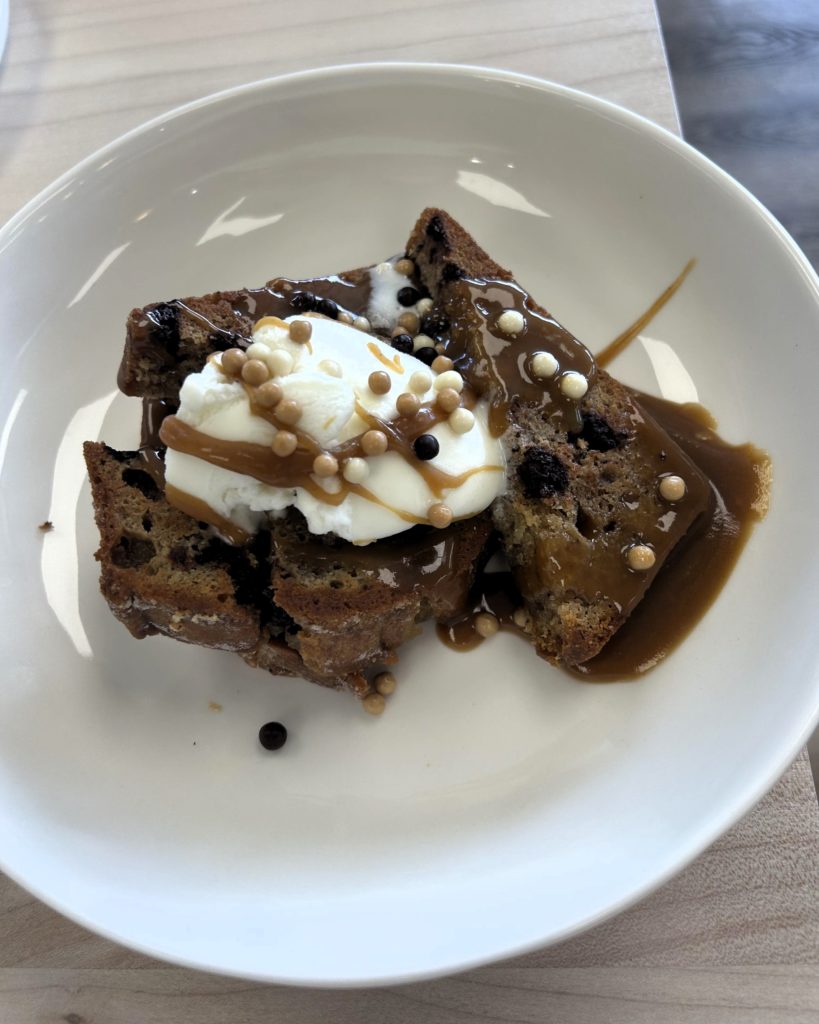 Breakfast is as delightful as lunch with an eclectic selection including steak and egg tacos, the aforementioned grilled eggs and cheese, fried banana bread (Crystal's favourite!) and a wild take on eggs benny featuring corn pudding and a ring of carnitas fried into little hash brown-sized nuggets of deliciousness.
There is a definite focus on breaky and lunch dining so the coffee bar definitely runs the show, but if you are looking for a mid-day pick me up or have the luck to hit up More's brunch on Sundays there is a thoughtful selection of herb and citrus-forward libations that include my fav Aperol spritz, Michelada, Paloma and more types of Caesars and Bloody Marys than you can shake a swizzle stick at.
Finally the tots… The minute you see tots on the menu anywhere you know it's run by people who have slogged a while in the industry. Tots are these perfect, cheap, fried little vessels of flavour possibility that only hardened stoners and cooks really appreciate. To see them utilized on every part of the More menu made me smile.
They also have a take out deli and retail area that features all the kinds of artisanal food stuff you would expect from a Coombs county market or Victoria supply store like organic pork rinds, Momofuku noodles and an infinite selection of preserves.
I once ate one of their take out Rueben sandwiches in a monsoon pacific rain storm back to work and it was a fantastic, though slightly damp experience.
Go eat at More Eatery. If you like food, cooking, culinary culture or just a good plate of tots and melted cheese you will have a good time. Their truly staggering amount of floor staff will take good care of you while the team in the back bangs out a greatest hits of the last twenty or so years of trendy gastronomy as well as some truly surprising and delightful dishes.