My wife and I have spent much of our twelve years together moving from place to place. As nomads, who frequently spend little actual time together (due to me being a cook and her being a normal person, or "normie" as us cooks call 'em) our most cherished moments are those weekly rituals designed to bring families together. Things like shopping, dog-walking, Netflicks binging, and dining. Of special importance are the evenings we dedicate to "eating out". We jump in the car, speed off and spend a couple hours eating at "our place".
At every way-station we have called home, "our place" has been a Chinese restaurant. If you've read my love letter to My Chinatown you probably know that the breakthrough food moment of my life was eating Chinese food with Crystal soon after we met. In Toronto we had the House of Gourmet, in Van. we had the (now sadly defunct) Wonton House, and in Campbell River we now spend countless evenings fighting chopstick duels for the last dumpling at Beijing House.
We've been to Beijing House a lot, and have gotten chatty with the mother and daughter that run the dining room. Like us, the family responsible for Beijing House's brilliant food has moved around a lot. Originally from Northern China via a long stint in Vancouver, they decided to purchase the long-empty Greek restaurant in Campbelton a couple of years ago and have since been producing the best quality Chinese food we have eaten on Vancouver Island. Seriously. Right here in Campbell River. Yes, seriously.
You walk in and it's all red and gold decorations, calligraphy prints and guzheng music. Sadly, no dirty fish tanks full condemned crabs, but hey, the old Wonton House was one of a kind. Cherri (the mom, her name pronounced like the fruit) shows us to our table, pours us some Jasmine tea and always inclines her head to me, asking "Tsingtao?" wondering if I want a beer. Yeah, I always do.
We order our favourites, sometimes try something new and the courses come in a relaxed yet ordered procession to our table. On these "Locals" posts I usually describe a single night's experience at a restaurant, but because we're such regulars I'll instead run through a quick "Greatest Hits" to give you an idea of what we love and encourage others to order.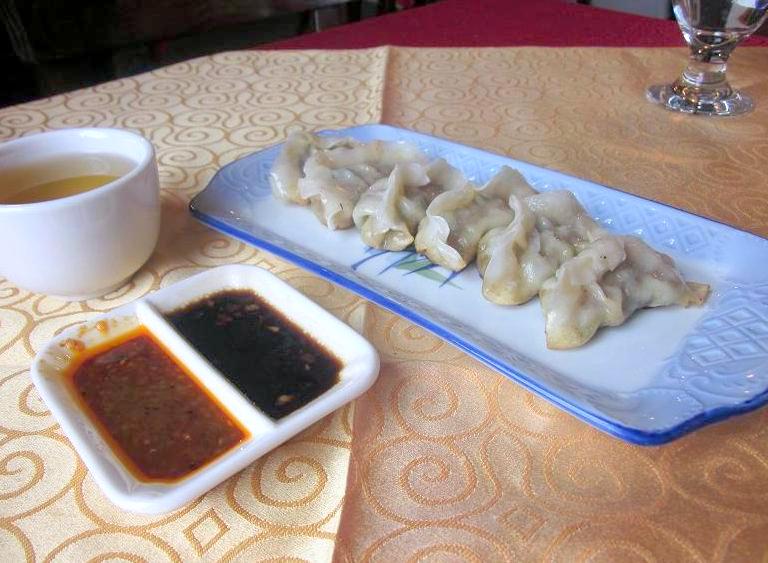 You absolutely have to try the Jiaozi dumplings. They are the best Jerry, the best (anyone old enough for a Seinfeld ref? No…? Sorry, I'll never do it again). Perfectly crisp on the bottom, light and fluffy on top, they are stuffed with pork and sometimes prawns. Delicious! Instead of the usual soy and vinegar dipping sauce, these little pockets 'o love come with a thick Tamari-like soy sauce flavoured with Sichuan "Strange Flavour" spice, and a second dipper made with (from what I can tell) sesame paste, chilli and black pepper.
The Guaiwei  or "Strange Flavour" spice mixture is usually blended into an oil and used to finish many of the dishes served here: most notably the soft house noodles, Chow Mein, and many vegetable dishes like the pre-conception-crushing Simmered Spicy Eggplant with Cloud Ear Mushrooms. This is a flavour and technique from the Sichuan province of China, and showcases the versatility of Beijing House's chef, who swings back and forth between Northern and South Western styles of cooking with ease.  
Crystal always orders the Garlic Broccoli. It's light and simple and clean tasting. The perfect thing to accompany something heavy and slightly oily like…
…Mapo Tofu! Another Sichuan favourite. Now, you may think you know tofu, and you may consider it inedible thanks to some improperly-cooked thing your vegetarian ex made you eat long ago… But this isn't your ex's tofu… Mostly because it bobs around in a sauce made of chilli oil studded with whole star anise cloves and ground pork. The tofu is firm enough to hold it's shape when scooped from the fiery broth it's swimming in, yet still ethereally light and fluffy when bitten into. Even Crystal liked it.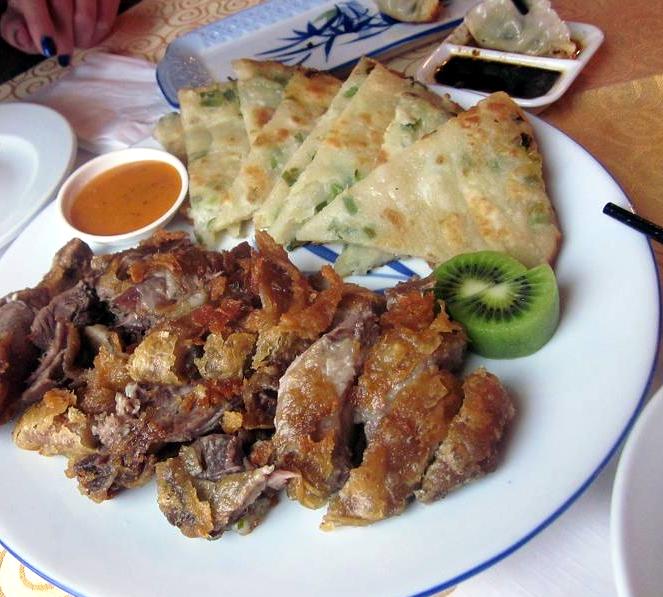 The Crispy-Fried Duck is another dish that we always order, and are never disappointed by. Available as either a half or whole duck, back removed and de-boned to the leg, it is lightly battered and deep-fried (In a wok! Just think about the logistics of that!) and served with scallion pancakes and a tart mango sauce. It's like the crispiest fried chicken you've ever eaten, but with a deeper, duckier flavour.
Finally, I can't talk about Beijing House's menu without shouting out to our favourite dish: Stewed White Fish with Fermented Cabbage!
…All the people who didn't click off this page when I was discussing tofu totally just left.
Alright, I know a dish like that sounds different and scary to most food court Chinese-loving North Americans out there. I was a bit freaked out when I read it on the menu for the first time. But we took a risk, tried it and loved it!
Flounder is lightly seasoned and simmered in a Chinese earthenware pot with a hot and savoury broth flavoured with chillies, Sichuan peppercorns and fermented cabbage. The cabbage imparts a subtle sourness that's really unique and delicious with the fish. The texture of the flounder is like nothing I've ever had. Soft, slightly gelatinous, unctuous (been waiting to use that word for a while!) and so velvety that it almost falls apart when lifted from the pot. Once in the mouth, it melts like butter.
If none of these ideas jump out at you, or you become paralyzed by decision-making situations you can always call ahead and have them prepare a special multi-course meal ready when you arrive. For our anniversary last year Crystal and I had the three-course Roasted Duck Meal, which was spectacular! And if you've got a larger group you should call in and reserve a night of Hot Pot. It's a great interactive meal that promotes a lot of fun, crazy discussion and is really affordable!      
Beijing House is doing something unique in Campbell River, and it deserves to get a bit more love for all that hard work. Unlike the vast majority of the sweet'n'sour buffet restaurants populating our small town, the food here is honest and traditional and made by a family who have brought the best of their former home's cuisine with them to share. Now, you're going to pay a little bit more for that level of quality, but that's life. How much do you care about what you eat and your dinner experience?
My wife and I chose Beijing House to be "our place" for a lot of reasons, but I guess it all really boils down to the food. It tastes amazing, in the way that only a highly-trained and passionate chef can make it. Still don't believe me? Check this review by VanFoodies.
Don't forget your fortune cookie on the way out… Wow, I hope they're always as sexy as mine!