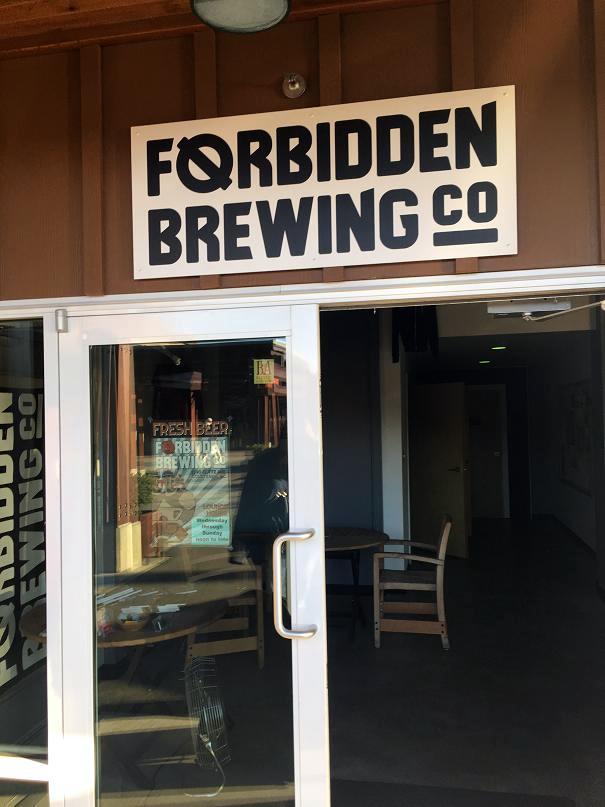 The Vancouver Island brewing scene is evolving at such a breakneck pace that every month or so I have to take a breath, go online or crack open a copy of The Growler and catch up on all the new trends, breweries, beer styles and lingo that I'm already ignorant of. Case in point: The term "Nano brewery" is the handle for a new crop of breweries that (according to this killer Paste article) "makes very, very little beer (say, between one and three barrels, or roughly ninety gallons at a time and boasts an ultra-limited distribution footprint."
This fits Courtney's Forbidden Brewing perfectly. It's ity-bity! There's just enough room inside their tasting room for six tables plus a pool table (watch your back!) and a bitchin tabletop Space Invaders game machine. Despite these physical limitations the Forbidden crew make the absolute most of everything their situation can accommodate.
Other local breweries in our part of the island rent out big dining room-style spaces with patios and footage enough to house some impressive brewing tanks while Forbidden has no patio or back room. There's just enough wiggle room at the bar itself to sit eight people, which makes conversations more intimate. I've been told there's live music there sometimes but for the life of me I can't figure out where they would stand.
It reminded me of the funky Commercial Drive coffee house I used to hit up before work back in the old days: Lots of reclaimed wood furniture, cheap patio chairs and every single inch of wall space they had was covered in designer prints by local artists that sold for less than $40 a pop. Just substitute the coffee for great beer and the oppressive punk rock dank for a breezier surf vibe and it's like going back in time. *laughs* Gods how I wish there were more craft breweries back when I lived in Van!
Their economy of space didn't affect their beer menu though. When Crystal and I went in they had six beers on tap running the gamut from light to dark, three of which were organic. We both got flights and between the two of us got to taste everything on the blackboard.
All the organic beers on the menu are top notch! The pilsner and saison were especially badass and the pale ale would stand up next to most workhorse ales on tap at any of your local breweries. Each had a really bright, polished flavour and shied away from the over-hoppiness that can typify so many Westcoast "session" beers… Well, except for the face melting Black IPA. Watch out for that one!
The super-toasty and citrusy saison would have been my favourite of the entire flight if not for the special edition Helles Bock (a type of German lager I'd never heard of) which stole the show. It had a deep amber colour with a fizzy head and a smooth, deeply satisfying malt flavour that I could easily see myself pouring pint after pint of during a long summer afternoon.
There's no food available except for tortilla chips, so if you're like Crystal and me and plan your life around meals it's best to schedule your brewery time in the afternoon and then walk those pints off later on the way to dinner. The White Whale is only a fifteen minute hike over the bridge or (more conveniently) Bisque is only a five minute jaunt downtown and (most conveniently!) there is a pub that serves food in the same parking lot as the brewery. Wherever you decide to go, you won't need to drive.
For those of us outside Courtenay/Comox it's absolutely worth it to jump in the car and seek this little gem out. Forbidden Brewing is a great place to sit and have a couple craft beers, play some space invaders and buy a $20 print of a flaming piece of bacon wearing a luchador mask on your way out. That's an afternoon well spent!
Save
Save