I like to imagine the moment when Chicken and Waffles were first united like this:
It's 5:30am. The all-night fry-joint is just getting ready to flip over for morning service. The waitress is giving the corner table it's millionth wipe before putting on coffee. Hasn't been a customer for two hours, and won't be for another hour and a half. The lone dude in the kitchen has pre-maturely drained the fryers, and is soaking the flat-top in grease, preparing it for the 7am landslide of eggs and breakfast sausages. He's completely on autopilot, eyes un-focused. He hates the night shift, and wonders if there's any coffee left… Then the door bell sounds.
What the hell? Who wants to eat at 5:45am?
The waitress looks up from the coffee maker and just catches herself from cursing. Two guys, both drunk. Not hooting, run-down-the-street-naked drunk, they're long past that stage. They're stumbly, sloppy, leering-kinda drunk and hungry for what? They don't know.
"Yer got coffffee?" One of them slurs.
"An, chicken! Sign 'sez best fried chicks in town!" He's desperately in need of greasy protein to soak up the beer and gin and god-knows-what else in his stomach.
"Nah, I want breakfast…  Eggs 'n toast or… errr…. Waffles! My Uncle made the besssst waffles! Where's the coffee? I gotta be at work in… errr." He squints hard at his watch, willing it to make sense. No dice.
"Breaky? Wha? No way, I want chicken!    
The cook scrambles to re-fill the fryers and the waitress sighs, pouring the coffee. This was shaping up to be a long night, or a real hell of a morning.
This, of course, is nothing like the actual origin of Chicken and Waffles. There is no single moment when this gastronomic odd couple met and fell in love. It was a much more gradual evolution from rural American luxury to Soul Food standard. NPR's The Salt Blog has an awesome dissection of the Chicken and Waffles myth that stakes it to many corners of the American culinary backyard – African American holiday meals, the Pennsylvania Dutch, a famous Harlem hotspot and even Thomas Jefferson wielding the first-even American waffle iron.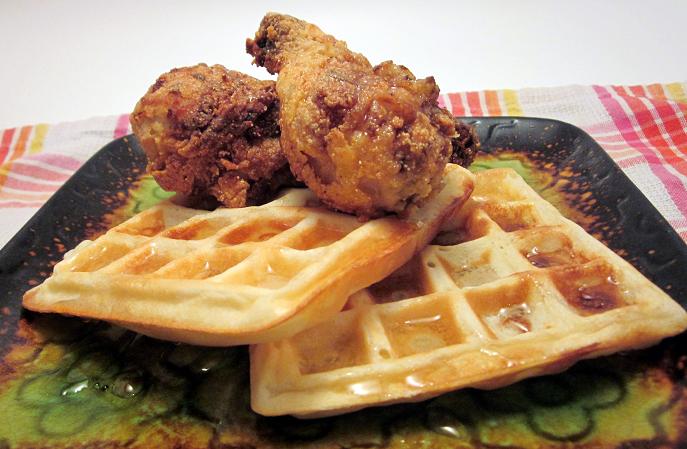 Let it stay a myth, all you need to know is that chicken and waffles is delicious! Crispy fried chicken with a couple dashes of hot sauce plays nicely with the buttery-sweet waffles and syrup. It's decadent and kind of redneck. The perfect thing to serve a group of friends after a night of partying is winding down. Gather everyone in the kitchen, throw on some Mowtown or classic funk and start cooking. You'll be able to do a bucket-full of chicken at a time (depending on the size of your skillet) and as the chicken fries you can mix up the waffle batter and just pile 'em on the table when they're finished. Let everyone dig in and channel the crisp, sticky, hot sauce-laden bliss that those two fictional drunks were treated too.
I guarantee that everyone will have the same giddy "Did we really just eat that?" kind of vibe for a month.
Cornmeal-Fried Chicken (serves 4)
Ingredients
4 cups Buttermilk (about 950ml)
2 Tbls. (30ml) Hot Sauce (we prefer Tapatio or Texas Pete's!)
1 Tsp. Dried Oregano
Salt and Pepper To Taste
8 Med-Sized, Bone-In Chicken Drumsticks (about 32 oz. or 900g total)
1 cup (170g) Cornmeal
2 cups (250g) All Purpose Flour
Vegetable Oil for Frying
Method
(Pre-heat oven to 300˚F – 150˚C)
Mix together the buttermilk, hot sauce, oregano, salt and pepper in a large non-reactive bowl. Submerge the chicken legs in the buttermilk mixture and marinate for about an hour.
Mix up the cornmeal and flour in a separate container and grab yourself a paper bag. There is no better tool on the planet for dredging chicken (or pork, or fish for that matter!) than a large, sturdy paper bag. Dump a couple handfuls of the cornmeal/flour in the bag and toss in the chicken legs two at a time. Shake 'em around and have flashbacks about childhood Shake 'n Bake dinners. Once evenly coated, the chicken legs are ready to fry!
Fill a medium-sized, heavy-bottomed (preferably cast iron) skillet half-full with vegetable oil. You really aren't going to need much more, we aren't deep-frying the chicken. The ideal temperature for our frying is 300˚F (150˚C – Medium heat on most conventional stoves) so if you have a high-temp thermometer you can keep it bang on. If not, you're just going to have to eyeball it.
Fry the chicken in two batches so you don't crowd the pan. At the proper temperature the cornmeal crust will get a dark golden brown colour in about 8-10 minutes. Carefully flip the chicken bits over with a fork or a pair of tongs and continue frying. Once all the legs are dark 'n crispy place them on a wire rack over a sheet pan and let the oil drain off them for a couple minutes. Pop them into the pre-heated oven and leave them there until you're ready to serve with the waffles.
Crystal's Sweet 'n Crispy Waffles (serves 4)
Ingredients
1 Egg
¾ cup (70g) All Purpose Flour
¼ cup (approx. 25g) Cornstarch
½ Tsp. Salt
½ Tsp. Baking Powder
¼ Tsp. Baking Soda
1 cup (235ml) of 1% Milk
6 Tbls. (90ml) Vegetable Oil
1 Tbls. Sugar
½ Tsp. (2 ½ ml) Vanilla Extract
Method
Start by beating the egg in a large bowl until fluffy. Add the remaining ingredients and continue to whip the mixture until it's nice and smooth. Nobody likes lumpy waffles.
Heat up your waffle iron and give it a quick coating of vegetable oil. We usually just use the spray-on stuff, but you can use an oil-soaked cloth as well. Just be careful! It's hot!
Pour a ladle-full of the waffle mixture even over the whole surface of the iron. Every waffle iron is different so you'll have to experiment a bit to see how much yours can take. I always start with less and increase as I go. A couple thin or lop-sided waffles are better than a burnt and overflowing waffle iron. Close the iron and cook until the batter is golden brown. Most waffle irons have automatic timers nowadays so it's pretty hard to burn 'em.
If you're waiting to serve everything at once, the waffles can be held on a rack in the same oven the chicken is hanging out in. Serve them doused in syrup with fried chicken and hot sauce.
Music To Cook This To:
James Brown – Live At The Apollo (1962)