My wife Crystal received a gift certificate from her work (employee of the century!) for Locals Restaurant in Courtenay, a place we had both wanted to try out for a long time. The problem is Locals happens to have the same days off as my restaurant does, and I'm somewhat fascist when it comes to missing work. Lucky for us both, Crystal is a master negotiator.
Her: "Locals is never open on your days off, we should go this Saturday."
Me: "Saturday is always a busy night… Can't."
Her: "They can live without you for one night, c'mon it's like a date. Remember dating?"
Me: "Nope, sorry hun, I don't think…"
Her: "If you don't come, I'll take my other husband. You've probably seen him around… The cute one, the one  without the black eye."
Me: "…."
The result of these draconian scare tactics was, in fact, a delightful night's pilgrimage to Courtenay's locavore grand temple, an edible tour of Vancouver Island's best and brightest farms and artisanal food producers and a damn good meal. All this, no black eye and a chocolate truffle… Not a bad night off.
Chef Ronald St. Pierre and his wife Tricia opened Locals Restaurant back in 2008, after the chef left a long stint at Courtenay's Kingfisher Resort (reportedly taking much of the kitchen and floor staff with him). The dining room and menu became smaller and more focused on the quality (and locality) of ingredients. During his career chef Pierre had made a lot of friends among the island's farmers, wine and cheese makers, and Locals quickly became the place for them to show off their stuff. This attitude is right up front when you walk in the door. There is a wall of pictures and pamphlets for all of the restaurant's local suppliers and what products the restaurant uses in what dish.
Tricia St. Pierre met us as we entered and noticed our interest in the wall of shout-outs. "They're all really amazing people," she said, "They are the reason we are here."
We were ushered to our table in a cozy nook by the window. Actually "cozy" isn't exactly the word… More like "intimate". The surrounding three tables were so close that we jostled and winced apologies to our new neighbors as we settled into our seats. This momentary awkwardness quickly evaporated into a giggling communal theater. "Our new friends!" The older couple next to us exclaimed. "Just throw your hat wherever you like!"
The crowded seating arrangements actually allowed for a lot of inter-table conversation, critique and espionage. Whenever a table received a new plate, the other three surrounding tables erupted into tittering excitement. "Is that the black cod? Which sauce did they go for? Looks good! Have you been to the farm that these beets come from? Just down the road!" On and on until one couple finishes their dinner, puts on their coats, smiles their goodbyes and is replaced by new friends.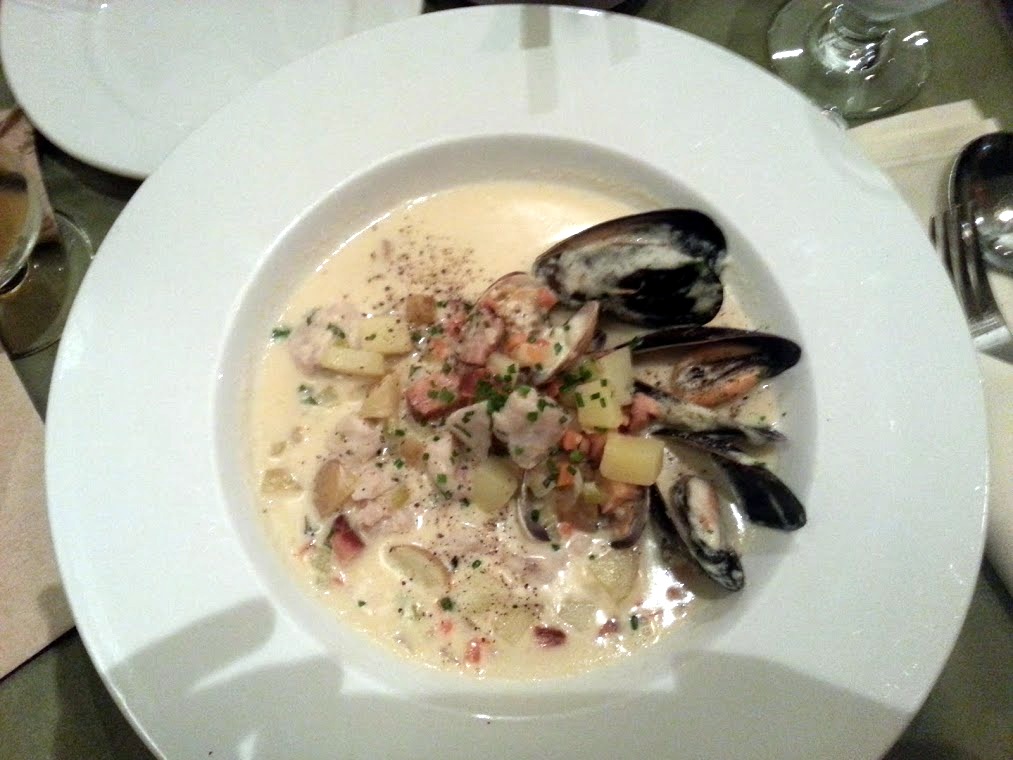 January was Customer Appreciation month at Locals, and most of our neighbors were selecting their vittles from the specially-priced three course menu created for the occasion. It was tempting, but with Crystal's gift certificate we decided to forget being thrifty and just order anything off the regular menu that sang to us. Total hedonism!
But first, an amuse bouche, tres surpise! Two bracingly-fresh Cortes Island oysters arrived at our table with a mignonette of cracked pepper and fresh herbs. Not many joints these days shell out to amuse my bouche, and the grand old French tradition is all but unknown. Crystal, a very hesitant oyster-eater surprised me by diving right in and slurped the little jiggler back. Delicious!
Thanks to a tip from our friend Noni, Crystal ordered the Fish market Chowder for a first course.
"It's kind of like my Uncle's seafood chowder, but wow." sighed Crystal, eyes rolling back in comfort food bliss. The broth was savoury, smokey, laden with cream and studded with mussels, clams, scallops and bits of candied salmon. Despite so many things going on in one bowl, it was perfectly balanced, not salty, nothing overpowering or cloying. Our server mentioned that it was made from a fume of smoked salmon bones. Madness! I didn't know you could do that! I have to try it.
Duck is my thing, so I went for Christine's Quackery duck salad, and was not disappointed! Ridiculously-tender Muscovy duck confit from the Comox valley shredded over top of greens from Pattison Farm (Our favourite place to get late Summer and Autumn produce!) with roasted cashews and peeled grapes. The attention to detail is intense… I mean, who peels grapes? A tart cranberry dressing brought it all back home. It was again, very nicely balanced, with big flavours that never seemed to crowd each other off the plate.
The bar had been set very high for our entrees.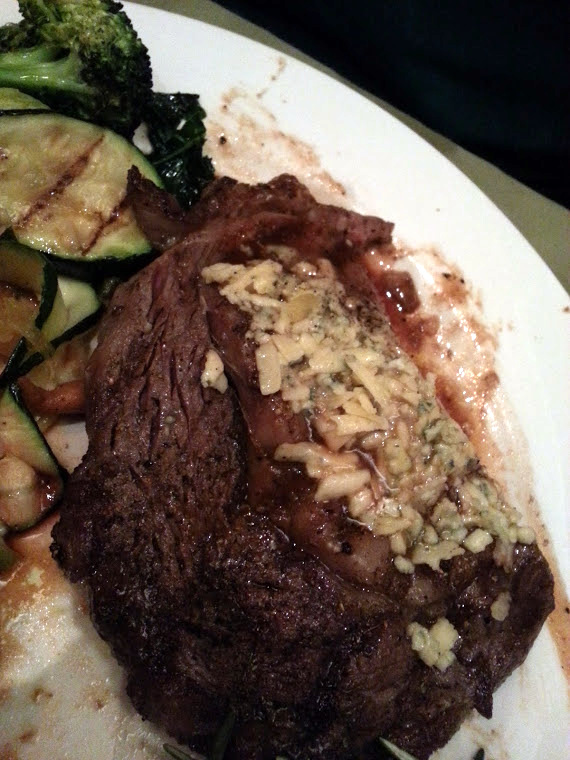 Both of us were in a red meat 'kinda mood, so Crystal got the AAA ribeye steak, and I (despite warnings in the past about it's mythical leanness and stringy texture) ordered the bacon-wrapped bison tournedos. Both were delicious and perfectly executed. My bison, served with rustic black lentils (another personal favourite) and a caramelized onion and lavender confit was pure magic. Even nailed the wine pairing with a local Pinot Noir.
This dish was a big wake-up call for me. Island Bison has been providing our area of Vancouver Island with free range bison meat for as long as I've been here. I've walked pass the Island Bison truck at our local farmer's market every Sunday and never looked twice because of my pre-conceptions of bison's shortcomings. But this, this beautiful nub of red meat wrapped in Tannadice Farms bacon was one of the most flavourful and tender cuts of 'lovin I've ever shoved in my face.
Now, after I ate my own entree, and nibbled a sizable bit of her's, Crystal gives me that look, sizing me up to see how much belly space I have in reserve for dessert. Total hedonism remember?
Lucky for me, Chef St. Pierre and his patisserie know that some of us rarely plan for dessert, and have included a taster platter featuring miniature versions of their greatest hits. Everything was amazing, but the pear and Camembert roll was my personal favourite. I guess I've a savoury guy, even when it comes to dessert.
But wait, there's more! if you want to know what the sweet deal is with Locals dessert menu, then you should hit up my brother Simon's Post on Locals Restaurant. He makes pie… Why haven't you checked it out? I said PIE!
Just before we pack up and leave, two truffles from Hot Chocolate appear at the table. Total hedonism achieved!
Our service was excellent! All the servers we had the pleasure to speak with were friendly and very knowledgeable about both the food and wine menus. There were never any, "I'll just have to check with the kitchen" moments. These ladies knew their stuff, and were as passionate about local products as the kitchen was.
Coats on, we headed to the front to settle up and have one last chat with Tricia about (of all things) the cancer-preventative virtues of bison liver. Now, it was a pricey meal (the gift certificate was a godsend!), but absolutely worth it for the quality of the food and the company. We left full of food and great ideas, inspired to seek out new local products and make new friends!
Maybe I should take more days off.