Ladies and gentlemen, I give you the magnificent Dr. Phillip B. Funk Dunkel.
Phillips Brewery, our very own Victoria brewery has released a full-on invasion of funky libations from their showcase series and the one that grabbed my attention (while surfing my local liquor store cooler) is their Bavarian Dark Lager.   
Dr. Funk is based (without much of a doubt) on Dr. Teeth, the gravelly voiced, grinning, red bearded pianist and band leader of the Muppet Show's house band The Electric Mayhem. The good doctor was voiced by the master Jim Henson himself and owned the show every time a musical interlude was required. Yes, this sock puppet virtuoso and scat legend came to mind the minute I spied the box art, so I brought a sixer home with me. Marketing win!
The packaging is sly you say, but how's it actually taste?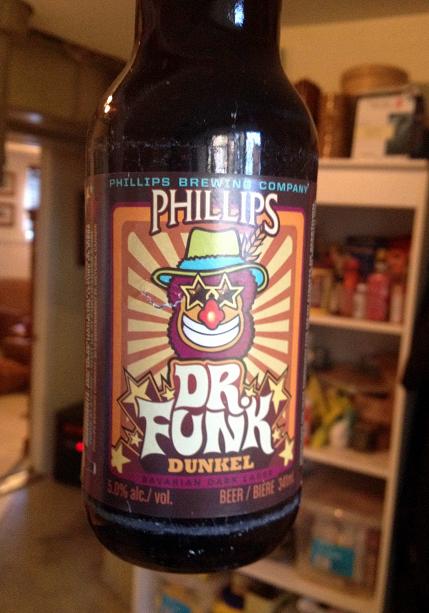 In a word: funk-Dunkely! Yep, the moment you pull the cap off of one of these beauties you can tell where they got their inspiration. The aromas are pungent and near-savoury with notes of miso, maple, coffee and chicken consommé (Wha?) The beer pours like a traditional dark lager with a nice amber colour and a medium-sweet mocha flavour. The end is slightly bitter, just the way I like it.
The Phillips Brewery website suggests pairing this beer with fondue, and I imagine that would strike a sweet chord. I'd strut it alongside some lamb or game burger with blue cheese, or maybe use it to braise some ribs… Wait! No! Poutine! Yesssssssss! What a perfect pairing! Done and done.
I don't usually spend a whole post raving about a single beer, but man… maybe I should. I've had a couple and I 'gotta say the funk is getting into my vertebrae.
I'll leave you with The Muppets own Dr. Teeth waxing rhapsodic about his (and all of our) favourite food.