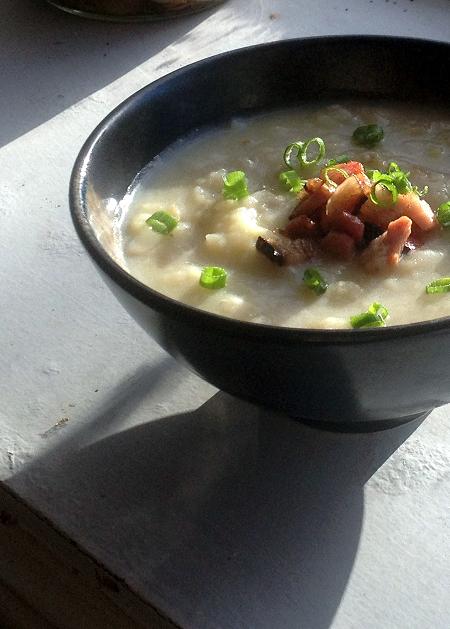 When I was a kid I would run outside every New Year's Eve just as the ball was dropping and the whole neighbourhood was shrieking "Ten! Nine! Eight…" to stare up into the sky and feel the changing of the old year into the new.
I'd stare and stare listen and wonder what made the last year different, and squidge my eyes shut and search in my guts to feel something new and grown up inside.
Every year was the same. No change… No difference between one year and the next. Not until this year… 2014 is the year everything changed!
All of a sudden I'm a biking guy and a really passionate one at that! Crystal and I get time off together! How did that happen? I have a new job with new responsibilities and a whole different set of standards and practices. I had to re-learn stuff like baking and batch cooking on the fly! We've got a bedroom with actual flooring! No more carpet! I climbed a mountain and killed chickens! Up is down, left is right, cats 'n dogs living together! Mass hysteria!
And soon we'll begin overhauling this poor 'ol foodblog to bring it into line with the rest of the modern blogosphere. It'll get a new coat of paint, a handful of fresh features and another three years of great ideas for stuff to cook, eat and discuss.
All of this flutters around in my skull as I sit by the window, sketching out my dream logo for the new site: A fork, a plate… No, a cup, or a circle that represents a cup, and a leaf… What kind of leaf? I dunno. Eat… Drink… Breathe. Should it be in ink or watercolour? How about both!?
Eventually I put my pen down and reach for a spoon. Nothing centers and rejuvenates the mind and body (especially during turbulent times) like a bowl of simple, sustaining soup. And no soup is simpler, and more stick to 'yer ribs sustaining than a potage of potato and leeks. Its smooth texture, starchy richness and deeply savoury, not salty taste envelop you in a big, fuzzy, full-body hug. It's like a toque for your tongue!
Slowly cooking the leeks in butter a la confit is a great way to unlock a deeper, leek-ier flavour. The confit can be kept in the fridge for quite a while and added to everything from mussels to fish en papillote to stuffed chicken. Anywhere an extra bit of buttery lusciousness is needed.
Leek Confit (makes aprox. 400g or 14oz.)
Ingredients
4 Large Leeks (600g, whites and light green bits)
¼ cup (80g) Butter
2 Tbls. (30ml) Water
½ Tbls. (8g) Salt
Method
Melt the butter in a medium-sized pot and add the rest of the ingredients, stir well and slap a lid on. Cook on medium-low heat for 20 minutes, or until the leeks are soft. Remove the lid and cook another 5 minutes to evaporate any remaining water. Plop the mixture into a container and keep in the fridge for up to a week and a half.
Potato Leek Soup with Crispy Bacon (Serves 4)
Ingredients
½ Tbls. (6g) Butter
1 ½ cups (130g) Leeks (white bits only, chopped)
1 cup (110g) celery (chopped)
½ cup (120ml) White Wine
6 ½ cups (approx. 1 ½ L) Chicken Stock
8 Medium-Sized Yukon Gold Potato (approx. 700g, diced)
½ Leek Confit Mixture (200g)
Salt and White Pepper
3 Rashers (85g) of Bacon (diced, we used some beautiful Tannadice Farms stuff!)
Celery Leaves and finely chopped Leek Greens
Method (This works best with an immersion blender… but it'll work with a food processor as well)
Fire up a large pot on medium heat and melt the butter. Cook the leeks and celery for eight minutes or until soft and translucent. Pour in the white wine, scrape the bottom of the pan to get up any good stuff and turn up the heat. Simmer on high for three minutes or until the wine reduces by ½.
Pour in the chicken stock and bring up to a boil. Add the potatoes, slap a lid on and simmer for twenty minutes. Now that the spuds are soft, remove the pot from heat and fire up the immersion blender. Buzz the whole shebang up until nice and smooth and return to the heat. Add the confit, season and return to a simmer while stirring well.
Fire up a separate frying pan over high heat and sauté the bacon until crisp (approx. 5 minutes). Serve soup in individual bowls with a pile of hot 'n crispy bacon and soft, colourful greens as garnish.
Music To Cook This To:
The Hohokum Soundtrack