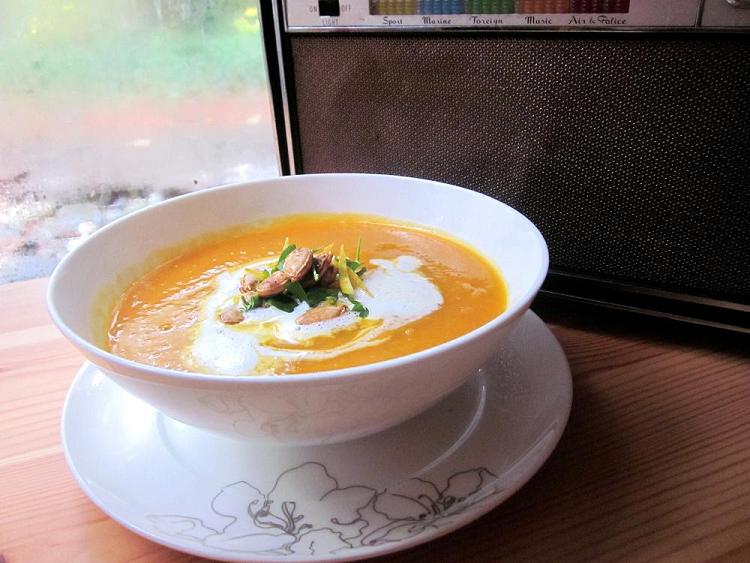 Rain drums on the window sill, and the carpet of once bright and crunchy leaves in the yard is now slowly melting into a brown compost sludge. It's late October already, and it's getting cold and wet. In other words, it's perfect soup weather!
Pumpkins, gourds and a host of knobby, golden-fleshed squash are what's in… Season that is. I've experimented with many different winter squash varieties during the countless times that I've made this soup, and each lent their unique taste, texture and colour to the final product. There's Butternut (light yellow and sweet), Acorn (amber and slightly bitter) and Kabocha (golden and rich) and that's just to hit the supermarket bins. But wait! There are plenty of heirloom varieties like Hubbard, Turk's Turban and Lakota waiting to escape the label of "ornamental" and romance your comfort food-starved tastebuds like nobodies business.
Whatever the variety, roasting brings out the buttery, sugary best in squash. The flavour is so much more intense than if the squash was just boiled or sautéed. Add a dollop of coriander-scented cream and a sparky gremolata of roasted squash seeds and orange peel and just stay inside today.
 Roasted Squash Soup (makes 2 servings)
Ingredients
200g Squash (about 7.05 oz. Butternut, acorn, kabocha, or whatever you found at the farmer's market)
5ml (1 tsp.) Olive Oil
 Salt, Pepper and 2 tsp. Sugar
Pinch of Smoked Paprika
5ml (1 tsp.)Olive Oil
5g Butter
65g (2.29 oz.)  White Onion (fine dice)
45g (1.58 oz.) Carrot (peeled/fine dice)
35g (1.23 oz.) Celery (fine dice)
7g (1/4 oz.) Ginger Root (peeled/minced)
50g (1.76 oz.) Potato (peeled/diced)
125ml (about ½  a cup) White Wine
500ml (2.11 cups) Chicken Stock
1 Dried Bay Leaf
2g Fresh Thyme (left whole)
The juice of ½ an Orange (save a 2g piece of rind/zest for gremolata recipe below)
Pinch of Cinnamon
Method
(Pre-heat the oven to a toasty 400˚F, and find all the pieces to your handy immersion blender)
Chop Squash in half with the biggest, scariest looking knife you have (make sure to yell "Haarrrrghh" while doing so… Whoops, watch your fingers). Scoop out the pulpy insides and separate the seeds from the stringy bits. Wash the seeds in a small colander or mesh sieve over the sink with cold water until most of the orange gunk is removed.  Set seeds aside.
Chop squash into quarters and toss in olive oil, season with salt, pepper and sugar. Place on a large baking tray, skin-side down and fire into the oven on the bottom rack. Toss the dried seeds with salt, pepper and smoked paprika and bake in a small pan on the top rack of the oven. The squash will take about 30 minutes to brown on the skin side, and will need to be flipped and roasted another 20 minutes, then removed from oven to cool. The seeds will roast completely dry in about 30 minutes and must be removed from the oven, checked and stirred around at least twice during that time. It is essential that the seeds be crunchy all the way through! Save them for the gremolata (recipe below).
Heat olive oil and butter in a pot over med-high heat and sweat the onion, carrot, celery and ginger for 5-6 minutes until translucent and beautifully fragrant. Add the potatoes and cook another 5 minutes, stirring and seasoning with salt and pepper as you go. In the mean time, peel the skin off of the cooled squash and chop into smaller bits (about the same size as the diced potato). Toss 'em into the pot and cook 2 minutes more. The bottom of the pot will begin to brown a bit now, so make use of all that caramelized goodness by splashing in the wine and stirring it all up. Turn the heat down to a gentle simmer and reduce the liquid in the pot by ½.
Pour in the chicken stock and bring back up to a simmer. Tie the bay leaf and thyme into a bouquet garni and drop it into the pot. Squeeze the juice from half an orange in, making sure that no seeds decide to crash the party . Cover and simmer on med-low heat for 15 minutes.
Remove the pot from heat, fish out the bouquet garni and season with salt, pepper and cinnamon. Puree with an immersion blender until smooth. Serve with a dollop of coriander cream and garnish with harvest gremolata.
Coriander Cream (makes 2 servings)
Ingredients
15ml (1 tbls.) Whipping Cream
Pinch of Sugar
Salt and dried Coriander
Method
Season whipping cream with sugar, salt and coriander. Whip in a small bowl with a whisk until frothy and doubled in size. You'll know when it's ready when you're arm is ready to fall off. Serve a dollop over the squash soup.
Harvest Gremolata (makes 2 servings)
Ingredients
30g (about 1 oz.) Roasted Squash Seeds (see above)
5g (0.18 oz.) Chives (thinly sliced)
10g (0.35 oz.) Fresh Flat Leaf Parsley
4g (0.14 oz.) Orange Rind/Zest (saved from the orange used in soup, thinly sliced)
Method
Mix the spiced seeds with parsley, chives and orange peel. Add a pinch of the gremolata to each serving of soup.
Music To Cook This To :
Sigur Ros – Takk…