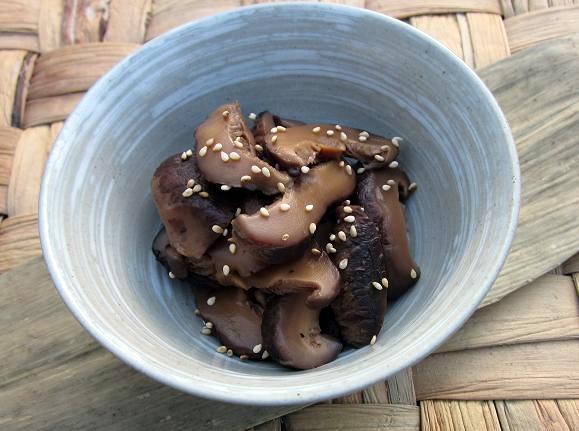 Stroll through the prep area of any Japanese restaurant and inevitably you'll find a shallow pot with a wooden lid simmering away. Lift the lid and an aroma of deep savouriness will overwhelm your senses; soy sauce, shiitakes, the deep woods. Umami. The secret weapon.
Dried shiitake mushrooms can be found practically anywhere now, but if you're local Mega-lo-Mart doesn't stock them, try a whole food or Asian foods market. Open the vacuum-sealed package and you'll get that first breathe of deep mustiness that always seems to permeate Chinese medicine shops (shiitakes have long been considered symbols of longevity and have been used to promote healthy immune systems for centuries). They can be re-hydrated in hot water and gently simmered in a sweet broth of soy sauce, rice wine and rock sugar until they become tender and that already funky mushroom flavour concentrates into pure super funk. This process is called "Shoyuzuke" in Japanese, and translates roughly to "pickled in soy sauce". When I do this at home, I usually brine them with a splash of rice vinegar to give them a bit of edge.
Dried shiitakes last forever, and the re-hydrated and pickled ones can be stored in the fridge for up to a month. Add these little umami-bombs to stir-frys, wraps, dumplings, sushi roll fillings, or just eat `em with a dash of sesame seeds and chilli oil right out of the container.
Shiitake Mushroom Shoyuzuke (makes 300g or about 10 ½ oz. of pickled mushrooms)
Ingredients
80g (2.8oz.) Dried Shiitake Mushrooms
75g (5 tbls.)Sugar
60ml (4 tbls.)Soy Sauce
60ml (4 tbls.)Rice Vinegar
10g Fresh Ginger (about 2 tsp. roughly chopped)
Method
Steep the dried shiitakes in enough boiling water to completely cover (about 250-300ml) for 20 minutes. Strain the mushroom liquid into a container and set aside. Set the mushrooms aside for a couple minutes until they are cool enough to handle. Cut the stems out of the caps and discard 'em (shiitake stems are notoriously tough and stringy).
Mix 120ml (4oz.) of the mushroom liquid with sugar, soy sauce, vinegar and ginger in a small saucepan and simmer on low heat for 2 minutes. Add Shiitake caps, cover and simmer on low heat for 20 minutes. Remove the mushrooms from the liquid, and once cool, slice thinly. Discard the ginger, and pour remaining liquid back over the shiitakes. Cover and refrigerate overnight before using.
Note: Overnight the shiitakes will absorb the remaining liquid and swell to fill the container! Triffids!
Music To Cook This To:
Danger Mouse and Daniele Luppi – Rome