The first time I remember anyone mentioning Dr. Hunter S. Thompson to me was in college. It was an art school so of course every conceivable image of the counterculture from the 60s to the 'aughts where plastered on every kid's dorm room walls and sleeves. A curly-haired rave kid who reminded me too much of myself cornered me during a smoke break and demanded to know how much I knew of his idol, the good doctor.
Being a twenty year old freshmen desperate to prove myself as an intellectual worthy of respect and kinship I blindly answered, "Oh, Raoul King right? He's the guy from the Jonnhy Depp movie. I loved it!" After I got the stoner-cred shit kicked out of me I went back to my dorm room and got reading up on Thompson and his alter-ego "Raoul Duke". As it turned out the 1998 movie (which I did love) was only the Hollywood tip of the 60s and 70s literary iceberg.
Thompson was "A high-powered mutant of some kind never even considered for mass production. Too weird to live, and too rare to die." A twisted counterculture icon; an alcoholic, drug-obsessed gun nut who wrote some of the most brilliantly lyrical gibberish I've ever read. The kind of guy any bored twenty year old kid from a nowhere town would idolize and a cautionary tale for anyone with a rebellious or addictive streak – Like a line cook – To take note of.
While punching up my recent medication-fueled ravings on breakfast I came across a couple quotes from the good doctor's 1976 Rolling Stone article:
"Breakfast is the only meal of the day that I tend to view with the same kind of traditionalized reverence that most people associate with Lunch and Dinner. I like to eat breakfast alone, and almost never before noon; anybody with a terminally jangled lifestyle needs at least one psychic anchor every twenty-four hours, and mine is breakfast. "
Like everything else that he did, Thompson went way overboard on his breakie:
"Four Bloody Marys, two grapefruits, a pot of coffee, Rangoon crêpes, a half-pound of either sausage, bacon, or corned-beef hash with diced chilies, a Spanish omelette or eggs Benedict, a quart of milk, a chopped lemon for random seasoning, and something like a slice of key lime pie, two margaritas and six lines of the best cocaine for dessert."
Now I'm certainly not capable of eating and drinking all that in one morning's sitting like this poor bastard, but I was intrigued by all the cocktails he mentioned and thought I'd try mixing up some gonzo brunch libations.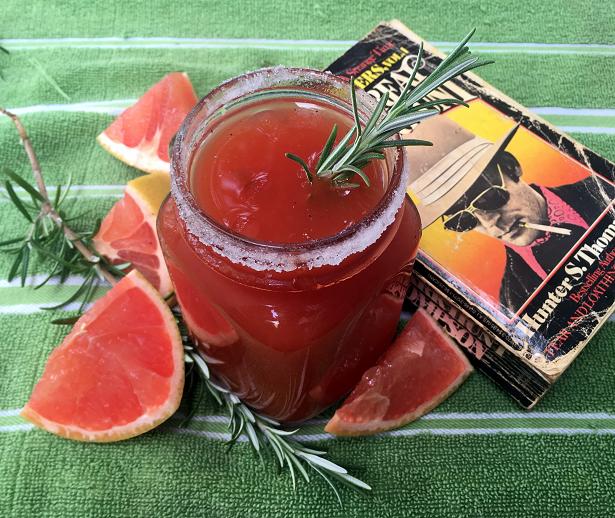 Originally I thought I'd slam a Caesar and a mimosa together into some bizarre sweet and savoury hybrid, but it ended up being too sticky and a vodka base didn't fit. Eventually I focused my efforts on a more Thompson-centric tequila/bloody mary/grapefruit mash up which I thought was rather clever and completely unique. Sadly it's been done, but the resulting "Psychic Anchor" cocktail was still excellent!
Part paloma, part bloody mary and second cousin to a sangrita, this combination of tomato and citrus juice is pure BRUNCH! especially after a couple dashes of hot sauce hit the mix. Now, hold on… Don't be scared of a little tequila in the morning! The booze-to-juice ratio is quite low and the whole affair comes off nicely light and easier to drink than a straight bloody mary with a hint of savoury-smoke that you never get from vodka.
The Psychic Anchor Cocktail (Serves 1)
Ingredients
1 ½ oz.(40ml) Reposado Tequila
2 oz. (60ml) Freshly-Squeezed Grapefruit Juice
¼ oz. (8ml) Freshly-Squeezed Lemon juice
3 ½ oz. (100ml) Tomato Juice
6 Dashes of Cholula Hot Sauce
Soda Water
Method
Fill a tall glass with ice and pour in the tequila, citrus and tomato juice. Season with hot sauce (you can hit it with more if you're a spice-fiend!) and top with soda water. Garnish with cracked black pepper and a rosemary stalk.
Music To Mix Breakfast Cocktails To:
Tom Waits – Nighthawks at the Diner
Save