A couple of months back, my chef and mentor Hiro loaded my co-workers Yuki, Azusa, and myself into the Wasabiya-mobile and swept us away to Vancouver for a bite at two of the city's Canadian-Japanese hotspots. The first was Denman Street's Zakkushi, and the second was Miku Restaurant located on West Hastings St. (although, now they're in the process of moving to a waterfront location)
These two joints share a couple of remarkable things in common. Both started with a single location and conceptual vision (one owner or chef, one concept). Both became a hit and opened multiple incarnations in and around Vancouver. Both serve Japanese cuisine to the hungry Van public, albeit in very different styles, neighborhoods and price ranges… And both kitchens are full of people who want to yell at you.
"Irasshaimase!!!"
Boom! Right when we walked through Zakkushi's door we were love-punched with the traditional Japanese greeting, meaning "Come on in!" barely audible over a great wave of laughter and machine gun Tokyo slang. We jostled into a corner slab (everything was weathered wood, the walls, bar, the tables, possibly the cooks) and made friends with the J-Pop crew next to us. The place was packed! The mostly-Japanese clientele was channeling the 10pm pre-club energy and was very, very animated.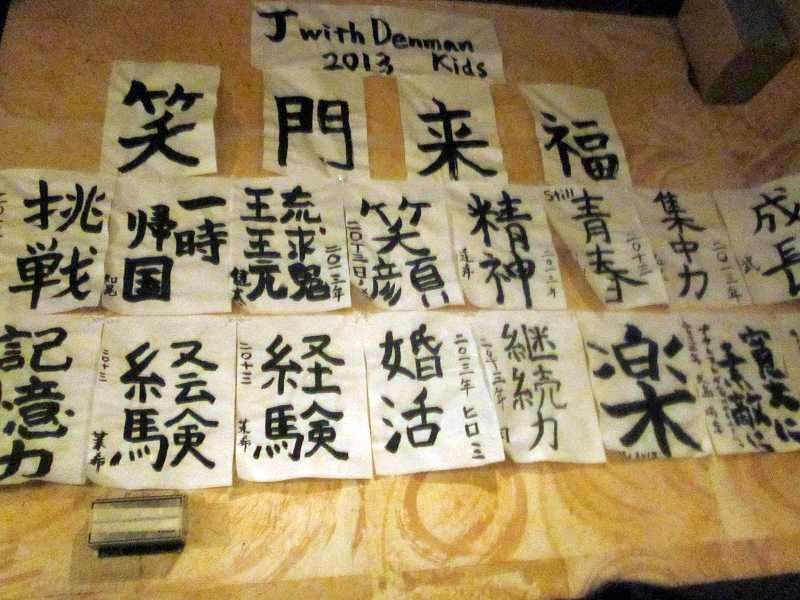 This particular Zakkushi location is unapologetically an Izakaya joint (Japanese for pub), the kind of place that invites long, loud conversations and specializes in all the simple, delicious Japanese food that I love. No sushi, just little plates of fried, grilled, skewered, marinated, steamed and whatever-elsed food perfectly suited to accompany a beer or a big dry bottle of premium Sake… Which, it just so happened, we ordered in massive quantities.
"Shawn-kun, what are we drinking?" called Hiro-san from across the endless expanse of two feet apart.
"Sake of course! What do you suggest?"
 Our first bottle (yeah, FIRST bottle!) turned out to be the Yoshi-No-Gawa Gokujo Ginjo Sake from Nigata prefecture, where Hiro proudly pronounced his father's family called home. What an experience! Dry as bones, crystal clear and smooth as all get out… Best sake I've ever tasted! Tiny little clear cups accompanied the bottle and so began the nightlong ritual of taking turns refilling everyone else's glass after a round of toasting.
The food was quick to follow: Tiny little plates of traditional snacks like steamed edamame beans, thinly-sliced jellyfish salad, deep-fried chicken skin, takoyaki (octopus dumplings) and agedashi tofu all deliciously simple, savoury and salty.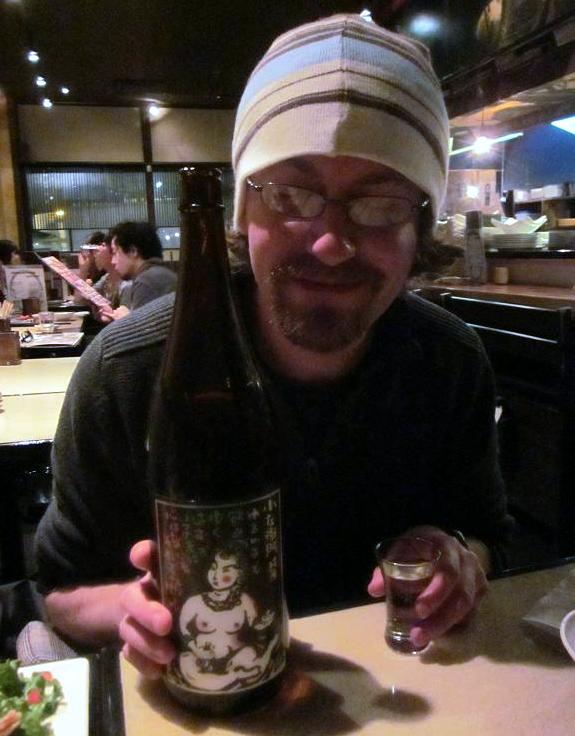 Our second bottle of sake (a larger and slightly sweeter Kozaemon Junmai from Gifu prefecture) arrived as the late-night dub-reggae playlist came on and the primal aromas of charcoal-grilled meat had wafted our way. Yuki-san (who had suggested Zakkushi to us) had taken complete control of our ordering and was hitting the Kushi-Yaki (skewered and grilled) section hard. Now that she had some sake in her, an Izakaya virgin across the table and lots of grilled vittles to share, she really came alive! "Try this! You have to try that one! This is my favourite at this place back in Japan! Is that my sake cup or yours?"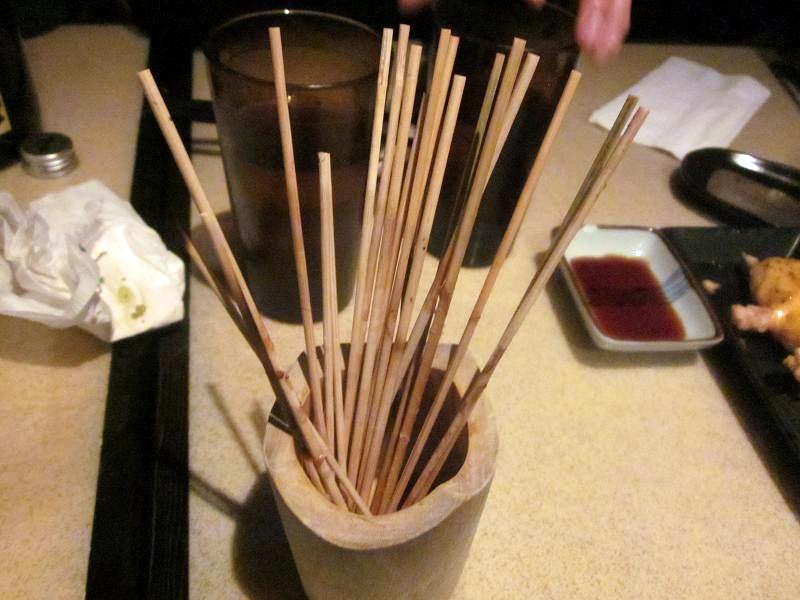 The lightly teriyaki sauce-brushed meat was still sizzling as it hit the table and we had to be a bit careful when nibbling the sticky-salty bits of heaven off of their skewers. We couldn't help ourselves! Lips will  heal eventually… The usual yakitori suspects (chicken thighs and tenders) were in attendance, plus some beef and veggies (asparagus and cherry tomatoes with basil), but for me the stars of the kushi-yaki  karaoke party were the nasty bits: chicken livers (very salty, yet not liver-y and perfect with cold sake) thinly-sliced beef tongue (the real tenderloin!) and tripe with a miso glaze. Guts never tasted so good.
As we staggered to the door and the waiting cab outside, we were loudly toasted by the kitchen staff, thanking us for a good night's company, appetite and business! It was a sweet moment, and one that really exemplified the "feeling" of Zakkushi.
This wasn't an austere, white napkins kind of eating experience, (although the food was perfectly prepared!) this was a down and dirty, loud, drunk, eat-with-your-hands kind of meal. Japanese businessmen, after-work cooks, and club casualties have been enjoying this type of soul food since time immemorial. This incredible, raucous little piece of Japanese neighbourhood night life got torn up-roots 'n all and plunked down in our own backyard.
Bright and early the next day (no violent hangovers, we are all professionals after all) the four of us popped into Miku Restaurant just before their lunch rush for a bit of something very different.
"Irasshaimase!!!"
Once again many voices raised in the traditional Japanese greeting as we entered the restaurant. This time, instead of a rough, sake-soaked pub, we found ourselves in the vaulted, perfectly manicured environment of one man's Nuevo-Zen fantasy.
Miku is beautiful… 100 percent designed, from top to bottom, to be Seigo Nakamura's artistic expression of "a beautiful sky".  Amorphous sculptures hang from the ceiling, giving the illusion of wide open vistas. Waterfalls stand sentry at the entrance to both the dining room and the washrooms. Everywhere there are the highly stylized trappings of zen simplicity mixed with the slick aesthetics of a serious high-end downtown restaurant … Damn. No other Japanese restaurant looks like Miku, and that's 'cause when Mr. Nakamura explained his concept to his big-money design team he said, up front; "This isn't a Japanese restaurant, it is a contemporary restaurant that just happens to serve Japanese food."
We took a seat in the main dining room and gawked around as very knowledgeable servers brought us our tea and suggested menu items… Sushi Zen, it's like a bento box, but more… Zen.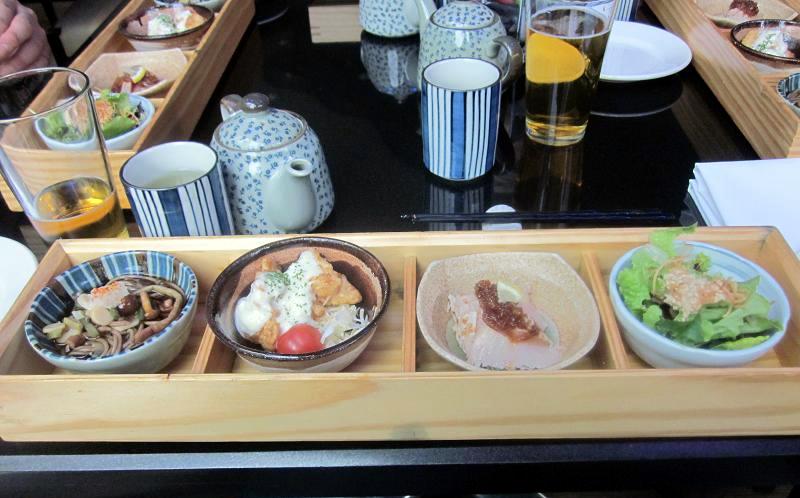 Each of us soon received four small portions of delicious food beautifully plated and then compartmentalized into a long rectangular bento box: Some soba noodles in dashi, a nice fresh salad with tofu, a bit of fish with a strong tataki –style sauce and fried chicken nanban. All very well executed and presented, and just enough to satisfy without filling us up. This was a good thing, as our aburi sushi course was next.
There is a lot of hype around this type of sushi, and Miku is definitely the flag bearer of the style. Aburi is at it's most basic (and I'm a really basic guy, so here's what I know) sushi that is covered with a thin layer of special aburi sauce and quickly blasted with a hand torch to give a lightly bruléed flavour, aroma and texture.  We each got five pieces (three nigiri and two oshi) and I was really impressed! I 'kinda figured the aburi thing was all sauce, or a flashy way to cover up mediocre fish with heavy aromas, but it was really tasty and bracingly fresh!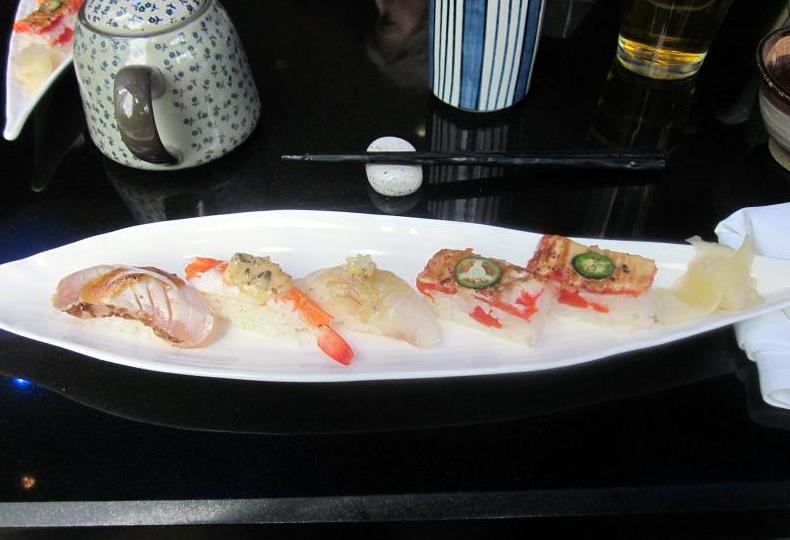 It was past noon and the spacious dining room was starting to fill up with very well dressed businessmen and really sexy-looking couples who apparently don't have day jobs, but instead spend their mid-day drinking lychee cocktails and nibbling gyoza. I tried to imagine them packed into Zakkushi, aghast at the skewered guts and lack of San Pellegrino… would they run for the door in abject terror? I'll never know.
Hiro-san made an uncharacteristic move and suggested we order dessert. Now, I know that aside from Azusa our crew doesn't usually go for sweets (alright, maybe the occasional mid-lunch-rush Timbit, but that's about it) and yet I'm so glad that Hiro brought it up, because it just so happens that Miku had it's own pastry chef! Yep, when Nakamura-san said he wanted a "contemporary" theme, he meant the desserts too! I got the "Green Tea Opera" and well… have a look.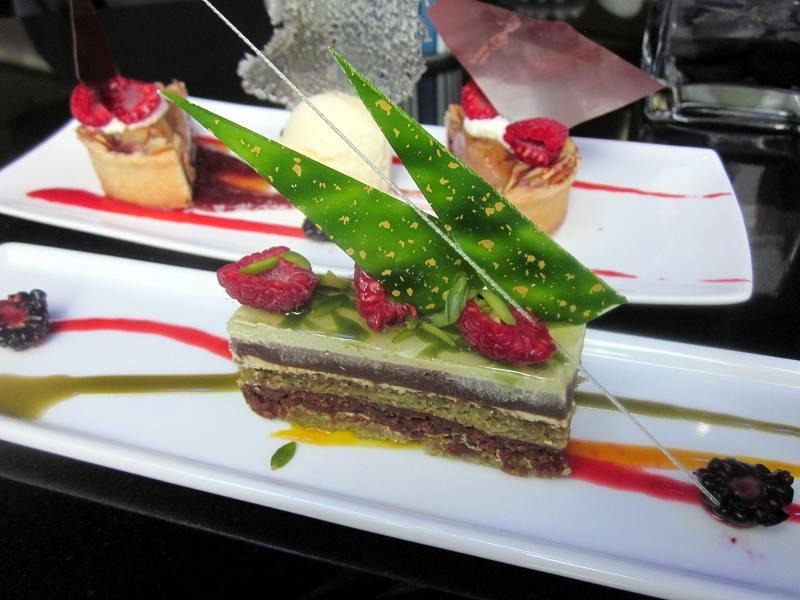 Pretty contemporary eh? It had Layers of pistachio, green tea sponge and ice cream, dark chocolate ganache, red bean paste, blackberries, spun sugar and hundred other things exploding off the plate. All the diverse flavours complimented each other and a fantastic, unified, not-too-sweet symphony was indeed what I got. Beautiful!
One cuisine, two different visions of how it should be done. Zakkushi's more traditional grub and working man's jook joint atmosphere, and Miku's über-modern take on sushi and space-age zen aesthetics. Both were great meals!
Thank you to Hiro-san for leading us on this journey through contemporary Japanese cuisine. It was a truly memorable night and uh, brunch. Arigato gozaimashita!