I've been posting pictures and vague references to my trip out East for a week or two now and I suppose I should share some of our food-related experiences while they're still (relatively) fresh in my mind. It's not really West coast in any way, but hey; good food is good food and connecting with family is one of the reasons this blog exists in the first place.
It had been nearly half a decade since I'd seen my ancestral home when my mom put out the call: My brother Andrew was getting married to his long-time better half Julie and the clan was converging from all points to throw a proper wedding in their honour… And there was a pig that needed to be cooked.
The venue was our family cottage outside the sleepy little town of Gananoque, Ontario. A gorgeous burg overlooking the thousand islands of the St. Laurence River, overflowing with old brick buildings, brightly coloured deciduous trees, aging flea market tycoons and miles of meandering bike paths.
I've always had a thing for Gan and still fantasize about opening a resto or B&B somewhere along the St. Laurence… Whenever this happens my wife reminds me what winter in Southeastern Ontario is like and I forget all about it. I joke of course, it was beautiful and my wife and I had an incredible time. We hit the ground running and packed a surprising amount of pork-centric eating adventures into just a wee little week.
The Wedding
I volunteered to do the cooking of the pig and various vittles without a seconds hesitation! It would be fun, and a great way for me to contribute without being directly in the spotlight. This became pointless when my brother made me best man the morning of the event, but at least I could excuse myself at any time to stir a pot or rescue something from the oven.
Now, I'd never cooked a whole pig before. Sure, I'd seen it done in Hawaii a couple times and my Philippino co-worker was always talking it up, but it wasn't something I had the time, money or professional background to do regularly… Hey, how hard could it be?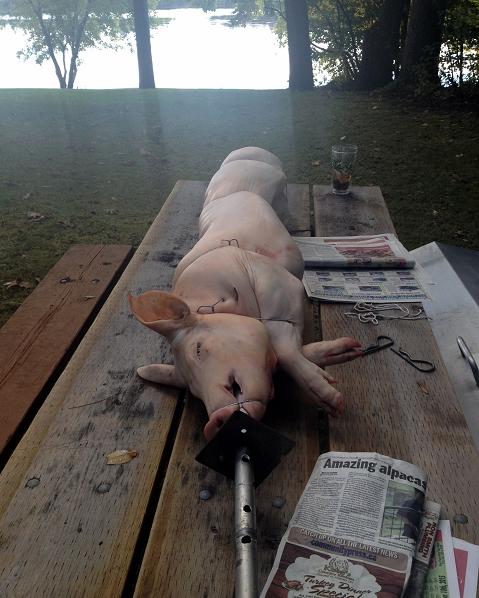 Turns out, not hard at all; Doug and Helen Turpin, a couple with a farm/pig-roasting company in Stirling, Ontario had everything covered. The pig came in a custom-made BBQ trailer, skewered, seasoned, trussed and ready for action. The only thing my fellow cooks Ernie, Mike and me had to do was light the charcoals and turn on the rotisserie motor.
The rest of the day (and subsequent days) was spent prepping, sipping wine and catching up with old friends and family members I hadn't seen in forever. Mon 'n Dad had converted the barn into a beautiful dining room for the event complete with buffet tables, twinkle lights and Grandpa's old stove to give the joint a warm rustic glow.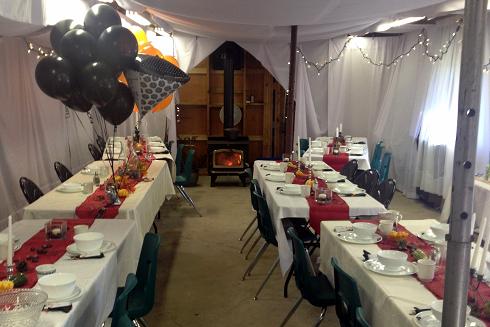 An army of eager cooks and porters including my wife, my 'ol buddie Matt, Li, Mike, Russel, Ernie and many more ran back 'n forth from the cottage kitchen to the barn with armfuls of chicken and tapenade, cheese trays, buns and whatever else we could fit onto a couple 'o folding tables.
The pig came out of the BBQ on time with beautiful, lacquered crackling and a soft interior as good as any pulled pork I've ever eaten. My brother decapitated the beasts before a crowd of guests as was his want and the feasting began! Over the course of two days and nearly a hundred or so guests the pork was almost completely consumed either on buns with slaw or wrapped up in tortillas with pineapple salsa fresca.
Then, just like that, it was all eaten and done. Plates were sent clattering back into the cottage's double sink where Jan, Sue, Katie, MJ, Mrs. Seymour and another army of volunteers washed, dried and carefully stacked all of mom's begged, borrowed and stolen china. A guitar appeared in the capable hands of my uncle Jim and just as the stars began to dot the night sky I collapsed in a lawn chair with my family and played campfire games until my sides hurt from giggling.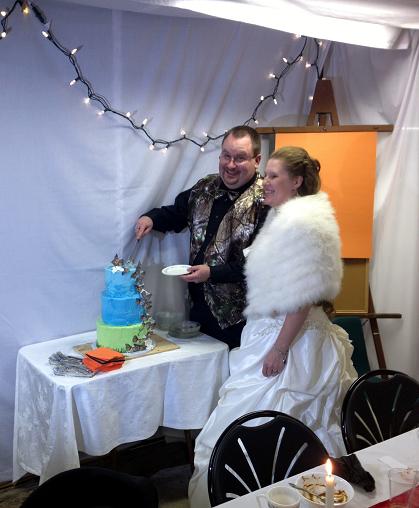 Oh yeah, somewhere in the midst of all that, my brother got married. *laughs*
The Sandwich
During this whole process, one of my most important culinary collaborators was Ernie; a cousin 'o mine from Florida and a damn fine cook. The morning after everyone left Crystal, MJ, Mom 'n Dad and I retired to the dock out front of the cottage, swearing not to move from our loungers until the earth had cooled… but Ernie, still fired up, took over the kitchen and banged out the best damn Cuban sandwiches I've ever eaten.
A Cuban sandwich or "Cubano", by the by is a porky re-imagination of the classic ham 'n cheese from Florida that amps up the flavour and texture by using an exquisitely roasted hunk of pork, big crusty bread and lots of condiments 'n cheese. If you've ever seen the John Favreau movie Chef; the "El Jeffe" sandwich is a version of a "Cubano".
After rubbing and slow cooking a pork loin in a killer annatto seed-stained mojo sauce he sliced 'em not-to-thin then layered it all in French bread slathered in mustard and Swiss cheese. This titanic pork sarnie was then grilled 'till the crust properly crunched, the cheese properly oozed and the pork sang like a heavenly porcine chorus.
The Brewery
Crystal and I needed to do our laundry, which meant an afternoon in the not-so-bustling downtown strip of Gananoque. It was the day after Thanksgiving, so only a handful of vendors were open. Luckily for us, the good folks of Gan know how to pack a lot of (seemingly un-related) businesses into their old stone buildings
The laundry mat tripled as a labyrinthine, multi-room flea market and brewery, which meant that I could (much to my wife's eye-rolling dismay) drink beer and sift through boxes of old records to my heart's content.
The Ganaoque Brewery has only been up and running for a year in the historic Old Bell Tower location, but the place looked and felt like it had been there forever; Giant steel tanks and accompanying pipes blending into the rusted machinery and reclaimed wood bar seemingly springing out of the floorboards. It was warm and welcoming with a hip industrial-rustic vibe.
Crystal and I sampled four of the five beers available: A nice easy drinking Cerveza-style Pilsner to start off followed by the slightly more crisp and full-flavoured Thirsty Pike Pilsner. Both were great session beers that I could hand to any of my friends or family on a summer day and know they'd dig it. Next was the dark and malty Black Bear Bock, with notes of caramel and coffee and a slight bitterness that rolled off the back end, an overture for the over-the-top hop-symphony of the Bell Ringer IPA.
"Jesus, that tastes like home!" I exclaimed as my face contorted from the bitterness, "Yeah, it's takes a bit of getting used to." laughed our bartender as we and the couple next to us both passed our glasses of the West –meets-East coast IPA back half full. Oh well, three out of four 'aint bad!
We bought a growler of the Cerveza, gathered our laundry and headed back to the cottage. After explaining to Mom and MJ what a "Growler" was, we settled back into our lawn chairs and put off cleaning up the barn as long as we could.
The Socialist Pig
Before leaving town, we stopped off for brunch at another of Gan's multi-business brownstones; this time featuring the slightly more intuitive combination of art gallery, vintage clothing shop, coffee shop and cafe.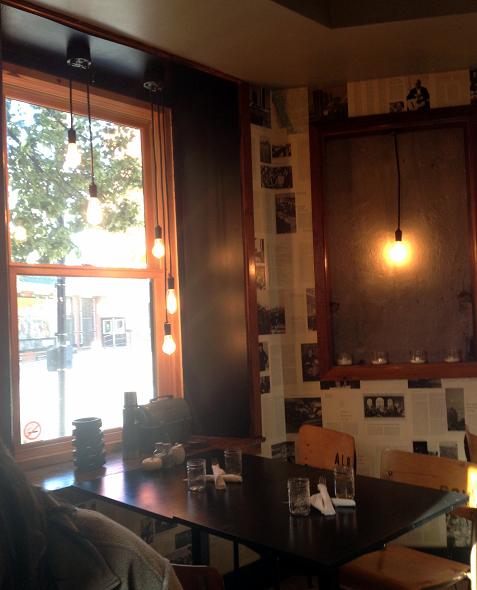 If the poetry slam/heavy metal club I frequented in high school took a seriously political turn in their decorating scheme and started serving incredible food it would be Ganaoque's premier brunch destination, The Socialist Pig. The wallpaper is a collage of political leaflets, the lighting is barely suspended on rusty chains and there is a booth that is black… just black. It's creepy, but kind of stylish. I couldn't imagine my Grandparents ever sitting down to eat there.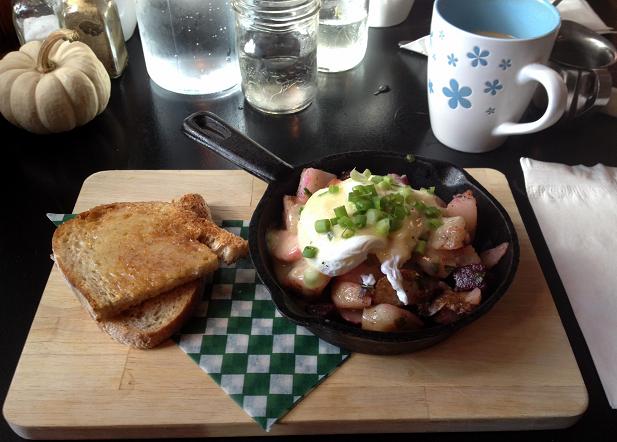 Then again, I'm not sure my Grandparents would enjoy a Beet Me Down as much as I did! A beautiful little skillet full of herbed potato and beet hash topped with poached eggs and a horseradish hollandaise. So simple and classy and really freakin tasty! Crystal got a spin on eggs bennie which was equally delicious (the hollandaise is always the key) and an expertly prepared Americano to wash it down. I of course, had a mimosa. *laughs*
I know it seems like all I did in Gan was cook and eat, but the real treat this holiday was wandering around the beautiful cottage property and hanging out my friends and family. Thank you to Mom and Dad for throwing such an amazing party and to my lil brother and his wife for being awesome and giving everyone a reason to get together. This trip wasn't about me or the pig or anything other than Andrew and Julie and their incredible love for each other.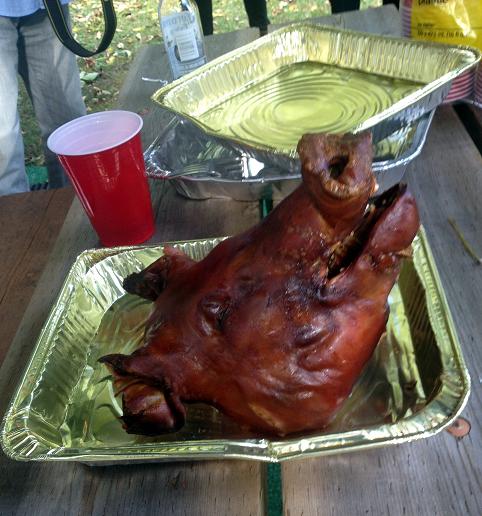 Although, that pig was pretty great.