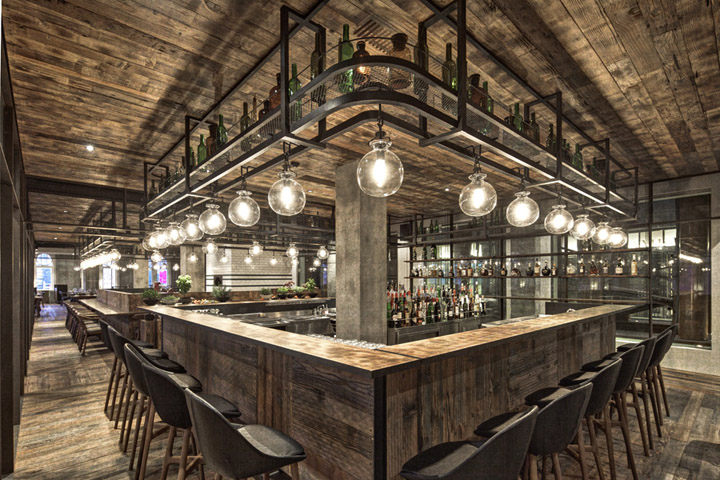 Back in October (A year ago, incredible! I'm still writing "2012") Macleans magazine released their 50 Best Restaurants in Canada guide. My Chef, Hiro and I flipped through it one night after clean-up and immediately nerded all over the "Westcoast" chapter.
Vancouver's own Hawksworth Restaurant got number one in all of Canada! Nice! Bao Bei and Whistler's Araxi also represented. And, just a couple pages later we were treated to a beautiful two-page layout of Gastown's gastronomic bleeding heart: L'Abattoir. My eyes were immediately drawn not to the perfectly prepared, meticulously arranged plates of food, but to the restaurant's gorgeous interior. The sun-dappled dining section with the driftwood/antler chandelier and exposed brick walls really got my art school dropout soul singing.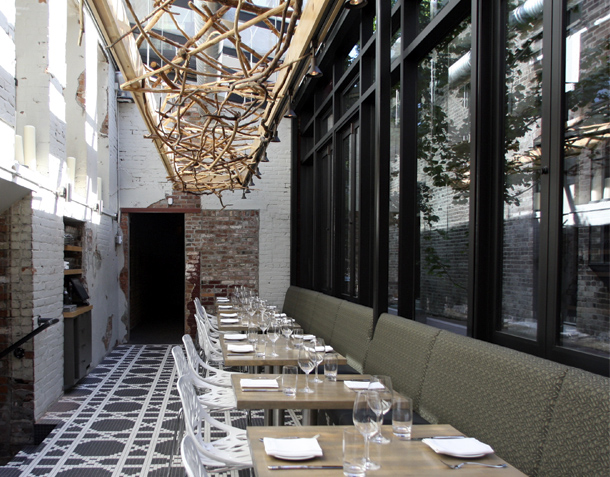 Y'see, aside from being a sleepless cook, shameless epicurean, boring know-it-all, and dirty hippie, I'm also guilty of being something of a design nerd. I love art and architecture. The places 'n spaces that we humans create, inhabit, and the ways that they can subtly influence our thoughts and feelings by their size, shape, colour and myriad characteristics. It's neat.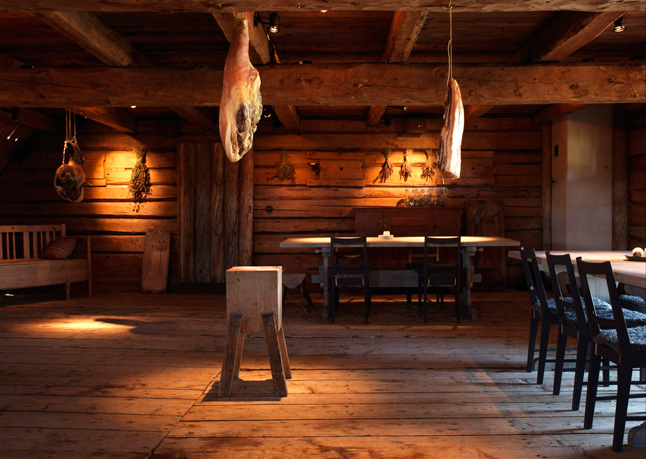 And right now, nothing brings all my passions together like the recent "Industrial Rustic" trend in restaurant design… Wait, up front I should say I don't actually know if this is the established label for this style, it just feels right. I've also heard and read it as: "Industrial vintage"," Industrial up-cycled", "nü rustic", "Scandinavian contemporary" and a million other things. Basically, it's just old buildings stripped down to their bare bones (exposed brick, old timber, metal pipes etc.) juxtaposed with slick furniture made from reclaimed and upcycled products and minimalist lighting fixtures. Or, any combination thereof.
Some Norwegian design team is waiting outside my window as I type this to quietly and artfully assassinate me for my ignorance… Nei! Hjelp!
Anyway, it all about of Lots of space… Lots of light… Lots of wood and brick texture. Warmth and inviting comfort, despite the sleek Blade Runner-style modernity of the design… The cutting edge without the scars. I love it.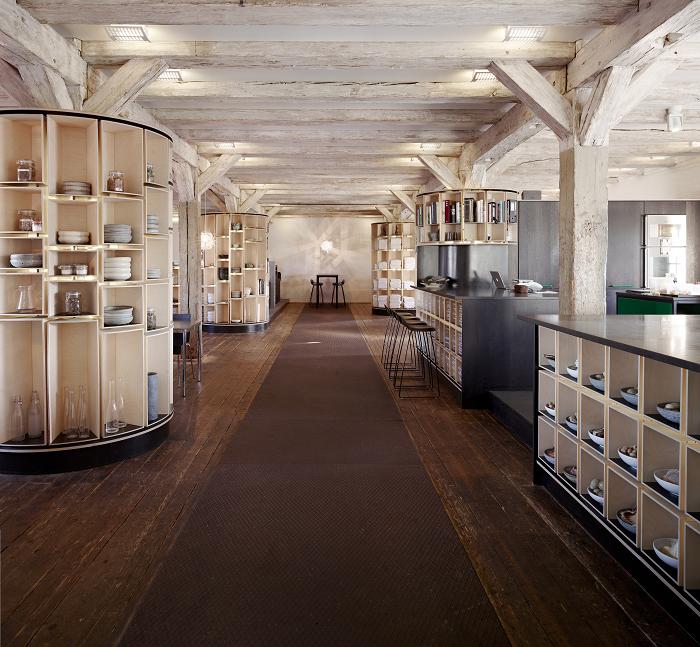 Scandinavia is heavily associated with this kind of look, and with two of the hottest restaurants in the world being Nordic, it's getting a lot of exposure. Both Noma and Fäviken utilize a lot of rustic textures (brick, wood and clay) and very tactful use of natural light to create a sense of theater.
An essential component for a well done industrial rustic design is location, location, location. For the designers to peel back all those layers of spackling and reveal a beautiful early 1900s red brick wall, the wall has to be there in the first place. Buildings with history going back to at least before the microwave are the perfect location for a slick new eatery. Factories, mills, churches, breweries and any place with a structure old and distressed enough to act as a canvas can be transformed into the perfect statement of traditional-meet-contemporary taste. L'Abattoir is built on the site of Gastown's old jail and later meat-packing warehouse. Noma is also a refurbished warehouse. Faviken was (and in many ways is still) an old barn. Toronto's Boiler House occupies a historic 1880s-era whisky distillery, complete with a 156-foot chimney.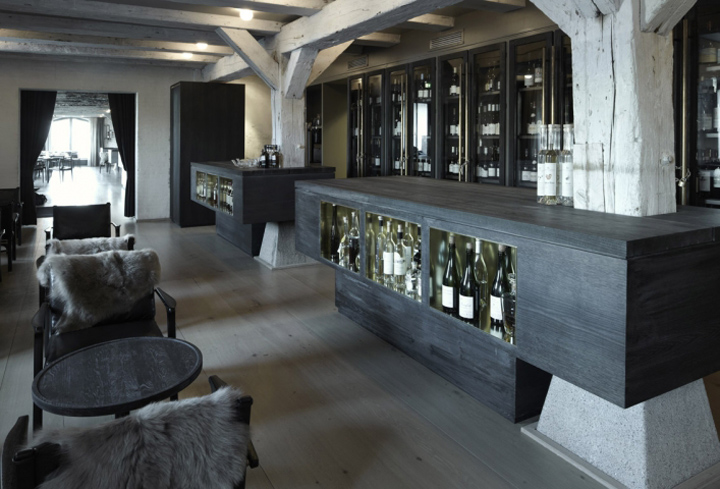 The interplay of textures is very important. Rough spaces need furniture and decor that contrast with polished surfaces and vibrant colours. If the walls are a warm colour, designers tend to use sleek, dark accents with the furniture and vice versa. Lacquered woods next to distressed or reclaimed woods, polished copper and steel displayed next to cold grey brick 'n mortar. Firewood stacked into bins along the walls, chandeliers made from old wine bottles or chairs draped audaciously with animal furs. Sometimes it's those little touches that really make the space pop.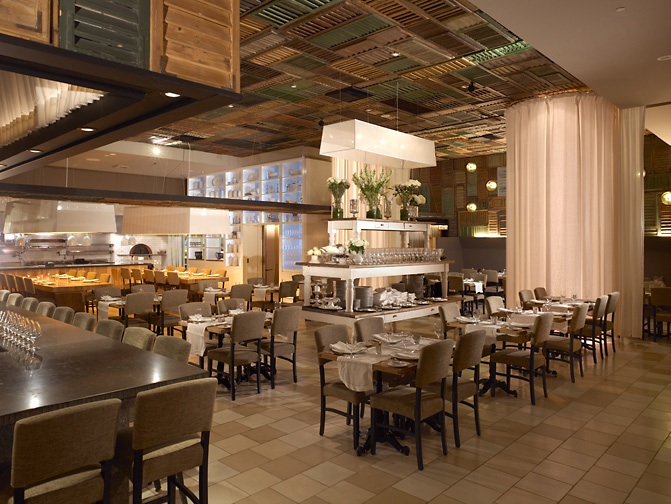 A lot of these designs not only recycle old buildings, but incorporate a ton of antique and re-purposed objects, and use them in unique ways.  Both Bao Bei and Sydney, Australia's Mr. Wong restaurant feature antique Chinese curios as wall decorations. Sacramento California's Ella Dining Room features a ceiling made from reclaimed wooden window shutters collected from local houses. One of crystal and my favourite places to unwind in Victoria is Murchie's Tea House, which renovated a very old space downtown and features lighting fixtures made from antique gas lamps.
So yeah, in the end restaurants are about the food, and it's easy to dismiss a slick new joint's flashy interior as just that… flash. The difference between any modern restaurant interior and the type of "industrial rustic" ones that I'm championing comes down to comfort.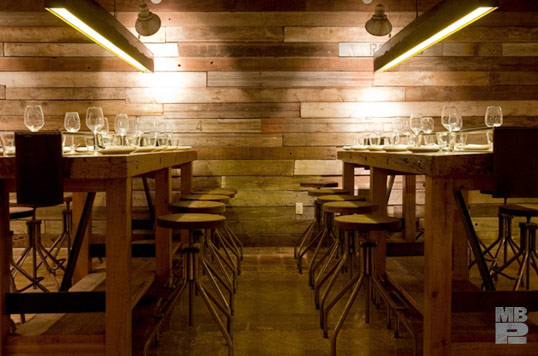 A cold, steel-and glowstick modernist space will make you think the meal you're about to eat is expensive, and most likely off-the gastronomic-wall-crazy. Meanwhile, places like L'Abattoir, Noma, or Ella give you a feeling of gravitas, history and the comfort of a neighborhood watering hole, with just enough edge to make you think, "This is 'gonna be the best meal of my life!"
Besides… You might as well have something pretty to look at while you wait for your oysters to arrive.