(Updated 07/04/2021 after a reader named Jane commented about soggy cakes… No one likes soggy cakes! Also long, blistering Canada Day of frying Bannock and tinkering with the traditional recipe.)
Long before Europeans brought wheat and barley to the New World, the First Nations people harvested, processed and milled flour from indigenous plant life. Stuff you'd never think could turn into flour like Cattails, acorns, mosses, lichens and ferns. These became the base for a myriad of bread and bread-like recipes that kept the natives fed even during tough seasons and droughts.
One particularly badass recipe from the Neskonlith people (one that pre-dates European contact) calls for boiling black tree lichen until it coagulates enough to form sticky, licorice-flavoured hand cakes which were seared on rocks laid in charcoal-filled pits… Yurm.
Once wheat flour became easily accessible to all (well, it took longer if you were First Nations) the recipes calling for items like cattail flour (which takes days of harvesting, drying and pounding for little actual yield) were quickly adapted. The roughly-milled European flours eventually gave way to cheaper and even more processed flours and the hot rocks were quickly traded in for frying pans.
Modern native bannock or "fry bread" is the end of line. A place where all these traditions and innovations, both European and First Nations have arrived, piled out of the bus and now stand around debating who came from where… 'Cause at this point, there is no going back.
Modernity did not erase the First Nations tradition of bannock-making, it made it easier. No longer was bannock cooked at a specific celebratory time of year (because that's when the lichen was easiest to scrape off the trees) but it could be fried up for Sunday dinner or when someone got married or just whenever you were hungry. Let's be honest… No-one really wants to stomp around marshland in November pulling up cattails (Well, 'cept for this guy) when a tastier, fluffier product can be purchased for cheap down at the Food 'n Stuff.
All joking aside, the ease of cooking fry bread connected it even more firmly with native culture. While European-style wheat cakes occasionally get made in Scotland and maybe once in a blue moon over in Newfoundland, fry bread is a part of everyday life in First Nations homes all over North America. It's become so ubiquitous that it's viewed as a symbol of identity. Not bad for a recipe that began as a pile of dried lichen and desperation.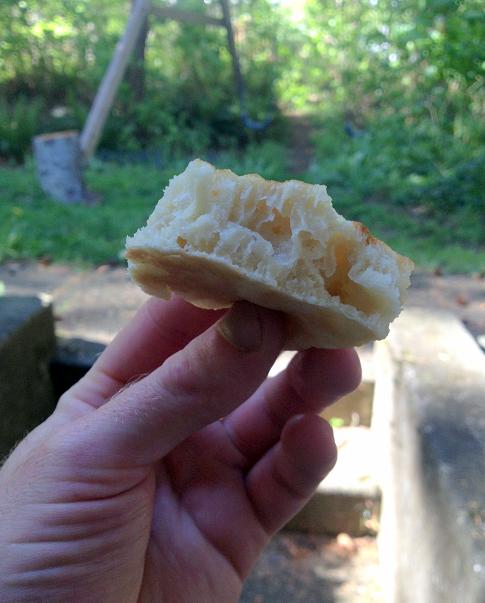 From New Mexico to Nunavut every First Nations tribe has its own spin on the same basic combination of flour, water and baking powder. Fried up in oil or lard it expands far more than the denser European-style bannock, charring slightly as surface expands in the pan and creating air pockets inside like a pita. It's perfect for stuffing, slathering with ground beef and taco seasonings, dusting with powdered sugar like a doughnut or just scooped up and eaten right out of the pan with a bit of marmalade.
This recipe has been adapted from Chef Andrew George Jr.'s book Modern Native Feasts. As always, I'm eager to try any family recipes that come my way. Next time I'm in Uke I'll see if I can get some pointers from the extended family and put 'em into action.
Bannock – First Nations Style (Serves 4-6)
Ingredients
2 cups (250g) Unbleached All Purpose Flour
1 ½ Heaping Tbls. (20g) Baking Powder
1 ½ Tsp. (9g) Salt
1 ½ Tsp. (10g) White Sugar
1 cup (250-ish ml) Water
1/2 cup (120-ish ml) Soda Water
3 Tsp. (15ml) Oil or Lard
Method (This type of bannock is waaaaaay stickier than the last one, so I'm straight-up using a mixer!)
Add all the dry ingredients into the mixer and attach the dough hook. Pour in the water and mix for a minute or two on medium speed until it just clings together without patches of raw flour. It will resemble a thicker, rougher pancake batter. 
Move your mixing bowl over by the stove and fire up the oil or lard in a large non-stick or cast iron frying pan over medium-high heat. You'll want the oil exactly at frying temp when you add your bannock or it'll become soggy, so scoop a little piece out of the bowl and plop it in every couple of minutes until it starts to sizzle 'n brown right away.
Depending on the size of your skillet you can do up to four bannocks at once without crowding your pan too much. Using a 1/3 cup (80ml) measuring spoon, scoop up some of the bannock dough and carefully plop it into the hot oil. Don't panic! The dough drops out of the spoon at the speed of cold molasses so there's not much splatter. Try to get most of the spoon-full together in a rough circle (again, like a pancake) to promote even cooking. But remember, any lop-sided or strangely-shaped bannocks look more "homemade" and definitely taste better!
Fry the bannock for 2-3 minutes or until they expand and turn golden brown, then flip 'em over and fry another 2 minutes. Carefully remove the bannocks from the pan and drain 'em on a wire rack for a minute or two before chowing down.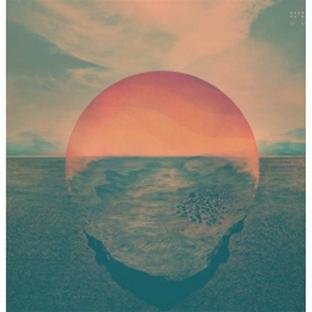 Music To Fry Bread To:
Tycho – Dive