Last weekend Vancouver's spiffy new convention center played host to a veritable pantheon of celebrity chefs, food product artisans and industry professionals. For a couple bucks you could spend a couple days nibbling handmade cheeses, haggling over sous-vide machines, watching local chefs out-garnish each other and wander around tastefully buzzed on local wines. The CRFA Foodservice Hospitality Expo was in town and my chef Hiro-san decided that we should, neigh, MUST  be in attendance to represent Vancouver Island at this most prestigious (and network-able) of gatherings. It wasn't hard to convince our mob of Kamikaze cooks to hit the mainland when "free booze" was mentioned.
The convention was big, and we got to chat with a lot of people and sample a ton of good food 'n drink. To do a complete review would take hours to type and fill too much of life's precious bandwidth, so I've opted to highlight those people and products that had "wow, cool!" factor, a sustainable sensibility, and a local soul.
First off, I have to give big love to the Maxwell Paper Company for possessing enough foresight to see that thousands of BC foodies heedlessly grabbing swag are going to need bags to carry it all. Past BC Food Shows had bags handed out at the door, but this year people were walking around with armfuls of pamphlets spilling everywhere while trying to eat goat's cheese crostini. A company from my hometown of Belleville, Ontario stepped in and saved the day. People were mobbing their stall. Great advertising!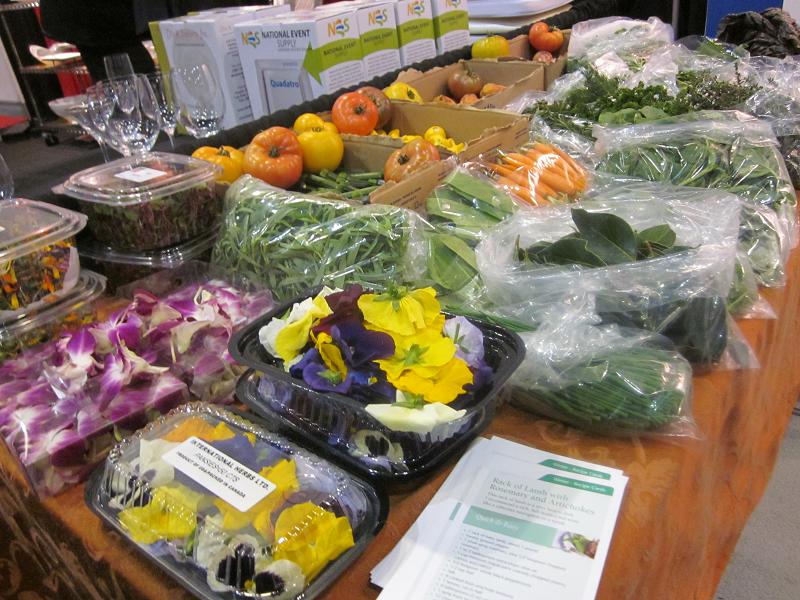 International Herbs had a beautiful display of their fresh leafy greens 'n veg. Edible flowers, candy-cane beets, fresh bay leaves, lots of crunchy, shiny, eye-popping stuff. Sonny, the guy running the stall was really knowledgeable and passionate about his produce. "Would you like to try an orchid?" He asked, as if that was an everyday thing for me. It turns out orchids taste just like they smell. Glorious.
I found Hiro in the next stall drooling over a piece of technology more at home in Tony Stark's workshop than any kitchen I've been in. Touch Screen Displays.Ca Had a full line of interactive LCD screens, tables and other science fiction-esque stuff to play with. Jarvis, I'll have a latte please.
The sound of clattering pans and sizzling salmon was getting louder as we reached the far end of the convention hall.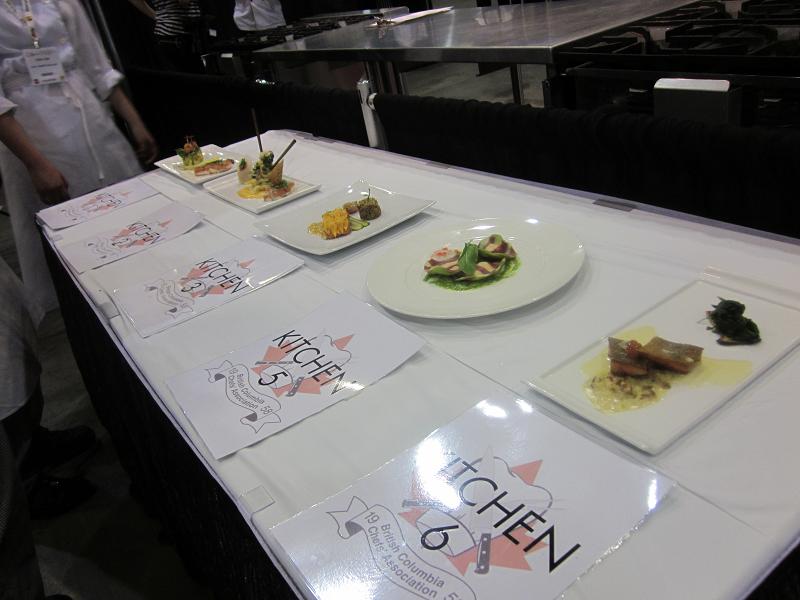 Across from the Sysco Foods display, the final round of the post-secondary school Chefs Competition was racing to a food network-worthy conclusion. Only ten minutes remained for six culinary art students to plate their dishes and await the judgement of their peers. The crowd, packed with friends, relatives and gawkers like me cheered and shouted encouragement (much to the dismay of nearby vendors, I'm sure). The bell rang, and the chef on the mike told the competitors to, "Step away from your plates!" and it was all over, time to find out who was going home with gold.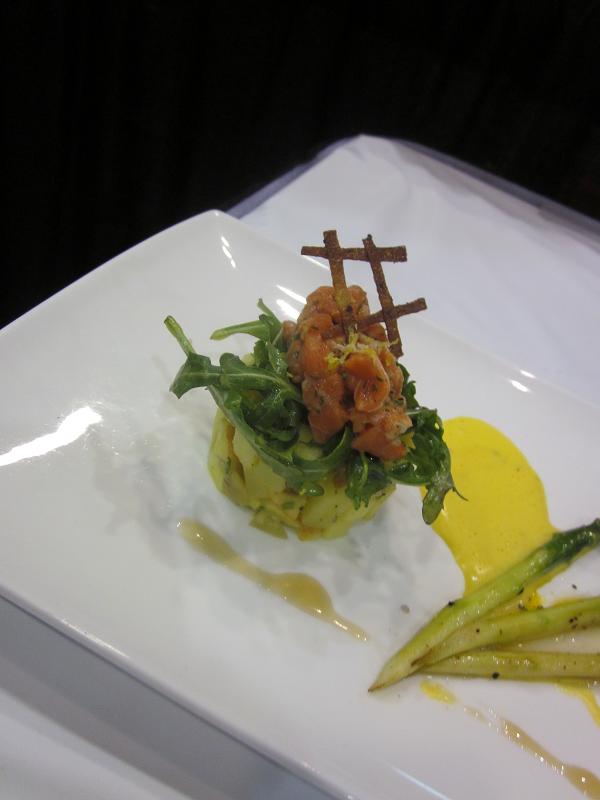 I was able to take a few quick pictures of the beautifully arranged dishes before the judges swooped in. Big love and respect to all the people taking part in the competition! I know what it's like to perform under such pressure, and all the final plates looked amazing.
Next door, local coffee companies were brewing their aromatic best, and local artisans offered up little bites of breads and cheeses on toothpicks and little sippie cups of hand-pressed oils and vinegars (who's going to drink an ounce of vinegar? Apparently I will!). A staple snack at our house, Raincoast Crisps by Lesley Stowe were there, alongside Happy Days Dairies, featuring their delicious varieties of goat cheeses, and the boys from Rain City Soups were ladeling out bowls full of big, badass flavour .
Whoa, look at those mushrooms!!!
The foraging team from Ponderosa Mushrooms in Port Coquitlam had set up a feast for the eye (and nose!) at their booth. Locally foraged and cultivated mushrooms and berries literally sprang out of their baskets towards us. "What's this? What's that? I didn't know that grew here!" What an incredible assortment of fungi (Everything from porcini, shimeji, morel and king oyster to weirder ones like lobster, lion's mane and the visually dazzling blue stem mushroom) and locally picked berries (wild blueberries, currants and lingonberries). This is the kind of spread that really gets a foraging freak like me excited!
Behold! The freaky-deaky spawn of the deep 'n damp forests of BC!
Just around the bend was another mushroom purveyor with a different, equally exciting line of 'shrooms available for both foodservice and homeopathic medicinal use. Asia Pacific Farm Ltd. (of just APF) out freaked the fungus freaks like me with their display of Giant Oyster, Reishi and (get ready) Winter Worm varieties of totally organic fresh and dried mushrooms.
As we rounded the bend towards the promised land of beer and wine, I heard the telltale clang and chatter of competition. The B.C. Chinese Chef of the Year Competition was in it's final heat and the tension in the voices of both the English and Chinese commentators was evident. Will Tse from Vancouver's Sandbar Restaurant (who would go on to win both this competition, and be crown B.C.'s Chef of the Year) was just putting the finishing touches on his Banana Leaf-Wrapped Seafood Rouladen. This guy knows his craft cold, and didn't sweat a bit in the spotlight.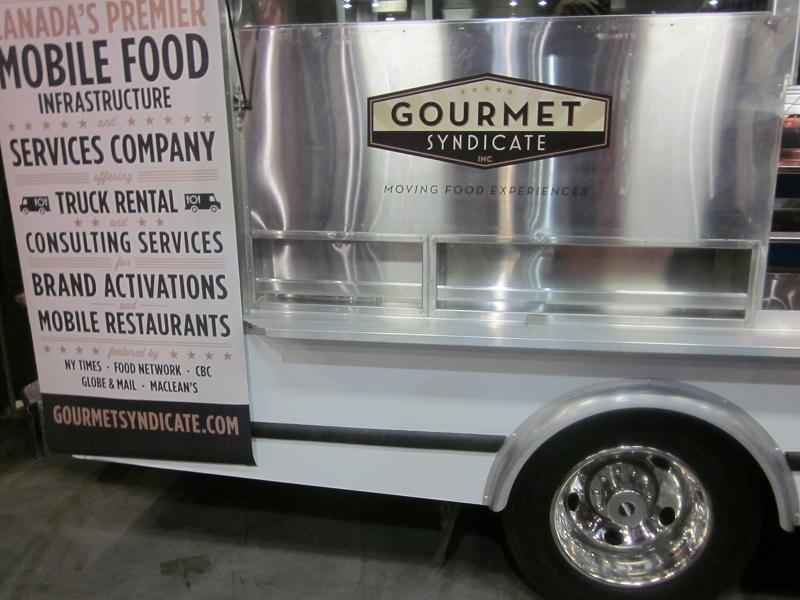 The Gourmet Syndicate, founded by the dudes who created the Roaming Dragon revolution in Van-City food 'truckin are looking for people with great ideas for mobile restaurants! Have you watched Food TV and figured you can mastermind the next food truck revolution? (Gods know I have!) These guys will hook you up with everything you need. We toured through one of their remarkably spacious trucks and chatted about all the possible foods to eat curbside on a summer day.
Finally, we had circumnavigated the convention centre and reached the true heart of the food show… The beer and wine garden.
I fished a glass from the artfully arranged stack and scootched up to the nearest table, where (surprise, freakin surprise!) my friend and former boss Dan was waiting with a bottle of bubbly and a knowing smile. Everything I know about wine I learned from Dan, so it was fitting that I sampled the reds and whites of Back Yard Vineyards with his expert guidance. Cheers man!
There was a little more elbow room near the beer vendors, so I swam against the currents of wine lovers and beached at the Whistler Brewing Company table, where as luck would have it, they were pouring one of my favourite beers. Dark and smooth, Whistler's Whisky Jack Ale has got lots of malty caramel flavour and a slight, balancing bitterness. It was nice to have an old favourite to sip in between glasses of mandarin orange-flavoured ale from Dead Frog Brewery, and the bracingly bitter Czech-style pilsner from Steamworks Brewery.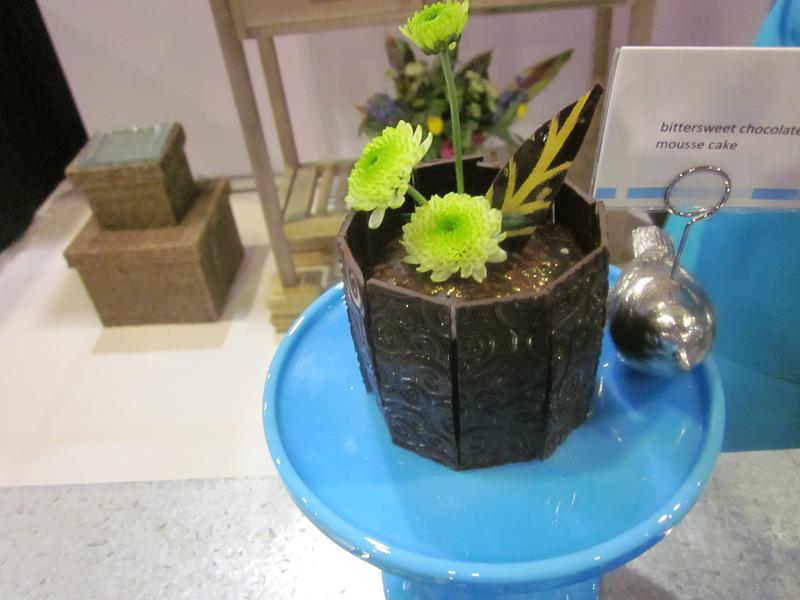 I eventually emerged from alcohol alley and weaved my way over to say hi to the folks from Natural Pastures Cheese Company, from Courtney B.C. They had samples of their famous Comox Valley Brie and a smoked Boerenkaas, which I had never tried before and totally fell in love with!
I was pointed back towards the convention centre entrance and by this time I was full of wine and cheese and coffee and everything… I was done.
So it was kind of strange that I veered off course for the door and tried one last sample before I packed it in. It must have been fate or something that drew me over, because getting to talk with Gary and Susan from Truscott Farms was the biggest pleasure of the show for me. They didn't look like everybody else, didn't talk like everybody else, didn't compulsively check their text messages like everybody else.
"We're farmers," Gary said simply when I mentioned this to them, "that's our main gig, but we come over from Creston to do these shows sometimes. We feel a little out of place, yeah"
They were welcoming and loved to talk about their line of Tabletree Juices, the techniques they developed for juicing, and the homeopathic benefits of pure honest product. During the World Juice Conference in Barcelona, Spain, Tabletree's black cherry juice won the 2012 Best Pure juice Award! I didn't even know they had conferences about juice!
It was incredible stuff, sweet, comforting and deeply flavourful like a fine apple cider. I could actually feel the cherry skin break and give way to a satisfying sweetness as I sipped. A lot of care went into the cultivation and crafting of this nectar of the Gods.
That's what stuck with me as I left the show, that pride in the people making products here on the Westcoast for other food-loving Westcoast people. Not big companies, but real people with farms, trees full of fruit and good ideas.