Tomorrow marks the beginning of the Lunar New Year, a festival celebrated in China, Japan, Vietnam, heck, all over Asia and in North America. It's a time for cleaning house, settling debts, lighting crazy chains of firecrackers and spending time with family and friends eating good food.
If the clan's coming and bringing their appetites, the perfect food to serve as a starter, side dish or snack with tea are dumplings. Known as jiaozi in Chinese, gyoza in Japanese and pot stickers by people walking around Wallmart, these little pockets of perfect are traditionally eaten at New Years celebrations to bring future wealth (their shape resembles Chinese gold ingots).
The fillings vary from culture to culture and season to season. Pork is most popular, as are prawn, duck, smoked tofu, chopped bitter vegetables… Anything goes really.  This particular version has got a very Chinese flavour with pork, finely chopped veg and mushrooms, water chestnuts, and my favorite: super funky oyster sauce. It's my go-to filling for all tastes and occasions.
The quality, and by that I mean the thickness and elasticity of the dumpling wrappers makes all the difference. There is nothing more frustrating than trying to pretty up dumplings with one hand covered in filling while fixing a split edge with your other hand (damp with water) and it all falls apart. So to avoid apoplexy, you can either make the wrappers yourself (I'll post about that later) or you can buy good ones at pretty much any grocery store. The awesomely-named "Double Happiness" Company of Vancouver makes particularly good Shanghai Dumpling Wrappers.
This recipe makes quite a few dumplings, but trust me, you'll blow through 'em pretty fast. If you're guests are already full of long noodles and nian gao you can gently dust the remaining dumplings in flour, lay 'em out on a sheet pan with parchment paper, cover with cling wrap and freeze for up to a month.
Pork Dumplings (makes 45-50 dumplings)
Ingredients
185g Pork Loin (6 ½ oz. with a nice bit of fat in it, chopped)
70g Cabbage (2 ½ oz. finely chopped)
40g Tah Tsai or any Asian Mustard Green (1/2 cup, chopped)
40g Leeks (1.4 oz. white part only, finely chopped)
145g Shiitake Mushroom Shoyuzuke (approx. 1 cup, finely chopped)
6 ½ g Fresh Ginger (1 tbls. peeled and minced)
2 Fresh Garlic Cloves (peeled, smashed and minced)
70g Fresh Water Chestnuts, or canned if you must (2 ½ oz. finely chopped)
2 tbls. Soy Sauce
1 ½ tbls. Chinese Rice Wine
1 tsp. Sesame oil
2 tbls. Oyster Sauce
Pinch 'o Black Pepper
1 Package Chinese Dumpling Wrappers (usually contains 50pcs.)
Method
Mix all the ingredients (except the wrappers) together in a medium-sized non-reactive bowl and let sit in the refrigerator for ½ hour.
Lay out a dish cloth were you want to base your dumpling factory, and grab a small bowl of water, a spoon, a sheet pan dusted with flour, the dumpling wrappers and your bowl of filling from the fridge.
Splunk a rough tablespoon of filling into the center of a wrapper, moisten your finger in the bowl of water and run it around the outside edge of the wrapper. Fold over and squish the edges together like a ravioli, or pleat the edges as you go around to give it an authentic Chinese/Japanese look. This takes a lot of practice and I don't think reading how to do it is the best method of learning. You have to be shown, and then absorb the technique into your fingers by doing it again, and again…. and again… and again. So, if you don't have a cute Japanese girl handy to show you how (like I did) I suggest you hit up a Youtube video, like this brilliant one HERE. Continue until you've exhausted your dumpling wrappers, your wrists, or the space on your sheet pan.
Heat up a large non-stick pan over med-high heat and pour a tbls. of vegetable oil into it. In a moment the oil will begin to shimmer and slightly smoke, carefully place about 10-15 dumplings into the hot pan with their pleated ends-up. It is really important not to crowd the pan with too many dumplings or the logistics of heat and ease of removal get a bit nuts. Leave them to sear in the pan for 1 ½ minutes, without shaking or poking them, to get a nice crispy bottom layer.
 Pour ½ cup of water into the pan (ffffssshhhh!) and cover with a tight-fitting lid. The steam generated by the boiling water will cook the dumplings through, giving them a nice translucent texture. It takes about 4 minutes for the water to completely evaporate, at which time you should add another ¼ cup, replace the lid and cook 2 minutes more.
Just as the last of the water evaporates, drizzle a tsp. Of sesame oil over the dumplings and cook dry for about 1 minute. Get your handy heat-proof spatula and scoop the dumplings out of the pan (make sure to get your spatula under the seared bottom before you scrape, or boom! A dumpling grenade fatality) and onto a serving plate with dipping sauce.
Dipping Sauce  
This classic Northern Chinese-style dipping sauce goes perfectly with the dumplings and is really simple to make: Mix together equal parts soy sauce and rice vinegar (depending on how many people are digging in) and drizzle in a couple of drops of chilli oil.
Gong Xi Fa Cai !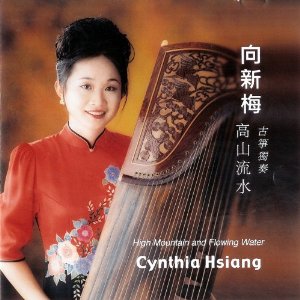 Music To Cook This To:
Cynthia Hsiang – High Mountain and Flowing Water