It's going to be about a week until I can properly cook something again. Our kitchen is currently being torn apart and re-configured in new and exciting ways! I'll post about that once it's finished, but yeah… No sink, no counter space, no stove, no problem.
There are always other projects…
For instance, Crystal is madly in love with Italian sodas and had been mulling over how to flavour them in a way that avoids store-bought syrups. Pureeing fruits and herbs seemed like the simplest way to impart a fresh, honest taste, but the syrups she made didn't last very long in the fridge. So, why not skip the sugar and just freeze 'em as is?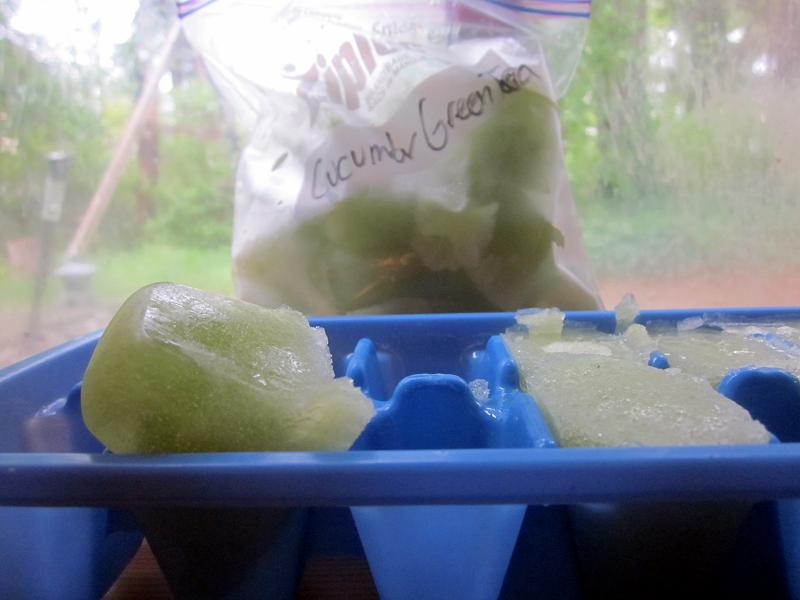 Her first attempt involved pureeing fresh mangoes and freezing them in plastic ice cube trays. The results were delicious, and inspired her to try something a bit more complicated. She brewed green tea, chilled it and added a mixture of pureed cucumber and freshly picked mint. A nice deep glass filled with these frozen flavour bombs, soda water to the top, a little stir-up… The essence of summer! As the cubes melted, they would flood the glass with more and more fresh 'n complex cucumberness.
It wasn't long before I twisted Crystal's innocent soda recipe to my own nefarious gin-soaked ends, and started sneaking these ice cubes into my Pimm's cocktails (The recipe calls for both cucumber and mint). They were a perfect match!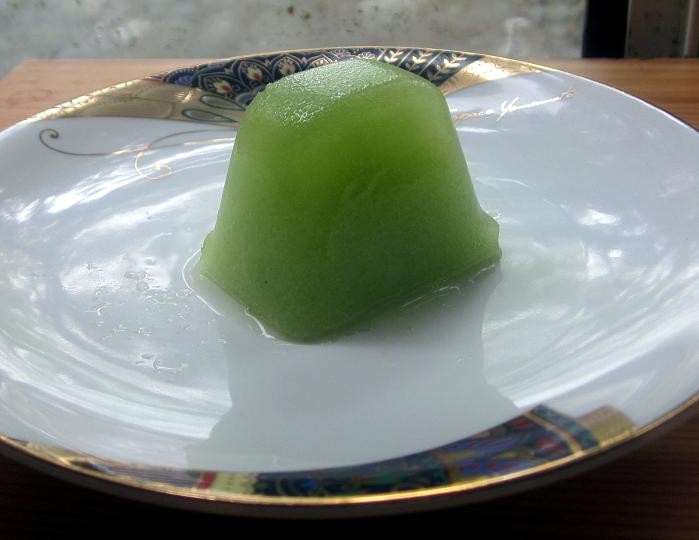 It's like a space-age delivery system for flavour… Well, alright it's just ice cubes with stuff in them… But damn are they luscious! Also, they're a cute entertaining trick and a simple way to use the abundant veg and herbs overrunning our (And hopefully your) garden this summer.
Cucumber-Green Tea Ice Cubes (Makes 4 ice cubes trays, or 56 cubes)
Ingredients
1 Large Teapot's worth of Water (750ml)
2 tbls. Loose Leaf Green Tea (We used some Iron Buddha we got from Daniel Lui, but any good quality green tea is cool.)
2 Medium-sized English Cucumbers (peeled, seeds removed and roughly chopped)
1 Handful of Fresh Mint (finely chopped)
Method
1.       Brew the green tea: Bring the water up to a boil. Let the water cool for 4 minutes and add in the tea leaves. Steep for about 2-4 minutes (It is a lot of water after all), strain out the leaves and leave it uncovered to cool to room temperature.
2.       Pour the tea into a blender (Or, use your handy emulsion-blender) and buzz the tea and the cucumbers up into a fine, slightly cloudy mush. If you want to refine the overall texture, you can strain the results through a sieve into another bowl. Mix in the chopped mint… We found that blending the mint with everything else creates an unpleasant graininess. So yeah, just hand-mix it in.
3.       Pour this beautiful minty, cucumber mush into some plastic ice-cube trays and freeze them overnight.
These cubes can be left in the tray, or popped out and stored in Ziploc freezer bags for up to 2 months. Just grab out the bag whenever you want a flavoured soda, or if you are devious like me you can mix up a fine Pimm's cocktail.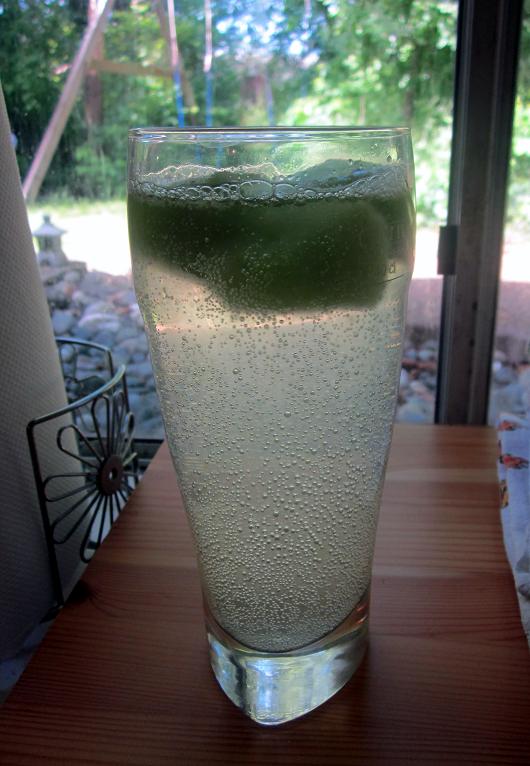 Pimm's No.1 Cocktail
Drop 2-3 of your cucumber-green tea ice cubes into a fashionably-tall glass. Pour in one oz. of Pimm's No. 1 and top it off with ginger ale. Give it a stir, and if you are feeling fancy, garnish with a lemon slice and some fresh mint.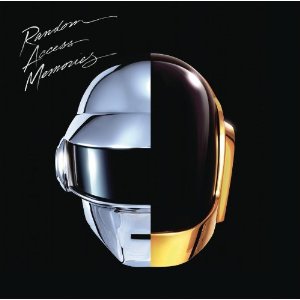 Music To Mix Cocktails To:
Daft Punk – Random Access Memories