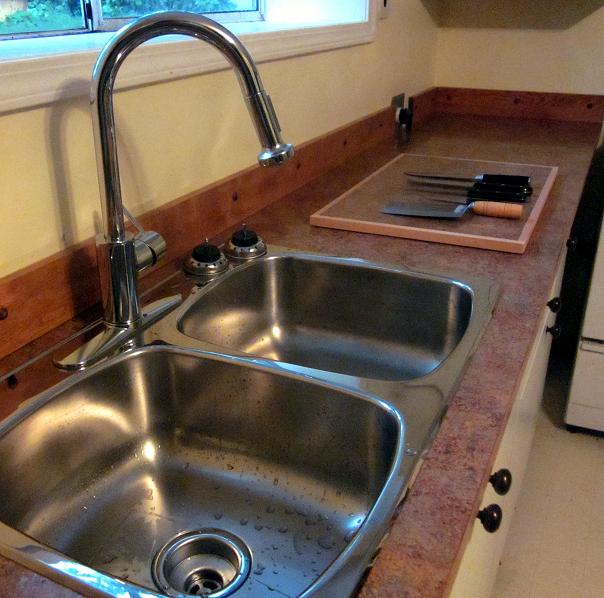 Sometimes you live with something for so long that you think it's part of the landscape, and accept a massive inconvenience as part of life, 'cause it's always been that way.
Then someone with clear vision and a head full of good ideas walks up and gives you a smack… Someone like Lisa:
"Wake up! Your kitchen is tiny! You can't wash pots in your sink! How do you ever cook anything in here? You… Have… No… Counter… Space."
She was right of course, our little kitchen was horribly cramped and tragically under-countered (technical term, only us pro's use it… no, don't look it up) and it really is a miracle that I've produced almost a year's worth of food blogging, and four years worth of eating from it. It was time for a change.
So Lisa had a plan, and Bruce Barris (from Localhomespot.com) had the know-how. In a couple of days we had cabinets for the first time, a new counter-top, bigger sinks and a sleek Hansgrohe faucet (On sale!) with all metal bits. Bruce even made me a cutting board out of some spare pieces of wood and counter! So yeah, no more "open concept" kitchen (read in: "Can't afford cabinets kitchen") we are broiling in style!
I hereby pledge to put all this shimmering newness to work right away to feed my wonderful family, and share new creations with friends and the internet in general.
Big love to Lisa and Bruce for everything, you will never go hungry!