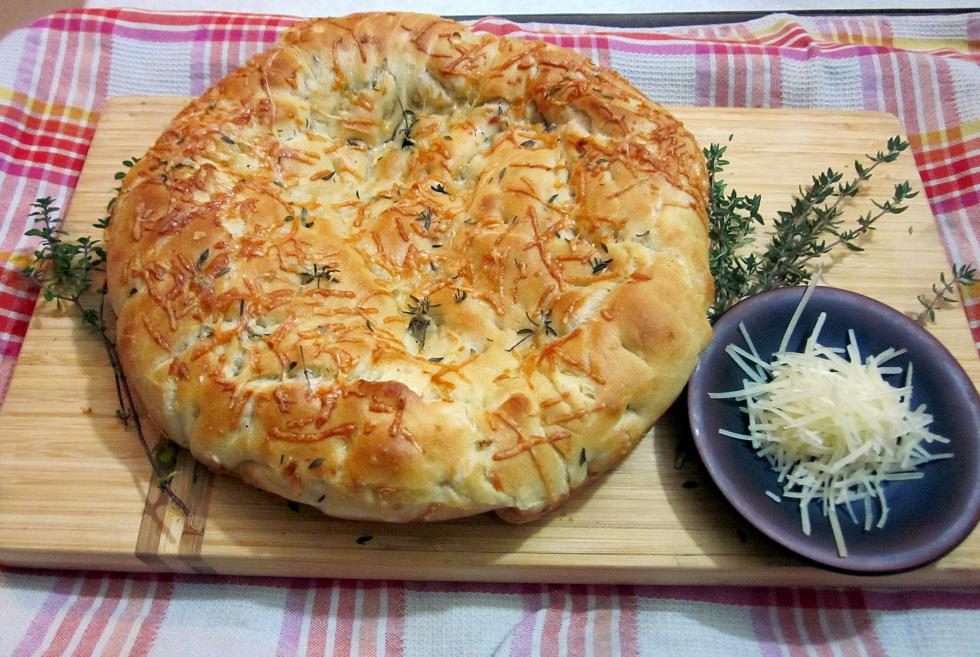 "No Fail" is all I want in a bread recipe. I mean, I suppose I'd want that guarantee wrapped around most recipes I try, but yeah… especially for bread. I don't freestyle bread.
I recently had to bake a loaf of bread for a cooking exam, and not being of the baking persuasion I was kind of at a loss. I talked a while with my buddy Simon from The Knight Baker's Blog about focaccia being my best option, and he had some great suggestions. In the end, I was thumbing through one of my old recipe books and a faded and stained recipe card fluttered out from between the pages. There are no Coincidences! It was from my Culinary Arts school days and was boldly titled "NO FAIL FOCACCIA!" Double underlined.
Focaccia (a name derived from the Latin "Hearth" or "Oven") is a simple yeast-leavened bread dough almost identical to pizza dough. It's a delicious, and very forgiving recipe for people like me who may forget all those baker-trade secrets, proper measuring equipment or whole ingredients now and then. After you've completed all your tasks, austerities, and moments of working zazen you are rewarded with long stretches of time to just chill with a cup of tea while the dough morphs into bread. Baked golden on the hearth, this craggy, rustic loaf of love just begs to be devoured by hand with some oil and soft cheese.
Focaccia Bread with Parmesan and Thyme (Makes 1 loaf)
Ingredients
7.5 g (1 ½ tsp.) Sugar
5g (1 tsp.) Active Dry Yeast
175ml (about 6 oz.)Lukewarm Water
250g (about 2 cups) Bread Flour
5g (1 tsp.) Kosher Salt
45g (3 tbls.) White Onion (very finely minced)
150g (1.2 cups) AP Flour (for dusting)
15 ml (1 tbls.) Olive Oil
15g Fresh Thyme (about 2-3 fronds, picked)
30g Parmesan Cheese (a small handful, finely grated)
Pinch of Kosher Salt
Method
(Pre-heat oven to 400˚F, and close all the windows. You want the whole house to absorb this glorious smell.)
Stir together the sugar, yeast and water until yeast dissolves (about 2 minutes). Use your fingers to swish it around and test to see if all the yeast bits are gone.
Sift bread flour into a medium-sized bowl and pour in half of the liquid. Mix into a sticky paste with 'yer hands and toss in the salt and onion. Add the other half of the liquid and mix into a slightly sticky dough ball.
Dust a clean work surface with the AP flour and knead dough for 8 minutes by hand. Dust the surface with more flour as necessary, as the dough will greedily vacuum it up and become less tacky. It will slowly firm up to the point where you can drop it from a height onto the table and it won't sag or flop all over the place.

Anyone can knead dough and knows how to do so almost instinctively, as it's a skill that pops up in so many different activities. I was doing this recipe and my wife, who does a lot of pottery, walked in and commented that, "My wedging technique was very good!"

Place dough into an oiled bowl, cover with cling wrap and let rise 1 ½ hours in a warm place. I usually set my oven to "Warm" and just put the bowl on top.

Before Rising

After Rising!

Punch down the dough and flatten it out into an oiled baking pan of desired size. Once spread, the dough should be no more than 1" thick. Dimple the surface of the dough with your thumb in either a straight and logical pattern, or completely randomly depending on your personality. Brush the top with any remaining olive oil and sprinkle thyme, Parmesan and kosher salt over top. Let sit at room temperature for 15 minutes.
Bake in a 400˚F oven 25 minutes.
Remove from pan and let cool on a baking rack until temptation forces you to rip off handfuls of crisp, fluffy still-warm bread and stuff 'em in your face… No one here is judging you.
Music To Bake this To
Of Monsters and Men – My Head Is An Animal