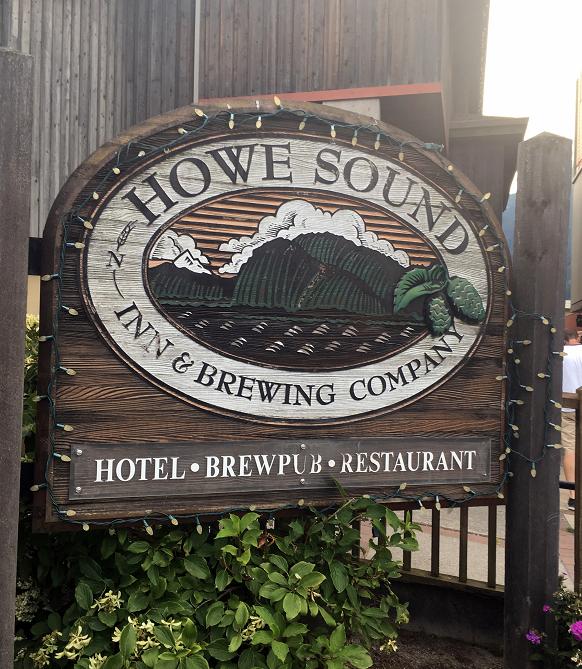 Squamish (or "Squampton" depending on where your allegiances lie) is a small burg nestled in the peaks between metropolitan Vancouver and the bacchanalian circus that is Whistler. It's one of the most jaw-droppingly beautiful places in BC that you can easily visit by car (half an hour from the Horseshoe Bay Ferry!) and if you happen to love outdoorsy stuff like my wife and I do it's a must-visit destination… Except… Well… It's kind of at war.
Y'see it's still a small town, just enough industry to keep it going during the winter and enough summer kids hanging around to run the store while all the tourists pile in. Problem is we're not talking a handful of tourists here. When a sizable portion of metro Vancouver decides to holiday in Whistler, they're all driving up the same highway at the same time to get there. And they're all having lunch in Squamish.
During our entire five day long stay in Squamish we witnessed cooks, servers and baristas battling some of the most outrageous lineups of entitled people we've seen since… Well, Whistler *laughs* But Whistler's veteran hospitality army can handle 'em… Squamish just couldn't seem to hold the line. Nearly everywhere there were long waits for food, dirty tables and panicked bussers, fuming customers and thousand yard stares from beyond the pass. Our sushi restaurant even ran out of rice!
But I said "nearly" everyone didn't I? Yes! One shining beacon of hospitality stood out amidst the cloud of war. It's the biggest, baddest, jam-packed fullest joint in town. The number one recommendation for dinner and post-MTB drinks we got from everyone. Squampton's Generalissimo in the war of hospitality: The Howe Sound Brewpub.
It's a beautiful, huge building overlooking the stunning Stawamus Chief rock face (one of Canada's most famous climbing venues) that houses not only a brewery but a pub, restaurant, a massive patio, a pizzeria, an adventure tourism business and top floor inn accommodations. When we rolled up for an early dinner on a Tuesday every square foot of this food 'n drink juggernaut was jam packed with tourists and locals.
After a couple days of long waits I was on edge as we were ushered to the thick, rustic slab table at the far end of the dining room, but we quickly realized we were in damn good hands. Our server was on point, vacuuming up our extensive drink and appy order without batting an eye and returning like lightning.
A quick aside: I don't usually spend enough time on the front end in most of my restaurant reviews, but it's one of the make or break facets of a food service establishment. When service is bad it destroys the night for us, and those joints never get any love on this site. When it's okay the food better make up for it. When it's a well oiled machine like this joint… I stood up and applauded… Seriously, I did that, later on when I was four beers deep and the dining room had emptied out a bit.
Here's an example of solid service: Crystal and I each ordered a flight of mini-beers to sample the whole spectrum that Howe Sound had to offer. That's four sleeves of beer each that had to be correctly recorded, poured, arranged and labeled while still POSing our calamari and whatever. Or to put it another way: That means pulling eight taps for just two people with a head full of god-knows-how-many other orders at peak crazy time. And it came out flawless!
Of the eight mini-beers we sampled Crystal really dug the Kalamansi Citrus Blonde Ale and I was all over both of their seasonal wheat beers. After playing pass the glass with Crystal, Jen and Sean (who had arrived to help eat our fried squid) my wife went with the Blonde Ale and I decided I couldn't pass up a chance to down a pint of the award-wining King Heffy Imperial Heffeweizen at its native brewery.
I was not disappointed! The King boasted bold banana, vanilla and pumpkin spice flavours and a soft wheaty finish that nicely rounded out the beer's staggering 7.7 % ABV. Between that and all the samples, I got a nice buzz on pretty quick and frequently found myself drifting away from the conversation and just staring out at the beauty of Squamish with a goofy look on my face.
Time for something to eat! *laughs*
The Pub and Dining Room menu features a lot of fresh seafood, pizzas baked in their wood-fired oven, a nifty burger selection and all the usual pub favourites with a crafty, local twist. As you would imagine many of the dishes are cooked with beer and every bit of food they serve has a suggestion for which beer to pair it with. Crystal and Jen both opted for pizzas while we dudes were in a burger mood.
The pizza came sizzling to our table with a beautiful wafer-thin crust covered in those sexy little black blisters that only a hot stone and live fire can create. Plus cheese, lots of cheese! Crystal's margarita pizza had so much gooey awesomeness on top that you could hardly tell where the basil was until you bit in. Nom nom.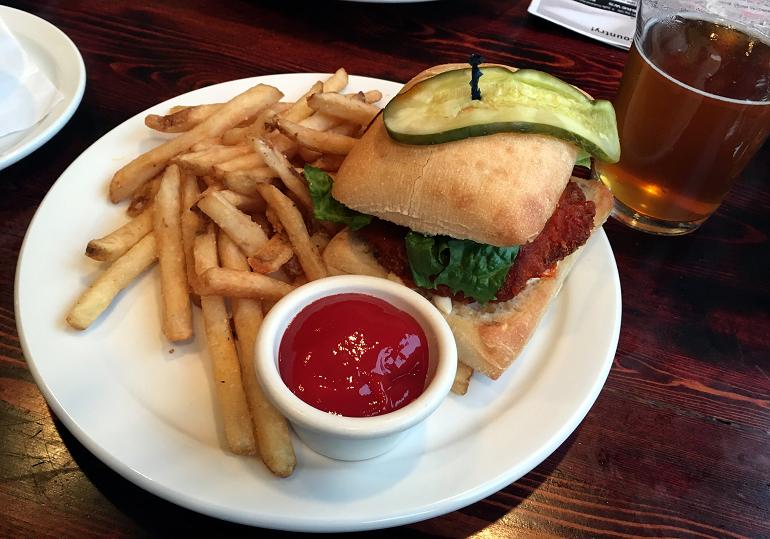 My Fraiser Valley chicken burger was great! Crispy on the outside and tender inside with a sweet little bun – good chicken-to-bun ratio is always important. The best part was the optional gold-plated strip club upgrade in which the chicken is tossed in buffalo hot sauce and slathered in blue cheese. It was crispy and salty, spicy and funky; Manna from heaven for a guy working his way through every beer on the tap menu.
We lingered a while after we ate through all that great food , chatting and nibbling the last sweet potato chip crumbs off the table while planning our assault on Squampton's legendary MTB trail "Half Nelson" the next day. The dining room vibe was a tad more chill at this point now that most of the customers had either left or strolled across the building to the raucous pub. We just hung out and enjoyed each others company the way a good meal and a great view will make one do.
Man…That view.
I kicked off this review by basically pissing all over Squamish's entire hospitality sector, which as I look back at it now might not be as deserved as I thought. Every town has a bad week right?
I would never want to dissuade anyone from visiting this beautiful town. But if you do go, and it's taking you a long time for your sake to arrive and you're starting to get the impression that maybe your dragon roll isn't on its way… Head to the pub, they'll know how to take care of you.
Here's Jen and Sean moments before descending Canada's most famous single track: