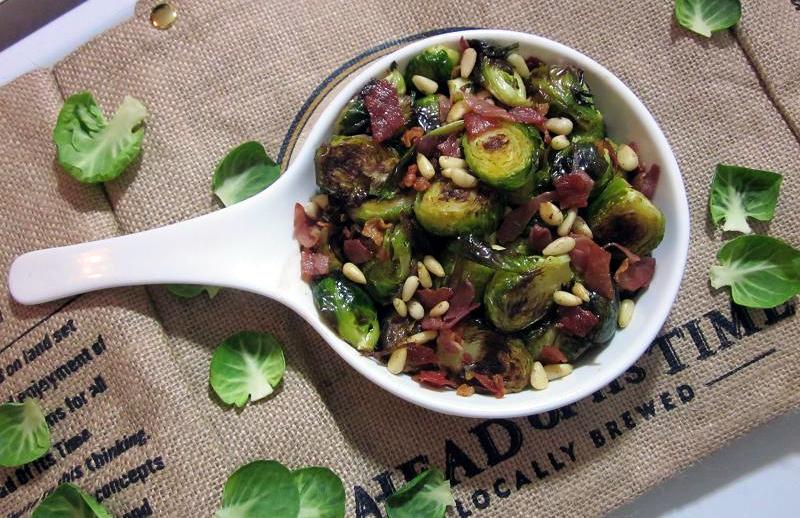 There is one piece of culinary wisdom that I feel it is my sacred duty to pass on to anyone I know. Something that every professional, amateur and aspiring-to-someday-be home cook needs to know and pass on to their children, and their children's children. This little piece of knowledge can transform the mind, body and soul of cook and diner alike. It can save the world!
It is simply this : Don't boil your brussel sprouts!
Generations of children have grown into adulthood hating the brussel sprout because of tragic holiday memories. Brown, slimy, overcooked lumps of spout forced down their poor throats by parents intent on continuing this insane tradition of over-cooking anything coloured green. Stop the madness! Will someone please think of the children!? Put the pot away, and fire up the oven instead!
Yes, roasting is in my opinion a far more suitable cooking method for these tiny little cabbages. Brussel sprouts can taste amazing! Savoury and crisp like chips on the edges and soft inside like an artichoke heart. I'll forever be indebted to David Chang for his Momofuku Cookbook recipe that opened my eyes to the concept of brussel-broiling.
So this year forget those smelly boiled brussel spouts of yore and drop a crackling skillet of finely charred spouts alongside your turkey or ham.
Roasted Brussel Sprouts with Prosciutto and Pine Nuts (Makes 2 Servings)
Ingredients
20g (2 tbls.) Pine Nuts
325g (11oz.) Brussel Sprouts (stemmed and chopped in half lengthwise)
30ml (1 tbls.) Olive Oil
Salt and Pepper
5ml (1 tsp.) Olive Oil
55g (about 2 oz.) Prosciutto (chopped)
 12g (about 1 tbls.) Unsalted Butter
38g (1.3 oz.) Shallots (thinly sliced, lengthwise)
7ml (about 1.5 tsp.) Balsamic Vinegar
Method
(Heat up your oven to a `screamin 450˚F or 232˚C)
Fire up a pan on med-high heat, or place in the pre-heated oven for a minute and toss in the pine nuts. Shake them around and toast for 1 minute. Take èm out and give them a shake. If they have a little colour on them, and smell lovely and nutty, pour them into a small heatproof container to cool. If they need more time, put èm back in the oven for 1 minute. You have successfully toasted pine nuts!
Toss the brussel sprouts in a little oil and season with salt and pepper. Lay them out in a cast iron skillet, or roasting pan in one layer(this is important for even cooking). Roast them on your topmost oven rack for 20 minutes, checking `n flipping them halfway through. Your sprouts should still be a vibrant green colour with charred bits along the edges and a golden brown blush on their flat sides. Beautiful! Remove from the oven and cover with tin foil to keep warm.
Pour a tsp. Of olive oil into a med-hot pan and sauté the chopped prosciutto pieces for 3 minutes, stirring constantly. You want them nice and crispy. Shake the pan, if the prosciutto bits are crunchy enough to make a noise, remove them with a slotted spoon to rest on some paper towel. Don`t get rid of that pan!
Plop the butter into the pan you used for the prosciutto and just let it do it`s thing on low heat for about 2 minutes. First it will melt, then bubble, and finally start to brown. Once it`s at that nice golden brown stage, throw down the shallots and cook them in the butter for another 2 minutes. Pour in the balsamic vinegar and stir it around for 30 seconds until it gets really friendly with the butter and shallots and forms this beautiful chutney-like syrup.
Toss the brussel sprouts with the shallot syrup and prosciutto bits and serve garnished with toasted pine nuts. A holiday classic is born!
Music To Cook This To:
Jethro Tull – Christmas Album