My parents are coming from Ontario to visit so we've been busy this week cleaning up the yard, trimming back the encroaching  forest and sowing the last crop from the garden so when they arrive they'll have a place to lounge in the sun and something to snack on. I intend to do quite a bit of grilling for them, but not every meal. Here and there I've packed away freezer bags full of pre-made nibblets for the nights when we've had a bit too much adventure.
One of these instant meals includes a heaping helping of our local Spot Prawns, which I've still got frozen in water-filled bags from back in June. I mentioned that spot prawn makes a fine stuffing for dumplings of all shapes 'n sizes and that goes for stuffed pastas as well!
I've only recently gotten into making my own fresh pasta. I used to tell myself that I didn't make it at home because I didn't have one of those fancy table-mounted pasta rollers.  That's bullshit of course, I didn't make fresh pasta because it's a long process and (in a real line cook move) I viewed it as a poor investment of my time, especially when the dried stuff was cheap, easy and always ready when I was.
But just like bread making, the process of mixing, rolling, forming and cooking pasta has become more and more attractive to me. Maybe I'm getting old and wistful, but I kind of dig the act of slowly forming something from disparate ingredients and letting it sit, then forming it again and letting it sit… It's very Zen.
Now I've always called my stuffed pastas "tortellini" because I never knew much difference between all the shapes 'n sizes. Kind of like how I call all wormy-shaped pastas spaghetti, despite there being all many of variations: "Spaghetini" (little ones) "Spaghetoni" (big ones) and "Capellini" (really little ones) the world of stuffed and twisted pastas is no different: "Tortelloni" is just the big brother of "tortellini".
Stuffed Pasta Dough
This recipe comes straight out of The Pasta Bible by Christain Teubner, Silvio Rizzo and Tan Lee Leng. It's basic as hell and works especially well for thin-walled stuffed pastas.
Sift 2 1/3 cups (200g) of All Purpose Flour directly onto your kitchen table (I sure hope you keep it clean!) and break 2 Eggs, 4 additional Egg Yolks, 1 Tsp. of Olive Oil and a pinch of Salt into the centre of your flour pile. Use a fork and squish up the eggs, slowly mixing in a bit of the surrounding flour as you go. The more you mix the stickier and thicker the pile gets until you can use your hands. Collect all the remaining flour into the pile and knead until the dough becomes firm and slightly smooth. When you push on the surface of the dough it should keep its shape. Cover with plastic wrap and let rest for 1 hour. This recipe makes 22 oz. (620g) of dough.
Spot Prawn Tortelloni (Serves 4-6)
Ingredients
1 Tsp. (4½ g) Butter
¼ cup (40g) Leek (finely chopped)
1 ¾ cup (250g) Fresh Spring Peas
Salt and White Pepper
2 ¾ oz. (80g) Ricotta Cheese
1 ½ Tsp. (8 ½ml) Whipping Cream
¾ lb. (300g) Fresh Spot Prawn Meat (chopped)
A Handful of Fresh Basil (approx. 5g, finely chopped)
1 Tsp. (2g) Lemon Zest
22 oz. (620g) of Stuffed Pasta Dough
Method
Melt the butter in a small sauté pan over medium heat and toss in the leeks and peas. Sweat them until the leeks become translucent the peas squish with the lightest touch (approx. 4 minutes) season with salt and pepper and remove from heat. Chill for 30 minutes.
Chill the bowl of a stand-up mixer in the refrigerator until needed then plop in the ricotta, whipping cream, prawn meat, basil and lemon zest and whip it all on medium speed until well combined and fluffy (2 minutes). Add in the Leeks and peas and whip another minute to combine into a paste.
Separate your ball of dough into 4 equally golf ball-sized lumps and roll them into 6 by 6 inch squares, or at least as close to that as you can… I'm not an Italian Grandmother so I don't care how perfectly you (or I) made 'em look. What we want is to slice our square into 2 inch strips and then separate each strip into three 2 inch squares.
Plop a rough Tablespoon of the filling into the center of each square, wet the edge with a bit of water and fold it over to form a triangle with a pot belly. Smooth the edges so that the pot belly becomes more pronounced in the centre and dab a wee bit of water on the tips of the two triangle points opposite each other. Place one finger on tortelloni's belly and squeeze the two moistened tips together so it looks like the tort is hugging your finger, then just pull your finger out of the tubby little pasta's embrace and line it up on a flour baking sheet. Repeat until your pasta dough and filling are all gone.
Note: If you're freezing them like me, this is where you dust 'em with flour and throw them into the freezer until they're needed.
Boil a big pot of salted water and dunk your tortellonis in for 3-4 minutes until they float. Drain them and toss with whatever sauce you've got. Here's a couple of the preparations we like:
Melt a big pan-full of butter and sauté up some garlic and lemon thyme until the kitchen smells amazing, then fire in your tortelloni and continue to sauté 2 minutes and serve right away with lots of Romano cheese and herbs.
Sauté asparagus, zucchini and fresh peas in a little bit of olive oil until soft (4 minutes) then add your tortellonis and a big dollop of nettle pesto and cook another couple minutes stirring constantly until the whole shebang bubbles. Top with parmesan and pepper.
Simmer the prawn heads with tomatoes, white wine and herbs for half an hour to make a fragrant red prawn stock and strain until clear. Serve the tortellonis in the hot broth with bits of sautéed fennel and chorizo.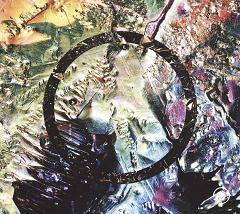 Music For Making Torts:
The Comet Is Coming – Channel The Spirits
Save