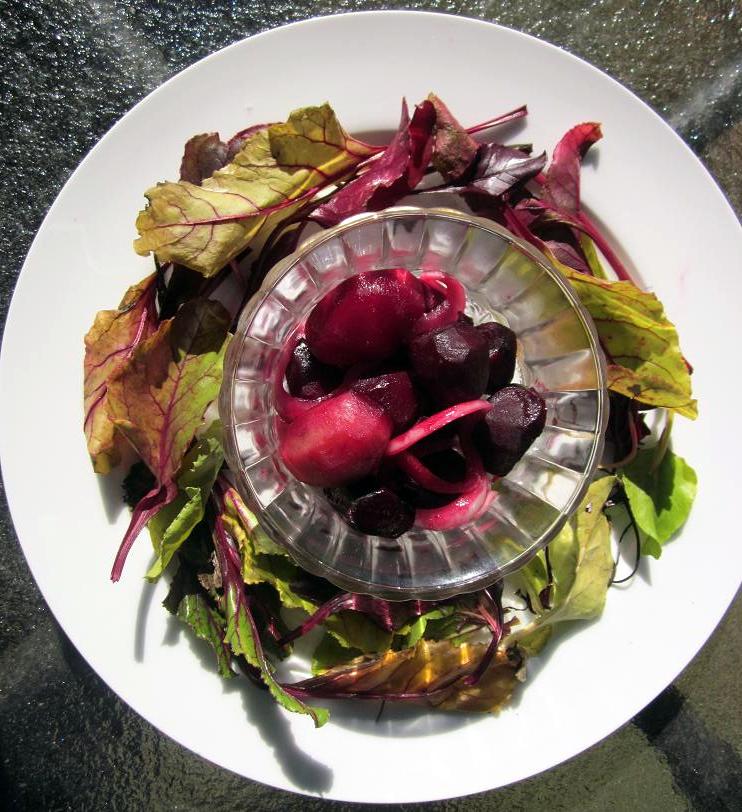 Roasting  is my favourite way to show some 'lovin to my favourite root vegetable, Beetroot. A quick glazing with sugar and orange juice wakes up the beet's natural sweetness, and ensures a jewel-like lacquered finish.  Leave them to roast a little longer than you would other root veg and you'll be rewarded with a sticky, sweet candy crunch on the outside, and a soft smokey center. Thinly sliced onions macerated in cider vinegar balance out all the caramel ecstasy and remind you that it`s still a savoury dish.
If you don't fancy spending the rest of the day with beet-stained fingers, you should process your beets over the sink with gloves on. Make sure to save the beet tops and trimmings for the quick-pickled onions, and compost the rest!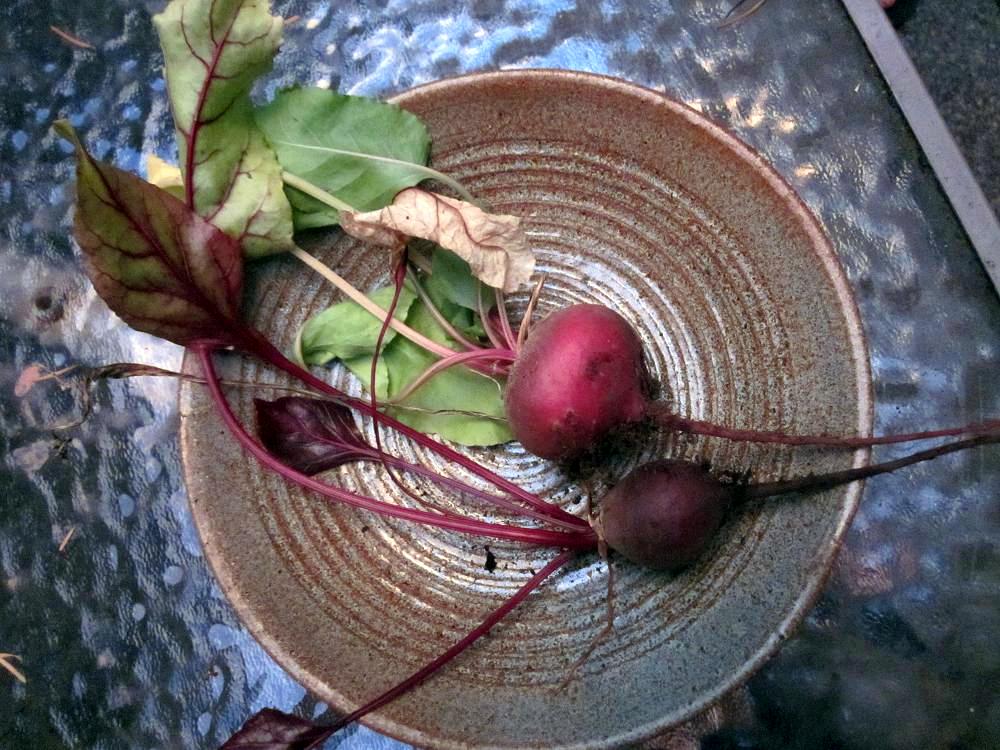 This flavour is autumn incarnate… Dank like a forest floor, covered in fallen leaves, deep like a fine black tea. The Perfect substitute for that òl plate of jiggly canned beets  at this year's Thanksgiving meal!
Quick-Pickled Onions (makes 2 servings, approx. 30g)
Ingredients
35g White Onion (sliced thinly, either with a knife or a mandoline)
8g Kosher Salt
8g Sugar
150ml Apple Cider Vinegar
50ml Water
Beet Tops (saved from the processing of the Sugar Roasted Beets)
Method
Mix the onion slices with the rest of the ingredients in a non-reactive container for 2 hours. Every so often, open it up and give everything a quick stir (this ensures an even colouring from the bleeding beetroot tops). Strain the liquid, discard the beet tops and slightly squeeze the onions to get the remaining moisture out. Toss with the Roasted Beets and serve.
Sugar-Roasted Beets (Makes 2 servings)
Ingredients
30g Butter
30g Brown Sugar
65ml Orange Juice (approx. ½ an orange worth of juice)
600g Beets (peeled and quartered, save the tops for the pickled onions)
Salt and Pepper
Method
(Hey, preheat your oven to 400˚F)
Cook the butter, brown sugar and orange juice in a sauté pan over medium heat until it forms a sticky glaze (takes about 1 ½ minutes). Toss in the beets and season with salt and pepper. Cook the beets in the glaze for 2 mins and remove from heat.
Pour the beets and the glaze into a foiled baking pan and curl the foil over to completely cover.  Bake @ 400˚F for 25 minutes. Let sit in the foil for 5 minutes and toss with quick-pickled onions before serving.
Music To Cook This To
Second Sky – The Art Of Influence