Summer. Beer.
No two words have ever been so flawlessly in simpatico. One is the perfect complement to the other, it's twin and companion. Without one, the other is incomplete. There is nothing like sun, surf and a beer that has been freshly plucked from a slightly sand-crusted cooler's cold, slushy recesses. Big sunglasses and good tunes naturally accompany such moments and bikini parties are sure to spontaneously occur. It's science.
I love beer, and have some strong opinions about how beer should (neigh must!) factor into a good meal, party, or lazy weekend at the beach. As you can probably guess, beer 'n beach life have been on my mind a lot this summer. But, which beer should I bring?  It's been hot, crazy hot and we BC'ers need refreshment while we sunbathe and watch windsurfers struggle hopelessly against nature. Luckily we have many great breweries both big and mico-sized that are producing exceptional beers.
So here is a list of local BC brews that I have compiled over the last couple months (no, I certainly did not drink all this beer in one weekend!) that I believe will enhance any hot afternoon's activities, be it gardening, suntanning, fishing, interpretive dancing at music festivals, or just sinking your toes into the hot sand at Long Beach.
But before I pop open these bad boys, I've got a couple of caveats:
All the beers listed are from British Columbia breweries. Some of them are small craft-style joints, others are bigger companies with established product lines. All have been welcomed, none snubbed.
I just chose beers that were available at my local liquor store. I figured that it would best represent what was available at your beachside BC town on short notice. If you've got a bigger selection at your local store, you're a lucky duck.
I didn't include growlers, 750ml bottles, limited edition "only with a pack 'o thirty!", Halloween brewery giveaways or anything that costs eight bucks a bottle and tastes like lavender. The beers are reasonably priced, and you get six or twelve of 'em. The kind of beers you will bring to a beach party.
Variety is the spice of life, so I tried to include a bunch of different types of beer as well as different brands. Give everyone something they'll like ya' know?
Alright, that's enough apologetics! Turn up the dub reggae and let the party begin! Someone hand me a beer:
Analogue 78 Kolsch (Phillips Brewing Co. Victoria, BC)
Admittedly, I first picked up this German-style lager because of it's retro-vinyl record packaging, and was blown away by it's no-nonsense flavour profile. I'm a big fan of slightly-bitter beers and this one has that sharp mouth-slapping quality along with a warm yeasty aroma and really light aftertaste. A great, refresher for hot afternoons!
Best Enjoyed : At a house party spinning some old school beats.
Blue Buck Ale (Phillips Brewing Co. Victoria, BC)
Always a favourite on tap at my local pub, this iconic ale is equally delicious in bottles and fits well into any late-night gathering. With a deep malty body and a balancing citrusy effervescence it's a great all-purpose beer (leaning towards cooler weather) and pairs well with a lot of different foods. Fill up an ice bucket and let everyone have at 'em!  
Best Enjoyed : Right beside the BBQ, with plenty of friends around.
Canterbury Dark Mild Ale (Pacific Western Brewing Inc. Prince George, BC)
Don't let the über-English label fool you, this mild amber "ale" (actually a dark lager) is from the Canadian Westcoast. Light-bodied and nutty, it is easy to drink even on a warm day and despite being sweet, it doesn't linger on the palate. A tasty little homage to the beers served in east-ender British pubs. Nice one.
Best Enjoyed : While sitting on the dockside patio of your local fish 'n chips joint.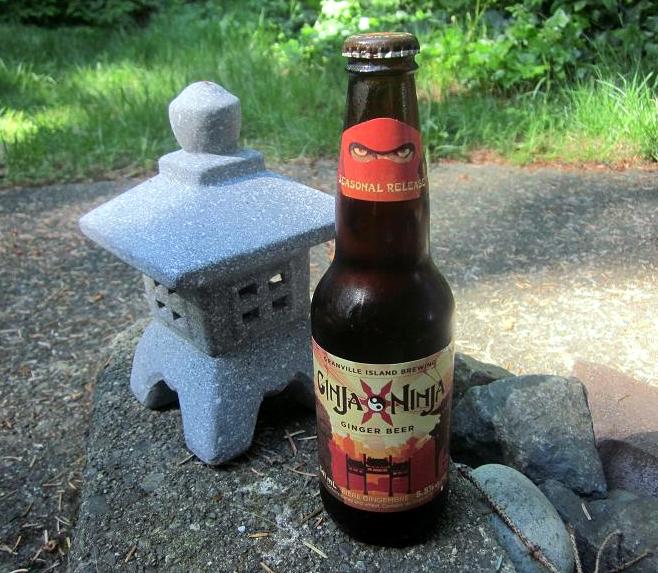 Ginja Ninja Ginger Beer (Granville Island Brewery, Vancouver, BC)
Nothing goes down better on a hot summer day than an ice-cold ginger beer. Crisp, clean and really bubbly, this subtle little ninja keeps the ginger heat down to a medium and instead focuses on a nice head (big toasted aromas!) and smooth finish. Compared to a classic Jamaican or Phillips ginger beer, this one would be considered "light" or "cool" in spiciness. A perfect little surprise if your cruising for something new 'n different.
Best Enjoyed : As you clean up that big Coho you just netted.
High Trail Honey Ale (Vancouver Island Brewery, Victoria, BC)
This one's just been released last month by our local beros (read: "Beer-Heros") in Victoria. It's a nice light ale reminiscent of the honey and maple-sweetened beers from back east (esp. ones with beavers on the label *laughs*). The honey taste is subtle and never lets the beer become to "Sticky", as a result it keeps well within the realm of refreshing summer beers.
Best Enjoyed : After a long day hiking or rock-climbing at the crags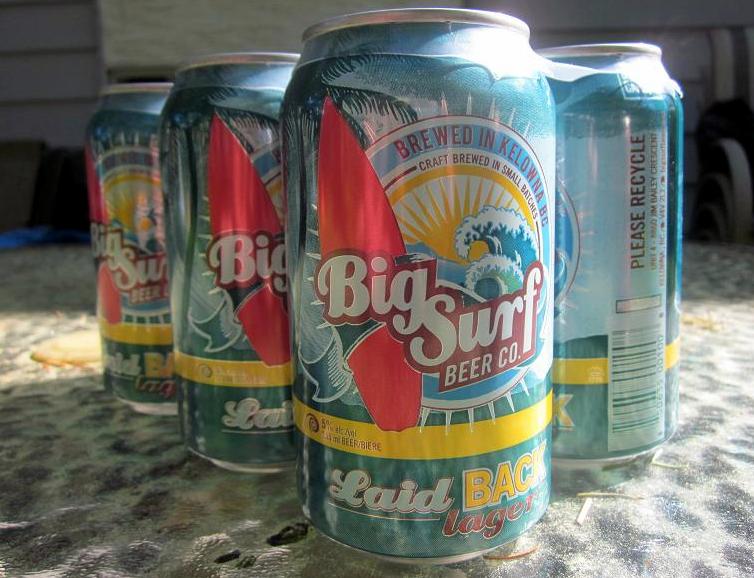 Laid Back Lager (Big Surf Beer Co. Kelowna, BC)
This has been my go-to beer this summer for three reasons: One, because it's a light, refreshing, slightly grassy lager. Two, it's local. Three, it's really cheap for a sixer. I know that last one is 'kinda sad, but hey! Restaurants are in a recession and life's tough! *laughs* It's a perfect beach beer!
Best Enjoyed : After soul-surfing the freezing Pacific.
Scandal Organic Lager (Scandal Brewing Co. Prince George, BC)
I love a good chubby! Alright, I know that sounded wrong, but I seriously love that whole medicinal bottle-chubby-stubby thing that seems to be coming back. It must stem from my trips to the local Pop Shoppe with my Dad when I was a kid. Scandal's (and by that I mean Pacific's) brilliant marketing aside, the beer is darn good. It's light, bitter and perfectly suited to summer sipping.  
Best Enjoyed : Roasting cheese dogs over an open fire.
Seedspitter Whitbeer (Parallel 49 Brewing Co. Vancouver, BC)
I got turned onto this strange combination of flavours from a sample at a food show. I was surprised when this brew turned out to be far from the kool-aid I expected and instead hummed a light frothy whitbeer tune along with a surprisingly authentic watermelon melody. You can actually taste the watermelon rind in this beer! It's bizarre, and a bit hard to find, but refreshing and totally worth picking up.
Best Enjoyed : While relaxing in a hammock with a good book.
Stanley Park Noble Pilsner (Hell's Gate Brewing Co. Vancouver, BC)
This is a nice light pilsner with a colour like late afternoon sun and flavours of toasted barley and cornbread. Apparently it's made with authentic Belgian grains and with state-of-the-art, energy efficient technologies. All that hard work means great tasting beer and a tiny environmental footprint. Nice.
Best Enjoyed : After spending the last hour trimming the front lawn.
Whiskey Jack Ale (Whistler Brewing Co. Whistler, BC)
One of my all-time favourites! Dark in colour and heavily-malty in body, this beer is for when the temperature dips and the lights turn low. Frothy and full of caramel and burnt marshmallow notes, the sweetness is balanced enough not to leaves a sticky-sweet aftertaste… Is it getting chilly?
Best Enjoyed : In the company of a pretty girl, snuggled up close, watching the stars.
Remember to enjoy your beers responsibly, in the company of good friends, and hopefully accompanied by great tunes. I've been loving Songza lately, especially the Beach Grooves playlist! So yeah, what are you drinking over there?