Despite some pretty neglectful behaviour on my part, this summer has been productive for our little garden. The combination of heat and poorly composted soil has started to make everything bolt, but no worries, I was able to save a couple crops and now everything is back on track… I think.
Some survivors of note are these beautiful Japanese Turnips I grew from seeds that Hiro-san brought back from his last trip across the Pacific.
The many varieties of Kabu are a lot different from what we think of here in North America as turnips. In Japan turnips are small (usually golf ball-sized) mild and sweet tasting, not spicy or bitter. They can be eaten raw, or frequently appear in soups during the fall to early-winter season. Why these tasty little guys took to a hot summer in BC, I'll never know. The greens are equally edible and should be saved from the composter and tossed into stews and stir-frys.
Kabu and Miso have quite an affinity for each other, but it's way too hot to be making or eating soup right now. Instead I'll just simmer 'em 'till tender and glaze them with a miso-butter sauce. If possible use a Shiro (white) miso paste to make the sauce, as the heavier and more rustic reddish pastes really get up in your business and might overpower the delicate flavour of the turnips.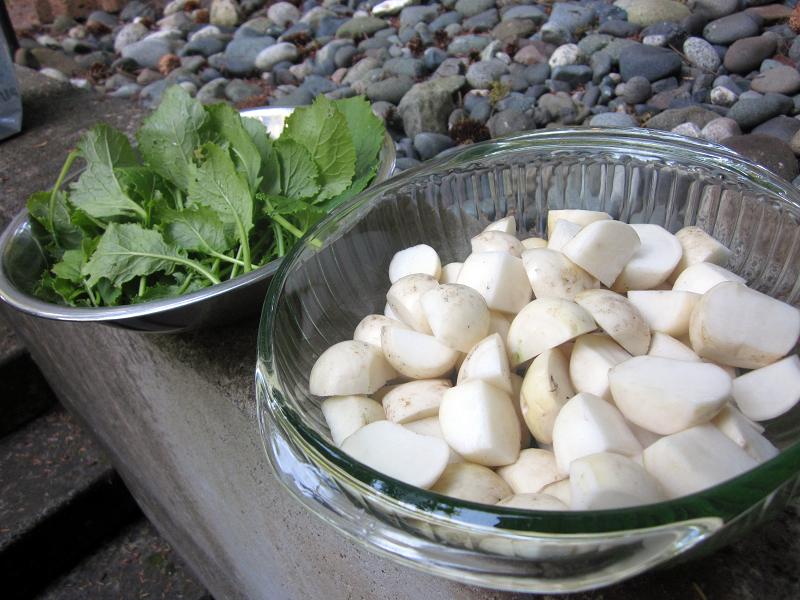 Miso-Buttered Turnips and Greens(Serves 4)
Ingredients
 

2 lbs. (900g) Small White Japanese Turnips (Halved or quartered, depending on size – greens trimmed and saved)
2 Tbls. (28g) Unsalted Butter
½ Medium White Onion (apporx. 100g, peeled and thinly sliced)
2 Tbls. White Miso
1 Tsp. Sake
1 Tsp. Mirin
Japanese Turnip Greens (Washed, stems removed and thinly sliced)
Method
Fill a big pot ¾ full with water and bring to a boil. Toss in a couple pinches of salt and reduce heat slightly to a simmer. Plop in the halved turnips, give the pot a stir, and let 'em simmer for approx. 5 ½ minutes, or until they're tender enough to be karate chopped in half with a butter knife. Carefully strain and set them aside.
Melt the butter in a large sauté pan over medium heat and toss in the onions. Sauté them until they are tender, but not browned (about 2 mins) and remove the whole pan from the heat. In a separate bowl, whisk together the miso, sake and mirin to form a paste and add it to the still-warm butter in the pan. Return the pan to the heat and stir it all together into a buttery sauce-like consistency… What a smell!
Dump the turnips and the sliced turnip greens into the sauté pan with the butter sauce and give them a toss. Cook the whole shebang over medium-low heat for another 2-3 minutes before serving.
Music To Cook This To:
Issac Hayes – Hot Buttered Soul