We're rounding a bend on the Pacific Rim Highway doing sixty, the windows are half down and the sun is a full-blown supernova. No slow tourists getting in the way and no logging trucks are threatening to dust us off the highway's notoriously thin 'n bendy lanes. All of this primal beauty is ours! Massive old-growth trees, sedimentary rock cliffs carved full of faces by ancient tectonic stress and erosion, ice-cold lakes. The ipod migrating back and forth on the dash just keyed-up Bran Van 3000's Drinking In LA and my wife and I nod in unison. This is the life.
It was Canada Day, and instead of sticking around in CR to watch fireworks and fistfights Crystal and I decided to journey across this beautiful island of ours to the farthest West that this corner of the Westcoast can get, The Pacific Rim.
Coincidentally, Guillermo del Toro's sci-fi movie of the same name came out this month and although we didn't see any giant robots, sea monsters or Idris Alba (shame, he seems like a cool guy) our Pacific Rim adventure was packed full of excitement. And food, lots and lots of food.
Our first stop was Coombs, home to a ragtag collection of markets, giant Buddhist statues and rooftop-dwelling goats. All summer long this place is packed full of tourists and it's always kind of a chore to fight your way through the sweaty crush inside the main market. So yeah, no.
We opted instead to lounge on the market's patio with a pint of Udder Guy's local Blackberry Ice Cream and watch the goats roam around and indiscriminately poop. Children erupt into squeals of delight, mothers are hilariously horrified and employees sigh 'n get back to wiping down the tables. We laugh and nom another spoonful of sweet, sweet ice cream.
Port Alberni is nearby – about half way between CR and our beach side destination. We had already decided to spend the night, and take in all the… um… sights…. and sounds… of… Where is everyone?
Apparently all the inhabitants of Port Alberni head down to the beach on Canada Day, because all the businesses were closed and there was not a soul on the town's main drag. Not a car for as far as the eye could see… It's all very 28 Days Later. No worries, there still must be somewhere to get a bite to eat.
Sadly, our first choice was closed. The Little Bavaria Restaurant located downtown underneath the Bavarian Cultural Society (why is it in Port Alberni?) has been in operation since 1966 and serves a mind-blowing assortment of near-prehistoric German favourites. Alongside a few nods to the modern (ie. boring) Canadian palate (Bacon wrapped scallops and kiddie fries) there are über-traditional liver dumplings in broth, lentil soup, knackwurst, German cheese plates and a million varieties of Schnitzel. I was pretty jazzed to eat some pounded 'n fried gut soup, but alas the holiday had robbed us of a great meal… Ahh well, we'll save it for a later date, and maybe a later post.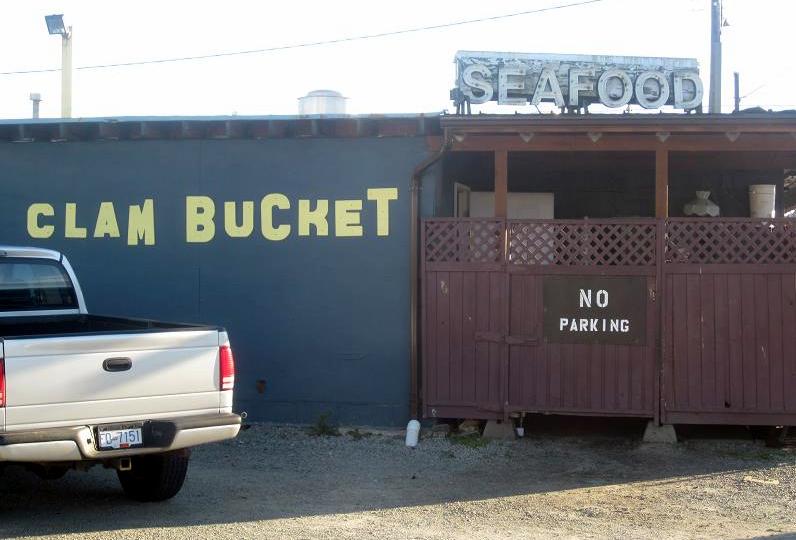 Prowling town for an alternate place to eat, we came upon, what has to be one of the most dodgy looking restaurant facades I've ever seen… Now, it was just from the backside, but man… This joint and it's accompanying parking lot was just screaming grease fires and salmonella. Unlike my wife, I have a certain fondness for dumpy-looking eateries and greasy spoons so I was totally willing to brave possible gastro-intestinal suicide for some fried oysters and stale beer. We took a chance.
Luckily for us, The Clam Bucket is one of those rare restaurants that has such a following of loyal customers, a killer menu and attitude towards good eating that it's owners just don't care how the place looks. It's a good 'ol fashioned barrel-house and fry joint. Fish and shellfish is what they do best and when they tell you that a seafood platter for two actually serves four people, they 'aint kidding.
Fried oysters, steamed mussels, prawns in garlic butter, pan-fried halibut, blackened salmon, calamari and a bazillion other things. A 1980s-style stomach-busting platter showcasing all BC's waters have to offer. We washed it all down with some fishbowl cocktails served by our charming and attentive waitress, and soaked in the summer sun. The Rolling Stones played Gimmie Shelter and the radio host wished everyone a happy Canada Day.
We hit the highway the next day and made it to Ucluelet a little bit before brunchtime, which was cool because, holy bologna! This town has changed since I last wandered around it! Everywhere there are little art galleries, and bookstores and shops selling handmade thingamajigs. It's all very Comox or Cumberland-like… And by that I mean trendy, artsy, and slightly smelling of patchouli. It's neat! We killed an hour digging through thrift shops 'n art galleries before the need to feed hit us.
Crystal had spent a lot of lunchtimes in Ukee and had already chosen our destination of degustation. Ukee Dogs is basically a Vancouver Island institution, renown by plenty of locals (even those who have, like me only visited Ucluelet a couple times) for their affordable and seriously overstuffed hotdogs. It's not gourmet, it's just a hotdog. But it's fun and filling and they taste great!
In keeping with our recent lack of inhibition Crystal ordered the macaroni and cheese dog and I eagerly keyed up a titular Ukee dog (basically a stacked chilli-cheese dog). Both were delicious, especially when slathered in hot sauce and washed down with a Phillips Sparkmouth Ginger Ale.  

Nestled deep in the heart of the Pacific Rim National Park is the endless stretch of paradise known as Long Beach. Miles of hard packed white sand, big waves, basalt-black rock formation filled with hidden pools. It's Mecca for BC surfers and for the rest of us it's a great place to get a tan. We killed a couple hours exploring the tidal pools and remembering holidays past. I found the exact spot that a ten or eleven-year-old me played during the last stop on a long-ago family trip across Canada. I had found a length of Bull Kelp (aka "Mermaid's Bladder" *giggle*) and had spent most the afternoon terrorizing my poor mother with my vegetable whip while squealing the Indiana Jones theme at the top of my lungs. Good times.
I washed my hair in the freezing Pacific waters (kind of a ritual of mine) and stared off into the distance, imagining that I could see Japan or the beaches of some lost Pacific island. I could hear somebody's radio playing the Digible Planets track "Pacifics".  
We got back in the car and carried on through the town of Tofino, marveling once again at how many freakin tourists were out here! Tofino's assortment of cafes, galleries, and shops were crammed full of people and the main drag was reduced to a crawling pace as pedestrians criss-crossed the roads for photo ops. We did a quick tour of downtown and got out of Dodge, making sure to hit the Tofino Brewing Company on the way out for summer supplies.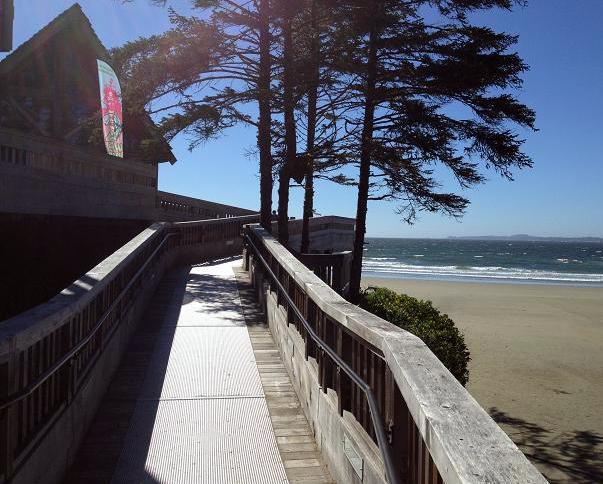 I had suggested that we spend the last meal of our mini-holiday at The Pointe @ The Wickaninnish Inn, but Crystal had something else in mind. Unknown to me, the cherry on the top of our Pacific Rim sundae had been decided upon even before we had left home.
The Kwisitis Feast House is part of the Ucluelet Native Band's ambitious new tourism project, which also includes local accommodations, cafes, surf shops and other neat little way-stations. It had only been up and running for a couple of weeks when we stepped into it's vaulted, reclaimed-wood dinning room, and there weren't a lot of people around. This wasn't a bad thing, since Crystal and I got our pick of the many tables running along the Feast House's 360˚ windows. Look at the view! Best seat in the house!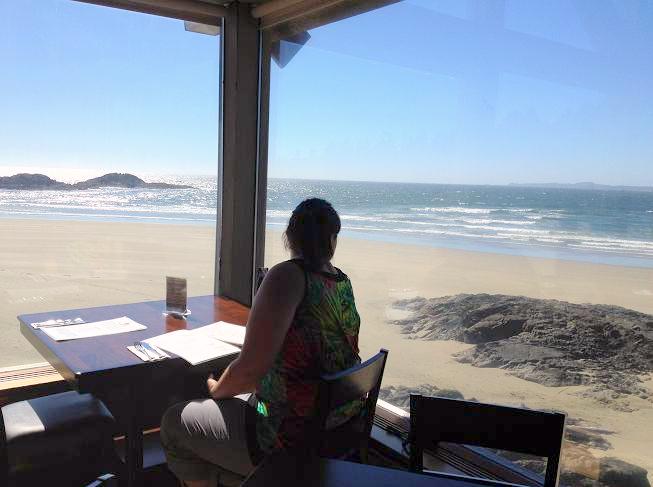 The Feast House's menu is split between upscale pub stuff and traditional native foods like bannock, salmon and roe. We decided to get an assortment of items, all seafood, and we were blown away by how well prepared it all was. Half a local crab was steamed to perfection and served with dill 'n garlic butter, and the fried halibut 'n chips were flawless – crisp, not greasy and flaky inside.
The menu was still being tweaked, and they didn't have a liquor license at the time, but they said that it was coming soon. Despite this, our whole experience at the Feast House was excellent, and it's going to be neat to see how this joint evolves and help to strengthen Ucluelet's growing food/tourism scene.
Well, two days of sunbathing and stuffing our faces had to end eventually… There are only so many hours in a day, and so much hedonism that the body can take. Can't it?
We hopped back in the super-peanut-mobile, fired up Tycho's album Dive and headed for home. It was a great trip, with a lot of killer meals and chill sun-bleached moments. We will be back. Soon.