Sorry kids, long time no-post. Lots of things happening… lots of new beginnings and endings. Far too much to explain in a paragraph and I refuse to be the blog you need seven full swipes to get to the recipe. Suffice to say it's a chaotic time for me, and apparently for the rest of the world as well.

There is a war in the Ukraine. I won't address it any further because a) this is a food blog and b) I cannot be counted on for any intelligent or insightful views on world politics. Go read an actual journalist for the latest, in fact go read a Ukranian journalist's view from the front lines. While you do that send Red Cross or some other war relief chairity some cash. And while you are doing all that you should cook something Ukrainian like I did last week.

Beets and garlic are a classic Ukrainian combo, so I paired a big soul-satisfying pot of Borscht with a croc of warm, garlicky, awesomely named "pampushky" bread rolls. I learned of these tasty buns from Baltimore Jewish Living (don't ask how I got there) based on a traditional recipe from Olia Hercules' cookbook "Mamushka".

This recipe is indeed a huge, mamushka-sized bear hug of flavours. The original calls for the bread rolls to be slathered in oil mixed with herbs and raw garlic for authentic, eye-watering results. I chose to alter the recipe and roast the garlic in oil for an overall mellower flavour and subtle aroma. It worked well and still played happily with the deeply beety, big and bouncy borscht.

Ukrainian-Style Garlic Rolls (Makes 8 medium-sized dinner rolls)

Ingredients
⦁ 6 Garlic Cloves (Peeled)
⦁ 3/4 cup (177ml) Olive Oil
⦁ 1 cup (235ml) Milk
⦁ 2 1/4 tsp (12g) Active Dry Yeast
⦁ 2 tbls (30ml) Liquid Honey
⦁ 3 cups (360g) All Purpose or Bread Flour
⦁ 2 tsp (10g) Salt
⦁ 1 Medium Egg
⦁ 1 tbls (4g) Fresh Chopped Parsley
Method
Fire up the oven to 175C-350F and mix together the garlic cloves and oil in an oven-proof dish. Once the oven is up to temp place the dish on your topmost rack to roast for 30 mins or until the garlic is golden and the oil is starting to darken. Carefully remove the hot dish from the oven and set aside to cool.
Heat up the milk just slightly above room temp and mix in the yeast and honey in a large bowl. If you have a stand mixer use that, but mine is broken so I'm going to continue this recipe by hand. Let sit for 15 mins or until the yeast begins blooming. Mix in 2 tbls (30ml) of the garlic oil (no solids!) as well as the flour and salt.
Using a rubber statula or a dough hook, mix the solids into the liquids until a dough forms. Keep mixing for 10 mins or until the dough becomes smooth on the outside. Remove the dough and scrape down the bowl, then rub the inside of it with more of the garlic oil and return the dough to it. Cover and let rise 1 1/2 hours in a warm place.
Punch that big dough balloon down and roll into a roughly 1 foot cylindar. Cut the cylindar into 8 equally-sized pieces. Form each piece into a ball by pinching the edges inward, and then on a flat surface, roll the dough into a ball shape.
Place all 8 of the rolls onto a large oven-proof dish about an inch apart. Whisk the egg and then rub the outside of each ball of dough. Let sit at room temperature for 30 mins to slightly rise and then bake in the oven for 25 minutes or until the rolls are golden brown.
Carefully remove your rolls from the oven. Smash some of the roasted garlic solids into the remaining garlic oil, mix with fresh parsley and spoon over the rolls before serving.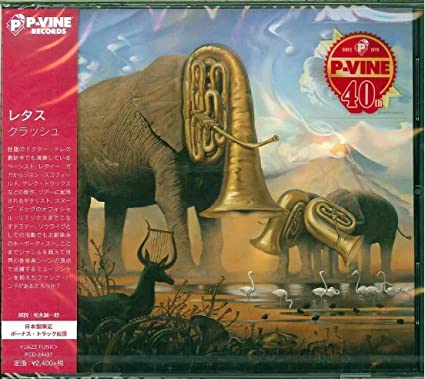 Music to Bake To: Lettuce – Crush (Pick it up HERE @ Amazon)