It's August, and my little garden's crop of lettuce, tomatoes, strawberries and radishes lay in piles all over the kitchen. The table's groaning under the weight, the sink is clogged with garden soil, the dish rack is full of kale waiting to be washed… This is ridiculous! I haven't got the space to cook something elaborate, so I'll stick to just one pan and treat some of my radishes to a little bath, some butter and a dollop of honey.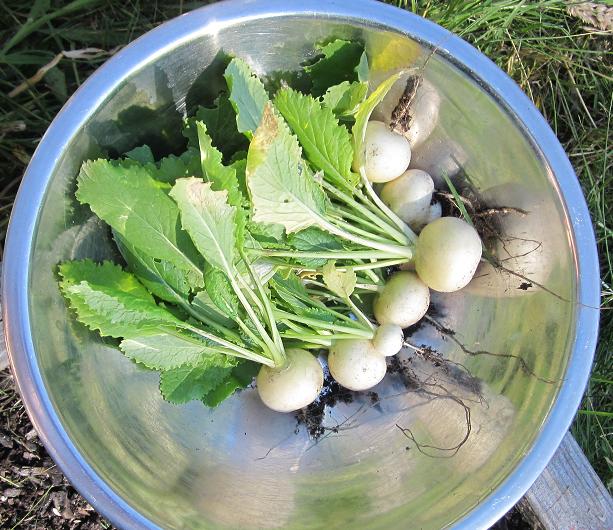 This year I went kind of crazy for radishes and planted many different sizes, shapes and colours. Red-skinned globe and French breakfast varieties are a nice ovoid shape with just the right crunch and spice level. Ping-pong ball shaped Japanese white radishes are much milder and sweeter. Wickedly-hot Spanish black radishes grow thick skins that need to be removed before nibbling. 
If possible, look around your area for a local beekeeper making wildflower honey (it's really not difficult, that's what the internet's for!) you'll be amazed how much more flavour it's got over the 'ol squeezie-bear-bottled stuff. My wife and I prefer a locally-made Fireweed honey from Big D's Bees that rocks a really floral aroma and a tart citrus kick.
Wildflower Honey-Glazed Radishes
(serves 2)
Ingredients
360g (12.7 oz) Various Radishes (washed, tops removed, sliced lengthwise or left whole if they are smaller. Remember to peel the black radishes or they will discolour the final product)
1 Tablespoon Butter
1 Tsp. Fresh Lemon Thyme (washed and finely chopped)
1 ½ Tablespoons Wildflower honey
Salt and pepper
Method
Toss the radishes into a thick-bottomed sauté pan large enough to keep 'em snuggled together. Pour in enough water to just cover the radishes and bring to a boil. Keep them boiling for about 10 minutes without a lid, and don't be alarmed when the water level gets low… That's the whole point. We're reducing the liquid until the pan is dry (The technique is "Au Sec" in French).
Once the radishes are tender and the water has almost evaporated (keep a close eye, don't let the pan burn!), reduce the heat to medium.  Melt the butter over the radishes, tossing them about to get everything nice and coated. After a minute or two over medium heat the butter will begin to darken to a golden colour, toss in the lemon thyme and listen to it sizzle 'n pop.
Pour in the honey and toss once more to glaze all the radishes. Season with salt and pepper and serve.
Oh, by the way, don't throw away the radish tops! They can be cooked in a number of different ways. Shizuoka Gourmet's recipe for Furikake works wonders, and this killer pesto from Chocolate & Zucchini should make short work of all this would-be-compost.
Music  To Cook This To: