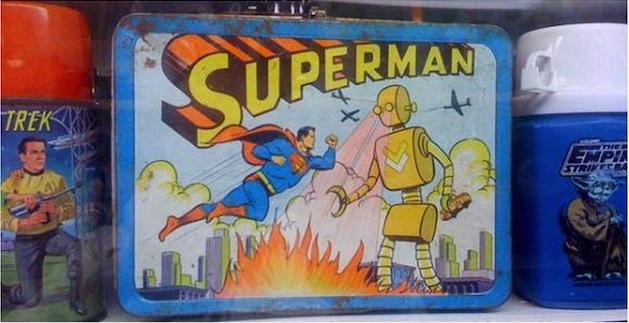 As many sharp readers may have guessed, I'm not only a cook, amateur writer and degenerate wastrel, but a huge… And I mean HUGE geek. Capital G!
I love 80s 'wrasslin, comic books, Godzilla flicks and nostalgic video games almost as much as love shaping dumplings or searing duck breasts. So when I was researching my 2014 Holiday Guides (plural, I also have a gift guide for foragers in the works that probably won't make it out before X-Mas) I was floored by the massive amount of geek-centric kitchen gifts available to the internet-savvy public.
Sites like Nerd Approved, Archie MacPhee's, and Pintrest led me down a long 'n dark rabbit hole of nerdy kitchen accessories. This stuff is serious kitsch… It's like the internet knows me!
Most of 'em are highly impractical to the veteran line cook, but damnit I've spent enough time encouraging people to be practical with their money! These are gifts that tickle a different part of a cook's brain… A silly, bubblegum part that is filled with chimeras and daleks and skrulls, oh my!
Most of these mind-blowing, "what the hell… where did you get this?" gifts are available on Think Geek, Amazon or Etsy. So if you know someone as bent as me, go ahead and take the jump!
2014 Holiday Guide – 10 Gifts for Geeky Cooks
Powerglove Oven Mitt
Now you're baking with power! This fully water and heat-proof oven mitt is faithful to the pointless-yet awesome looking NES accessory from 1989. They're crowd funding on Indiegogo right now, so help a fledgling entrepreneur out and score the perfect nostalgic gift for a loved one… I still love the Powerglove, it's so bad. ($39)
Borg Cube Mini-Fridge
Utilizing the most cutting edge technology the hive-mind can offer, this compact little food holding receptacle is something no physics dorm room should be without. Not only is it a little fridge and a hot-holder, but it emits the Borg's trademark eerie green glow when in use. Great for stashing both beer and hot pockets! ($150)
Comic Book Pin-Up Apron
Let us not forget the ladies! The Esty shop of Bambino Amore is where you will drool over the most creative and comprehensive collection of geek-culture aprons for that special lady-cook in your life. They've got every pop culture character covered: Wolverine, Batgirl, Harley Quinn, Princess Peach, I even spied a She-Ra design on there… *cough* Alright, maybe I just want to see my wife in a nice fitting super heroine outfit. Everybody wins! ($40-$90)
Robocup Coffee Mug
The only way this coffee mug could get any more badass is if Peter Weller's face was revealed when it filled with hot java… Or if a stir stick shot out the side like a sidearm… I'm just 'sayin. C'mon science! ($30)
Lightsaber Chopsticks
How cool would this be: You and your friends order take-out sushi and while they crack apart those splinter-filled disposable chopsticks, you reach into your hand woven burlap duffle-bag (why do Jedi always wear burlap?) and produce a pair of authentic Jedi Chopsabers! Each set is modeled after the chosen weapon of a famous Jedi, right down to the individual handles. No Mace Windu, which is a bummer, but the Darth Maul set actually screws together into a staff. ($20)
Firefly Sake Set
While you are enjoying your sushi relax with a slug of premium shimmerwine poured from this Firefly-inspired set designed by artist Ian Leino. Both the bottle and cups feature the badass "Serenity Sake" logo complete with an ink wash rendering of a certain notorious transport-class freighter. ($30)
Nintendo Cartridge Flask
Or, if you prefer to imbibe in a more… Uh… Subtle way, you can sip your hooch from a Re-purposed NES cartridge, complete with funny, booze-themed labels. ($20)
A Cookbook for Hobbits
"But what about second breakfast?"
– Pippin
Much like Fleming, Tolkien spent almost as much ink describing what food his protagonists ate as he did how much daring adventure they engaged in. An Unexpected Cookbook: The Unofficial Book of Hobbit Cookery is packed full of real-world recipes that mimic those found on the tables of Tolkien's Middle Earth. ($25)
Klingon Blood Wine
Nothing goes better with an antipasto plate or a big squirming bowl of Gagh than Gene Roddenberry's most famous contribution to pop-culture gastronomy; a big musky bottle of Klingon Blood Wine. Paso Robles AVA in California produces a medium-bodied red blend of Malbec, Syrah and Petit Verdot for the Votto Wine Company's exclusive Star Trek series of wines. You can order individually or in a party-sized six-pack for your friend's Trek-themed wedding or dinner party. Heart of Targ Carpaccio anyone? ($20)
Watchman Toaster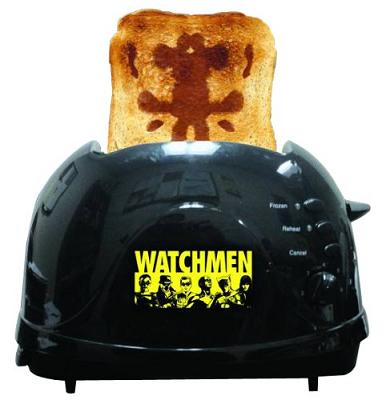 This last one is almost too crazy (and nerdy) to be real. Yet, in this world of high-tech specialized housewares there is an even farther (nerdier) horizon. A place where even your morning toast can be branded with the amorphous Rorschach face blot from Watchmen. Jet-black, with illuminated buttons and all the usual toaster settings, this tough little broiler can make any size of bread or bagel into a breakfast-sized imitation of one of comic books history's most iconic and polarizing characters. Serve with cold baked beans from the can, and don't invite Alan Moore. ($33)
Whew… Well we got two Holiday Gift Guides out before the big day (Check out the first one Here) and maybe post the last one post-holidays for posterity. We'll see.
Happy Holidays Everyone!