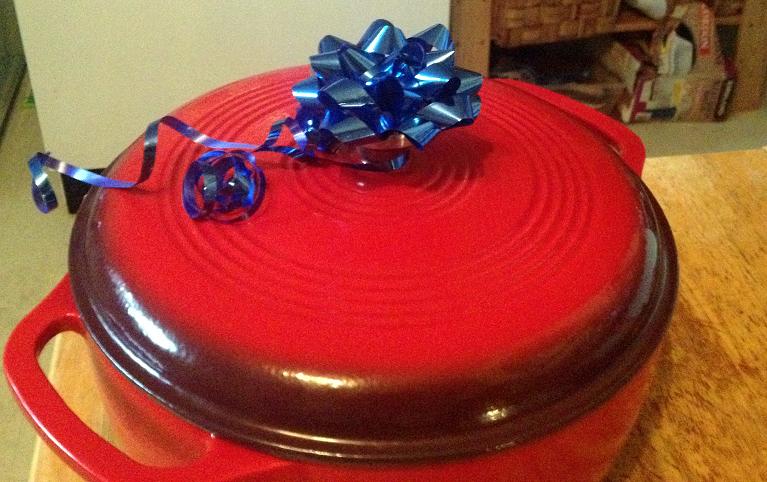 Holiday shopping sucks.
It should be fun and joyful, but most of it is a florescent-lit hell of shopping cart lines, tinny Sinatra music and a dull nagging doubt that you (yes you) could have done better… Could have found that perfect gift for the one you love! Instead every year is a bit of a compromise, a sell out. And every year another promise to get it right… Next year.
No longer! "Next year" is this year, and your good buddy The Internet is here to save you from another long, soul destroying slog through Wal Mart. This year you can point and click your way to the perfect gift for everyone on your list, including your buddies in the culinary industry!
Professional cooks and chefs are a tricky lot to shop for in the first place. Unlike a "foodie" a pro cook has a certain twisted set of standards that their kitchen gear (both at work and at home) needs to adhere to. This makes it kind of difficult for their friends/spouses/etc. to know what to buy 'em. So they're stressed out trying to get the perfect type of über-expensive Japanese Knife set without any clue what's what, and their loved one would just prefer a bottle of wine and a foot rub.
Cooks will appreciate whatever you get 'em, but if you want to impress, find something that surpasses the three standards of kitchen excellence: Usefulness, Durability and Badassery.
Here are a handful of gift ideas that I've come up with to inspire any non-kitchen people (we call you "normies") to show your cook friends how much you care and help mitigate the holiday stresses. The list includes lots of ideas plucked from the deranged minds of my friends in the industry, some items I've personally received and can vouche for and some stuff I found messing around on Pintrest.
2014 Holiday Guide – 10 Gifts for Pro Cooks and Chefs
True Cooks T-Shirt
We'll kick off this list with the piece of cook culture that inspired it. The True Cooks brand of apparel features designs that are custom-made to tickle the ironic and kitchen-centric parts of a cook's lizard brain. My favourite is the simple black tee with Marco Pierre White's face; cigarette dangling from his lips, eyes staring through the pass and into the abyss. ($27)
Homemade Gin Kit
This is just plain cool. Using The Gin Kit's step-by-step instructions, you can infuse neutral grain alcohol (ie. vodka) with all the subtleties of your favourite gin. Every cook I know is an amateur mixologist on his/her own time, so not only does this present give them a long-term fermentation project to work on (hell, they all have salumi in their garage anyway) but when finished they can either drink the fruit of their hands-off experiment or use it in any number of culinary applications. Seared wild boar with fermented juniper and fennel anyone? ($50)
Bluntroll Knife Roll/Apron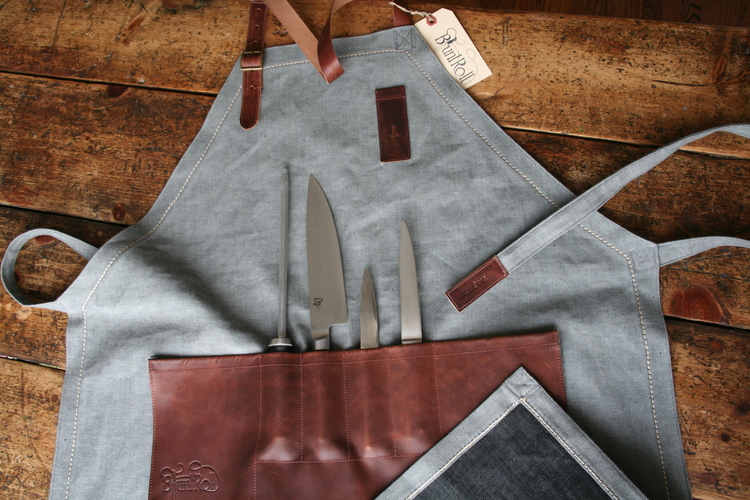 "Often Imitated, never duplicated, uniting knife wielders since 2013" Thus proclaims the home page of Tanya Kelly's cook-chic labour of love. Bluntrolls are combination kniferolls and aprons, handmade in Canada and absolutely stunning to look at. A way better gift than socks and underwear! ($65 – $290)
Brass Knuckle Meat Tenderizer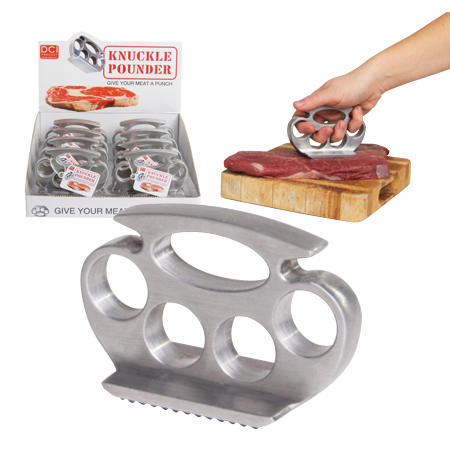 Alright, this one is more of a joke gift, but c'mon. You really 'wanna scare the serving staff? Pull out this piece of hardware while prepping for schnitzel night. ($13)
Dutch Oven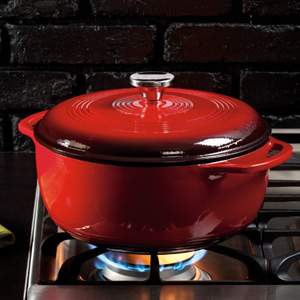 I believe that every household could benefit from one of these oldschool bits of kitchen tech. Tough, heavy-bottomed and pretty to look at, these beasts can do it all; sear, stew, braise, poach and whatever else you need, all in one pot. Along with a wok, a non-stick sauté pan and a big stew pot there isn't much else you need on your stove. Both Lodge and Le Creuset make exceptional Dutch ovens for the North American market. ($115)
Silpat Baking Sheet
If your favourite kitchen dweller is one of those arcane weirdoes belonging to the baking or pastry cults, you can't go wrong appeasing their obsessions with an offering of non-stick silicone baking sheets. They're cheap and alleviate a lifetime of post-baking hardship. ($20 – $30)
Atlas Pepper Mill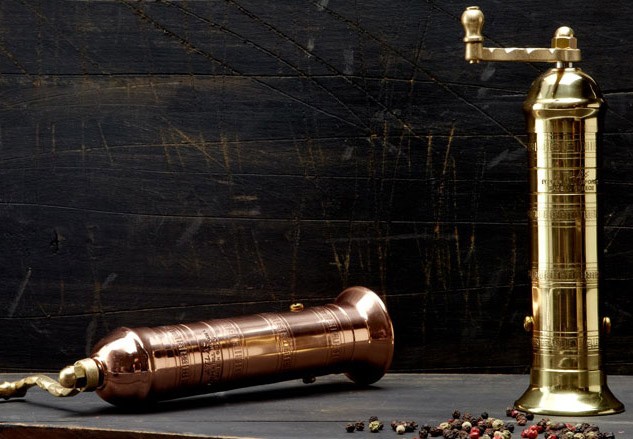 I have personally busted many pepper mills in my quest to properly season my food; cheap ones, expensive ones and even really long, pretty looking restaurant ones. If you want to avoid breakage, conventional wisdom sadly states that you'll need to get an ugly, industrial piece of equipment. Not so! Atlas Pepper Mills have been Bridging the gap between old-world beautiful and new world functional, utilizing tech that's been kicking around the Mediterranean for the last 300 years. Beautiful and built like a tank. Take that conventional wisdom! ($70 – $125)
Subscription to Lucky Peach Magazine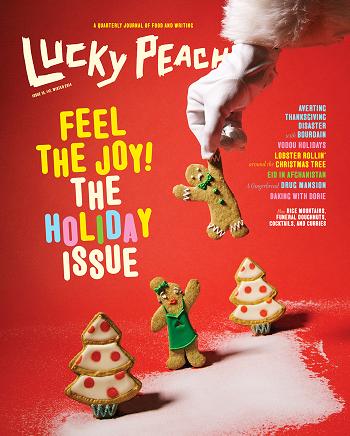 North America's weirdest food writing, chef ramblings and movie reviews (wha?) can all be found inside David Chang's irreverent, rock 'n roll food zine 'Rrrrrrrrrucky Peach. Everyone that any cook wants to read contributes: Anthony Bourdain, Peter Meehan, Naomi Duguid, Daniel Patterson, Michael Ruhlman, Harlod 'freakin McGee and so many more! It's packed full of great stories with a distinctly kitchen-centric point of view and no Bon Appétit-style ads or photography.
Stocking Stuffers
There are three pieces of kitchen equipment that all cooks reach for on a regular basis and inevitably can't find. The first is a simple potato peeler ($5-$20). The second is a rasp (aka a Microplane zester $20). Finally and most easily lost are sharpies for labeling things ($17). Show your favourite cook that you love 'em and value their sanity intact.
A Bottle 'o Hooch
Every cook and chef that I've spoken to have agreed, hands down that the best gifts they get are always in liquid form. Whether it be a fat bottle of premium rye, a fancy decanter of elderflower liquor, or a simple six-pack, nothing makes a cook feel better after a grueling 12 hour shift than booze. If you want to really make 'em feel special, go for a local product, or something they've never tried before. Most of the time, they'll want to imbibe on the spot and that means you get to try some too!
If you have a geeky chef/cook in your life and you are still flailing for a gift, check out our other 2014 Gift Guide!
Merry Christmas!