It's been a hell of a holiday season, or what the mighty Greg Proops recently referred to as "The frantic week of unbelievable mayhem". And I along with my fellow hospitality brethren need a couple nights of actual sleep and a lot of beers to make up for all the Christmas mornings, New Years parties and warm fuzzy family moments that we've missed. *Phssssst* Here's to 2015 and all of the surprising moments and spectacular meals that we have survived!
When I start putting together a Beer List I'm usually throwing ideas around with friends on a patio or relaxing with sand between my toes at a local beach in July. But there are so many BC breweries releasing new beers that within only four months of my last list I've already collected a whole new fridge full of holiday cheer.
Seriously, four new beers hit the shelves of my local liquor store this morning (most with holiday themes!) and the nice lady behind the till admitted to receiving three more that she hadn't got around to putting on the shelves… At this rate I'll need a spring and autumn list as well, just to stay current.
Some of these growlers are special seasonal releases or recent gems from the usual suspects; others are autumn leftovers that swooped in after I'd finished my last list. They're all great for gifts for your favourite beer lover or just great stock for the fridge when your New Years (or post-New Years) bash runs out of bubbly.
2015 Post-Holiday Beer List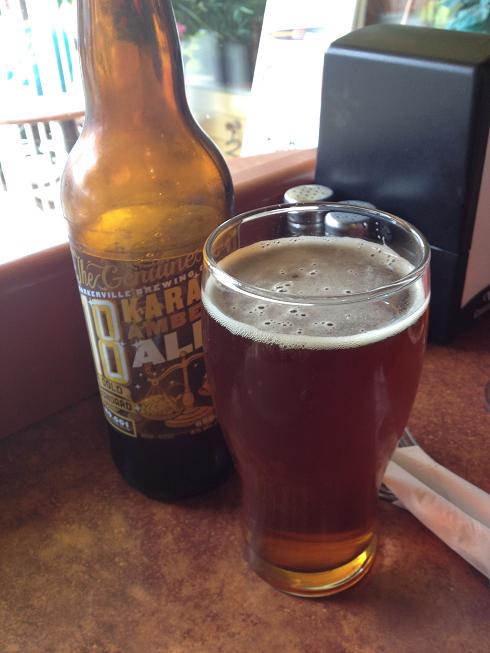 18 Karat Amber Ale (Barkerville Brewing, Quesnel)
During our adventure through the interior last summer my wife and I strolled around historic Barkerville, taking in the attractions, marvelling at old woodstoves, frightening horses and wonder where the hell the brewery was hiding. The Barkerville Brewery is in fact next door in Quesnel and makes a damn drinkable session ale featuring a toasty malt body and light dry finish.
Best Enjoyed: Tuning up your bike and dreaming of all the trails you'll ride once all this ugly winter nonsense is over.
Black Stone Porter (Driftwood Brewing, Victoria)
Here's something to go with all the dry Italian coffee cake that inhabits the dinner table this time of year! Driftwood's porter is packed with all the coffee and chocolate milkshake flavours that are typical of the style, but avoids all the stickiness and finishes with a balanced bitterness and a hint of bubbly.
Best Enjoyed: Inside, by the fire with fuzzy socks on and jazz spinning on the turntable, while outside another wall of freezing rain drenches the world.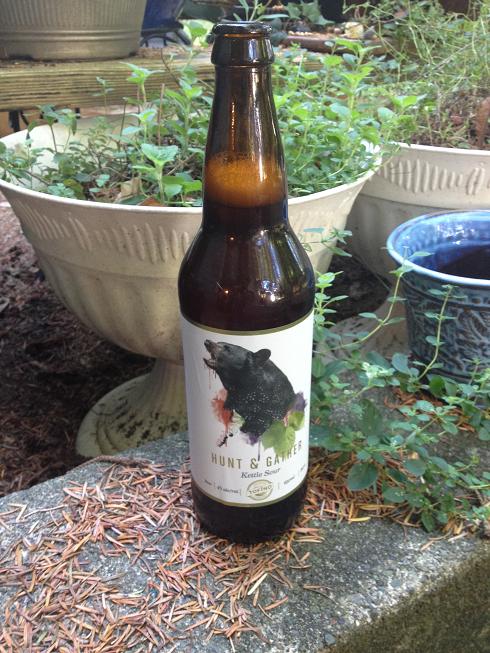 Hunt and Gather Kettle Sour (Tofino Brewing, Tofnio)
This autumn release from the fine folks in Tofino just missed my last list (good thing, two Tofino Brewery alumni there already!) and has maintained its spot on my top list despite a landslide of new winter brews. In fact, it's one of my favourite beers of all time! Incorporating locally-foraged salal and blackberries into the mash gives this well-balanced sour a nice crackling finish that both quenches thirst and ignites it.
Best Enjoyed: At The White Whale's new sushi bar or as part of the chef's Saturday night beer tasting menu.
Induction Dubbel (Category 12 Brewing, Victoria)
I picked up this one thanks to a tip off from local beer expert Ian Lloyd via his blog Left4Beer and I'm glad that I did! It's the very first dubbel I've had, and damn! The bar has been set high! Big yeasty aromas and sticky raisin and date flavours make for a comforting draught during these cold, sleety months.
Best Enjoyed: Inconspicuously, while waiting in line for Star Wars: The Force Awakens tickets.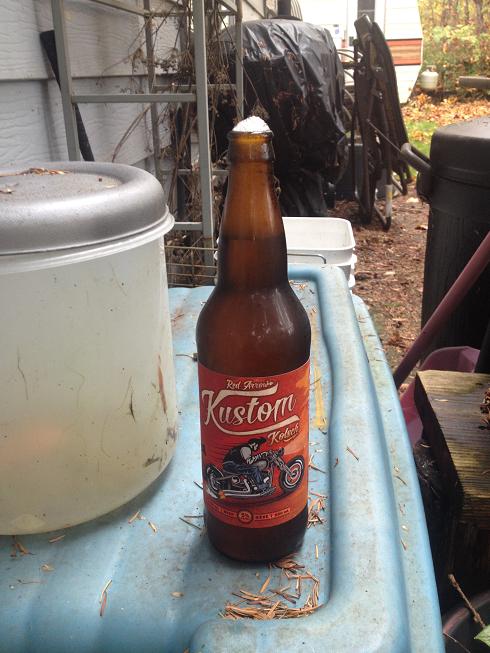 Kustom Kolsch (Red Arrow Brewery, Duncan)
Yes Duncan! We've driven past the red brick brewery couple 'o times, speculating at the wonders held within. The Kolsch is my favourite from their initial lineup, featuring a nice balance of citrus and hops with a crazy smooth finish. It's an insanely versatile beer that pairs well with lots of different food and festive occasions.
Best Enjoyed: Playing monopoly with family during that 3:30pm slump on X-Mas day, waiting for the turkey to finish.
Moon Dance Mango Wheat Ale (Old Yale Brewing, Chilliwack)
This is another great beer that just sailed past me last summer. It's a perfectly balanced, sweet 'n toasty heffe with just enough twang to make it refreshing. The mango flavour is really subtle, totally complements the toastiness and seems to be made of legit mango mash. Freakin tasty!
Best Enjoyed: With a leftover turkey sandwich.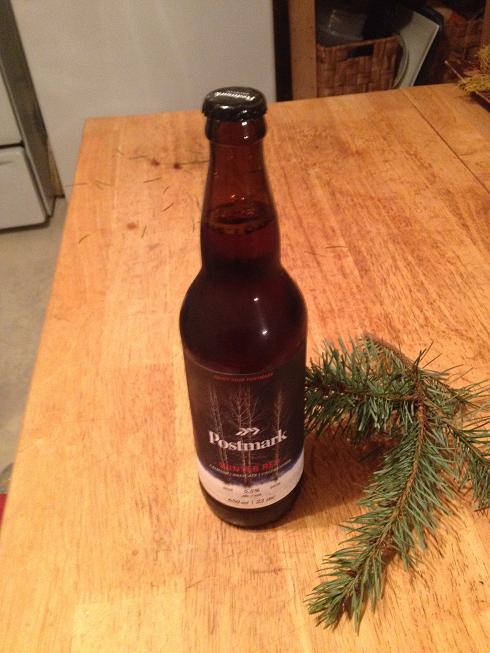 Postmark Winter Red (Postmark Brewing, Vancouver)
Postmark has been producing a slew of solid, session brews as of late and this "winter" ale continues the tradition. Do not fear, there is no hint of vanilla or egg nog in this beer; in fact I have no idea why this is a seasonal release; It's just a damn drinkable red ale with a slightly sweet, malty flavour and a really light finish.
Best Enjoyed: After returning home from X-Mas shopping at the Costco, where you had to karate kick an old lady in the throat to get that last Ferrero Rocher advent calendar… Sorry ma'am.
Raised by Wolves IPA (Driftwood Brewing, Victoria)
If you see a bottle of this on your local liquor store shelves, buy it. If you don't see it, ask if there's one in the back and pray. If you're one of the lucky few of us that got a couple bottles, share 'em… It's the holidays after all and this beer is the good stuff: Explosive tropical flavours with a big fat body and hoppiness that joins Fat Tug atop the Westcoast IPA pile.
Best Enjoyed: Knowing you got the last two bottles in town… Heh heh…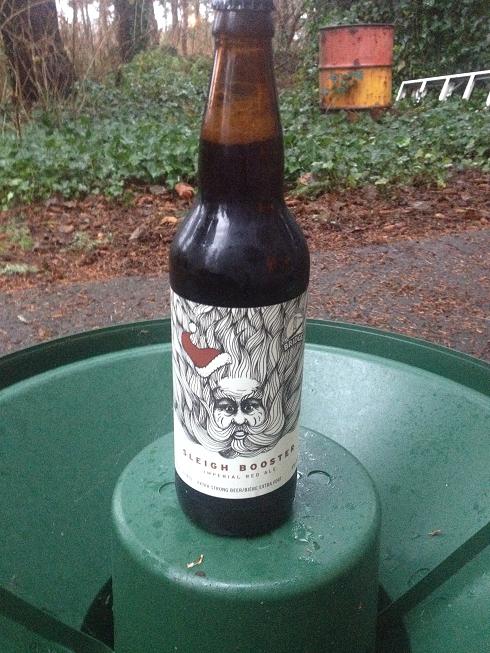 Sleigh Booster Imperial Red Ale (Bridge Brewing, North Van)
This beer was made for the holidays! Sticky, malty and finished with a lingering pine needle goodbye that just barely covers the beer's massive alcohol content. It sounds like a gimmicky way to give a purpose to some forgotten gutrot, but it's actually pretty smooth and really complex. A fine example of strong ale!
Best Enjoyed: After a long Christmas Eve night behind the pass, dreaming of the moment when you finally get home to your family.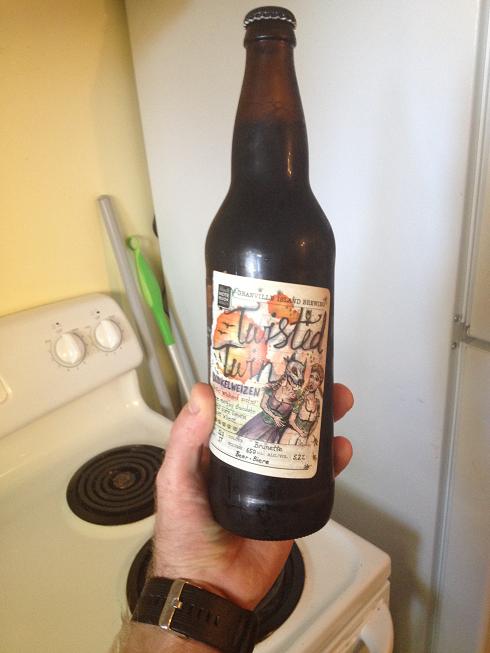 Twisted Twin Dunkelweizen (Granville Island Brewery, Vancouver)
If, like me you have a deep affinity for caramelized wheat beers, but hate the syrupy stuff then you have to grab yourself a bottle of this insanely light dunkel. It's got the goods: Nutty aroma and big banana bread flavour without the thickness or sticky aftertaste. Just watch out for the head, this beer has got some serious bubbles!
Best Enjoyed: While cleaning up all the Christmas ornaments the cat knocked off the tree.
I Hope everyone had a safe 'n happy holidays! Cheers!