It's Valentine's weekend, the Horseshoe Bay ferry terminal is choked full of exhausted island travelers grimly thumbing through their neglected emails. The tension in the airless, reeking waiting room is so thick with worry that you could slice some off and sauté it. Two ferries have been canceled thanks to the hurricane currently pounding on the windows, and the lady with the tinkly voice on the intercom says it's possible no-one will be returning to the island tonight… And yet, my wife and I are in pretty good spirits.
If we hadn't just finished a whirlwind weekend of extravagance (well, as extravagant as our wee budget allows) in Vancouver we might be a bit more bummed out. We had won a contest that we didn't even know we'd entered and had our hotel room bumped up to the penthouse suite on top of the Metropolitan Hotel!
In the spirit of all the excess we were now surrounded by (A grand piano! In the living room!) I decided that we would blow the budget and dine most fine. But where would be a special enough reservation for the occasion?
Hawksworth? The Macleans "Best Restaurant In Canada" would fit the bill, but would Crystal nerd out and enjoy it as much as I would? Probably not.  Diva, the restaurant at our hotel is quite well known; maybe it's worth a shot? L'Abattoir, down in Gastown? Very trendy, very high-end stuff and done in a style I really dig. Once again, Crystal might not engage with this type of French-inspired, Meat-centric food as much as she would some fresh, expertly prepared premium seafood. It had been a while since we ate some really good sashimi.
Arm in arm we struck out for Vancouver's beacon of edible aquatic luxury. Opting not to climb over homeless people in Gastown, but instead sidestep rich club kids on MDMA in Yaletown.
These cobblestoned avenues oozed money. Art galleries, designer shoe stores full of brands I'd never heard of, clubs with no signage or visible doormen, and unbroken lines of luxury cars: Lexus… Lexus… Porsche… Lexus. Oh, and restaurants! Dark, sexy, slim menus and fat tip bistros poked out from between the bars, offering little bites and designer spirits.
And there, at the end of one such avenue of excess stood our destination, gleaming and pulsating with people: The Blue Water Cafe + Raw Bar: Vancouver's premier restaurant when it comes to fresh, sustainable seafood.
It was a Saturday night, smack in the middle of the dinner rush, so the joint was crazy booked! Tables in the main dining room were pressed close together and the cocktail and sashimi bars were overflowing with hungry well-dressed Vancouverites trying their best to look flirty while slurping oysters. It was a mad scene, and really noisy.
When I mentioned the noise level, our server suggested something a little more private might be appropriate, and whisked us passed the hustling open kitchen to the much calmer confines of the back room-wine cellar. This environment had a totally different vibe: Laid back and romantic. My wife and I could actually enjoy each other's company and intimate about the food as easily as if we had a tiny cafe all to ourselves.
This was only the first of many acts of damn fine service that we received from all the members of the Blue Water staff. They were on it man, every one of them knew the food, the drinks and our needs even before we had 'em.
Case in point, our server: An Australian with an easy manner and a knack for choosing the perfect drink. Crystal got a killer St. Croix Fix cocktail while I (following my sadly long-standing tradition of avoiding wine in restaurants) opted for a beer. "What's light and easy with sashimi" I inquired, fishing for our server's tastes. He suggested a Kronenbourg Blanc Lager from Alsace, France which completely threw me for a loop. When I grunted about it "not being local", he grinned and said that the fish was local enough, the beer could be imported. I relented and was truly impressed by the beer, so much so that I kept ordering it throughout the meal and have bought it at my local liquor store many times since.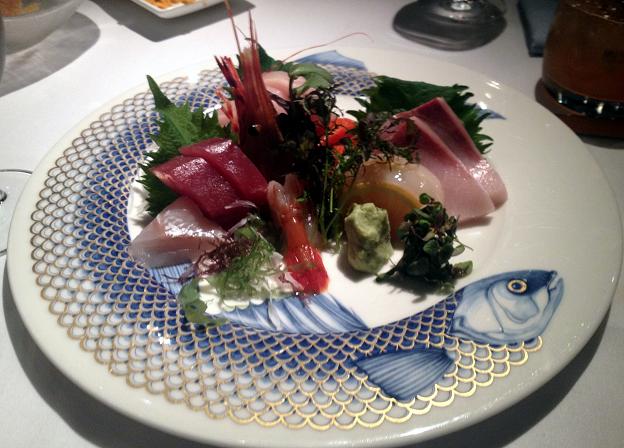 We kicked off the festivities with a toast and a plate of the finest sashimi. Actually, I should call it the finest sashimi on the finest plate.  Look at that! What a work of art! Beautiful raw tuna, salmon, sea bream, scallops, spot prawns, yellowtail, shiso leaf and seaweed all artfully arranged on that freakin gorgeous piece of porcelain. So fresh! No muddy flavours. It was exactly what we wanted! Crystal even had some of the raw prawn, something she's never enjoyed before.
 I spied some of our illustrious fellow-diners ascending a two-tier tower of seafood back in the main dining room and asked our server to send us one of those. At the very least we'd impress the small collection of couples in the back room.
The tower arrived and we feasted mightily! Clams, mussels, scallop ceviche, steamed spot prawns, three types of oysters in mignonette and marinated jellyfish all arranged on ice for our picking pleasure. Crystal had the second oyster she's ever enjoyed (the first being at Locals in Courtenay) and really got into the mussels and jellyfish in a big way! I attacked the ceviche, knowing that Crystal can't stomach cilantro and was impressed by the lightness of it.
It was a lot of seafood, and though we soldiered through to the last few bites we really took our time and let our stomachs adjust to this level of excess. I thought constantly of Greek symposiums and Dionysian feasts. Admittedly, during future visits I'd forgot the tower of power in favour of just some straight-up oysters and maybe a selection from the "Unsung Heros" menu… But still, wow.         
The time had come… The closer, the secret weapon I'd saved for the end… I knew Crystal would loose her damn mind for this: Miso-glazed Sable Fish (aka Black Cod) in dashi with bok choi and quinoa.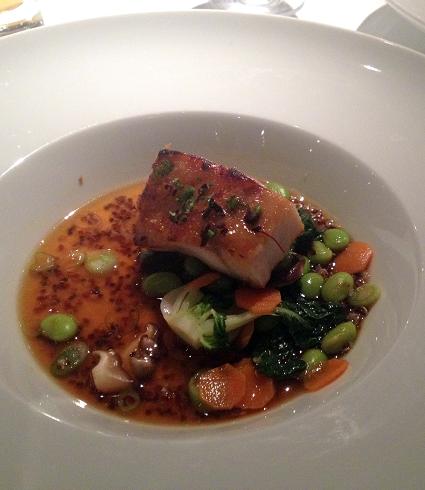 Black cod is, without a doubt, both of our favourite fish to eat. It's gorgeous, fatty, musky and still light. It's like the pig of the sea, and the way that they prepare it at the Blue Water Cafe it should be considered a national treasure. It was tender and flaked just right, but with that slightly-crisp-slightly-gelatinous texture that only pork belly shares in common. It was perfect and thanks to a tip-off from our waiter (He knew we'd be sharing) it was flawlessly separated (the kitchen logistics must have been nightmarish!) into two separate servings.
Even though I was in sablefish heaven the whole time, part of my brain was spinning: How did they get the quinoa so firm if it's been in this seaweed broth the whole time?  I'll figure it out…you just wait.     
I've been thinking about the concept of luxury for a while now, ever since I thumbed through last September's issue of Bon Appetit magazine oh so many months ago and balked at the $1000 price tag for a meal at San Fransisco's Saison Restaurant. I remember being astounded that places like this, these relics of some Gatsby-esque era of fine dining establishment still existed. This is the food truck age man, who's going to shell out hundreds, even thousands of dollars for a meal?
I did… That night…  A couple hundred, and enjoyed every moment of it… No buyer's remorse. I eat my own words once again!
Luxury isn't dead, in fact it's deeply ingrained in (I might even argue that it's central to) the act of going out to dinner. A special occasion merits special ingredients and service and ambiance and that cart of exotic mineral waters and whatever else makes you (and your date) feel like James Bond (and his date) for an evening.
The Blue Water cafe was that kind of experience: Classy, sexy, laid-back, exciting and intimate all at once, with food that makes serious seafood freaks like us sit up 'n take notice.
So now you can understand why, back here in the doomed Horseshoe Bay ferry terminal, I'm not all that upset by the meteorological delays. A perfect weekend, capped off with a perfect meal tends to take the edge off.
Oh cool, the tinkly-voiced lady says we'll all be going home tonight!