"I came back here determined to burn toxic food TV to the ground. Junkie that I am, it nearly seduced me all over again. But as we said back in the day… We cook, we fight, we win." – Gavin Cruikshank
Starve Volume 2 hit shelves (both virtual and brick 'n mortar) last month, collecting issues six to ten of Brian Wood's critically acclaimed pre-apocalyptic, food-culture comic book. It's been hailed by fans, critics and dust jackets as the second coming of edgy counterculture comics  the likes of which haven't been seen since Transmetropolitan… And in the comic book nerd circles that I sometimes frequent that's damn fine praise.
It's got a solid foundation; Starve Volume 1 was a tour de force of both art and storytelling. Set in the very near future when global warming/overpopulation has led to a nearly-total world sprawl. Perversely, despite world-wide starvation a very elitist type of entertainment pits celebrity chefs against one another using endangered ingredients for a panel of über-entitled judges. Not too far off from now eh?
We have been introduced to our gloriously messed-up protagonist Gavin Cruikshank: chef, bad father, worse husband, genius, addict, celebrity in exile, Anthony Bourdain-esque badass, etc. He's returned to the big city, beaten back all comers and re-taken centre stage in the very competition show he helped create. Now he's trapped inside the system again, lorded over by the brutal Network Execs who are eyeing up Gavin's daughter Angie as the next big thing. It's time to go rogue!
"Why try and shame the 1% – Who will never change no matter what you do to them… When I can empower the 99% who are desperate for things to get better" – Gavin Cruikshank
Volume 2 takes a couple of surprising turns, shifting focus away from the bright lights and bloody fistfights that made Volume 1 so exciting and delving deeper into Gavin's psyche and personal battles. There's still plenty of dystopian sprawl and Food Network-gone wrong craziness, but much more time is spent on the streets.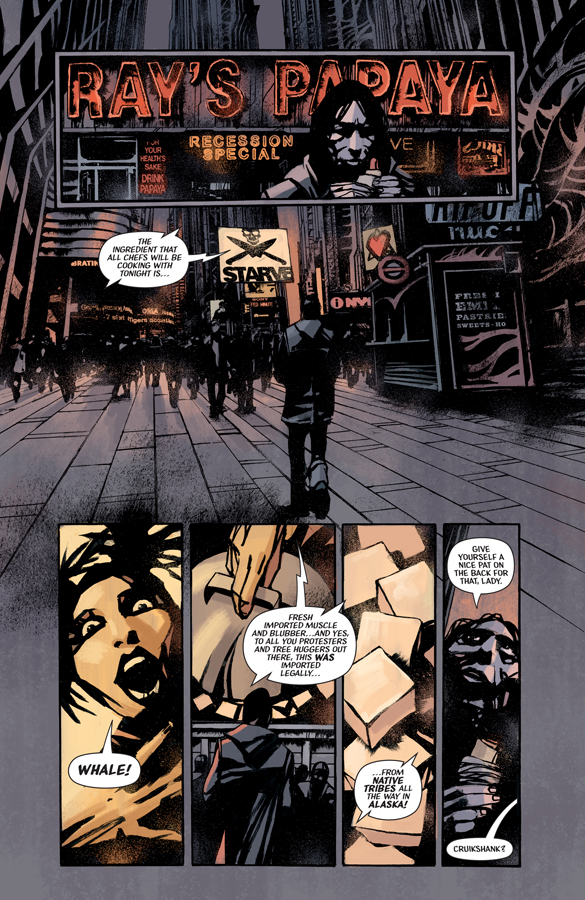 Part of Gavin's crusade against the post-apocalyptic food scene leads him to buy up a fried chicken joint in Brooklyn and train its mostly-adolescent crew how to make real food for their neighbourhood. No cameras… No celebrities… Just kids making chicken and cornbread from scratch. It's a cool conceit and one that makes kitchen folk get tingly: Taking an old dump and making it into something, mentoring a new generation, changing the way a neighbourhood interacts with its food. It's all gloriously upbeat until Gavin is smacked back down into the sidewalk by the realities of living in a "food dessert".
"…This is all part of the neighbourhood. It stinks and it's cruel, sure, but it's food. Actual food and some mom somewhere can splurge and drop twenty bucks and make her family a couple solid meals… You don't need to come in and try and fix that. The answer isn't to scoop up a bunch of local small businesses." – Maddox
Brian Wood writes his storylines compact but packed full of messy subtext. He lets you know this isn't going to be a white-knight story. *laughs* this business is going to struggle and possibly fail for its moral obligations. The neighbourhood may not even care if some rich white chef wants to help them out. It reads like real life, with real consequences.
That is what makes so much of Starve great. Real moments experienced like real kitchen folk would experience them. Every scene in the chicken joint or when Gavin hangs out with his old chef pal Dina is solid gold. I said it when I reviewed Volume 1 and I'll say it again: It's amazing to me that Brian Wood hasn't spent any time in our industry 'cause he's nailed the pathos, colloquialisms and even the damn way we move perfectly.
My favourite little moment is a total throw-away early on when Gavin is trying to order food from the pre-cursor to his chicken restaurant. He leans over the counter, forcing his eyes to focus and breathes, "Ah, fuck me, that menu board is chaos." *howls* I've said that to myself a million times at a million quick-service joints!
The art by Danijel Zezelj and Dave Stewart continues to blow my mind. The world is awash in shadows, etching every face, staining otherwise beautiful ingredients and filling the streets and alleys of this Gibson-eque future with menace. Love it, or hate it everyone admits it's a very unique style… I'm definitely in love!
The remainder of the volume is spent dealing with the evil Network Execs and their and their on-again, off again war with various members of the Cruikshank clan. These bits are a bit of a slow burn, but build into something grandly satisfying by the end of the trade. No spoilers of course! *laughs*
Finally there's the bad news: After the smoke clears a tidy little bow is put on the series with a half-issue epilogue that caught me a bit off guard. I don't know why I held out hope that this story would continue as an ongoing thing, but no. Starve is a perfectly contained story beginning to end and that wrap up in issue 10 is the last we'll see of Gavin, Dina, Angie, Roman and the rest.
I can't recommend this comic series enough to anyone who a) is a fan of great storytelling. b) Is already into comics and is looking for something unique. c) Works in the industry and wants a little validation that even us line cook scum are heroic in our own way.
Pick up Starve vol 2 at your local comic shop, comicsology or swing over to Amazon. If we all pitch in a couple bucks maybe Brian and the boys will someday bring us a Volume 3.
Save