Samosas are beautiful little flour dough dumplings that originated in medieval Persia and spread throughout the Middle East into India and Southeast Asian. The Indian version is by far the most famous, often stuffed with a vegetarian-friendly mixture of potatoes, chilies and peas but there's a gang of regional variations including beef, mutton, nuts, sweet pastes and whatever else you got.
The best samosas I ever ate came from the home kitchen of my co-worker Jaz, way back when Crystal and I lived in Vancouver. His wife would make an entire sheet-pan at a time and he'd bring them in to be sold as snack at the bar wrapped in a little paper bag.
Each one would come out of our little backroom microwave billowing steam and the most transcendent spicy-starchy smell would fill the room. You'd pinch it gingerly by one white-hot corner and bite in, heedless of the heat and plop the rest into a little cup full of a sweet and sour dipping sauce that I only now, years later realize was made from tamarind. Once we sold one, BOOM! The whole bar had to have one. *laughs* Needless to say, the staff stole their fair share as well.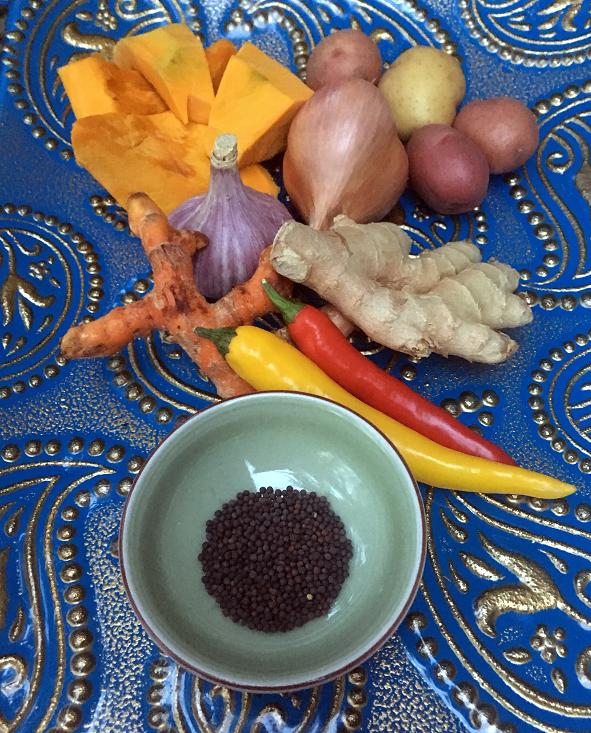 I've tried to replicate Jaz's wife's recipe many times with varying degrees of success. For instance, it took a long time for me to realise that the filling shouldn't be chopped into oblivion like a shu mai or gyoza, it should have a chaotic, lumpy texture that excites the palate. The dough should be stretched thin, but not like a ravioli, more like a Jamaican hand pie and the outside should be crispy from a high-heat frying and the inside layer just touching the filling should be like slightly undercooked puff pastry.
The book that helped me wrap my head around these and so many more foreign (Heh!) concepts is Mangos & Curry Leaves by Jeffrey Alford and Naomi Duguid. It's this big, beautiful coffee table tome that features equal parts authentic Indian home recipes, travelogue-style reflections and fantastic photography.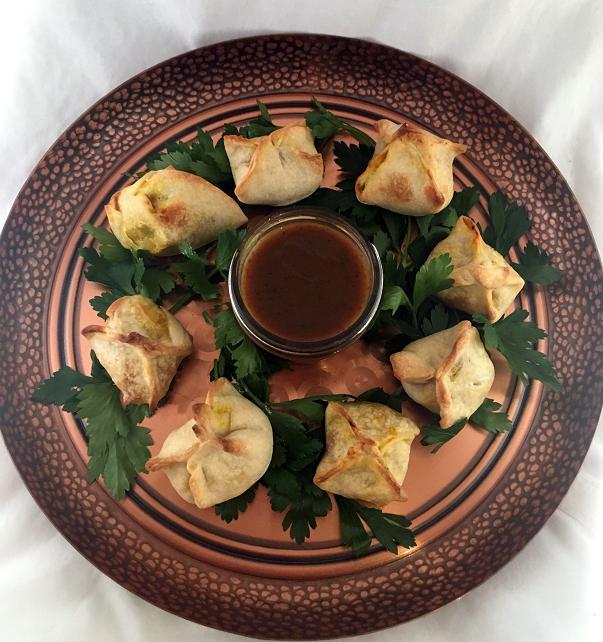 My samosa game is now pretty strong.  The filling and dipping sauce are near-perfect, but the dough is still just okay. The biggest hurdle (aside from not having an Indian mom to call up for advice) has always been my hesitance to deep-fry at home. I know… I know… A true samosa should be fried, but I usually bake 'em. The results may not live up to my wine-soaked samosa memories, but they're damn close and much less greasy.
Now, I know what you're thinking; this recipe will need a shopping kart full of weird ingredients that will cost me a college fund over at the Whole Foods.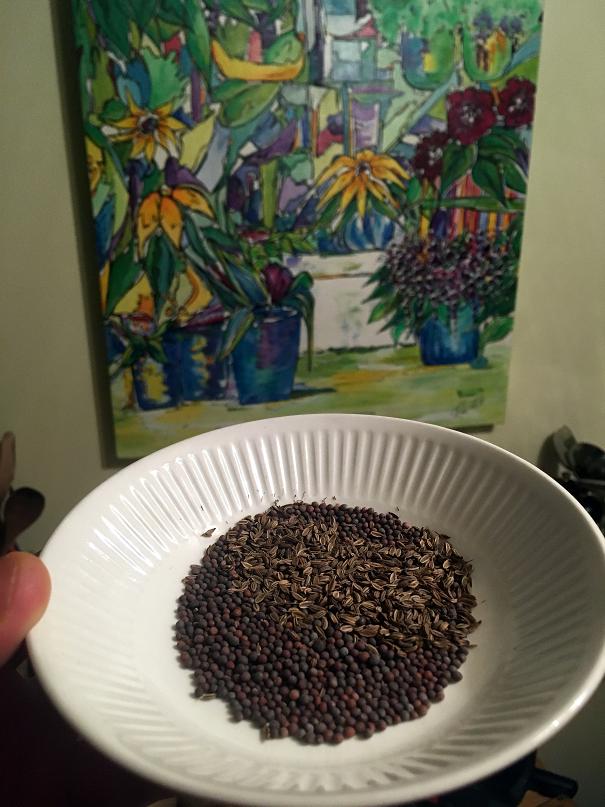 You're wrong! I don't blame you for thinking that though; I remember when it used to be that way. But if you live here-and-now on the temperate and dazzlingly-multicultural Westcoast I'm sure you can get a wee bit of mustard seed and fresh turmeric without much fuss. If I throw in a chile pepper and some fennel seeds harvested from the Zen garden I've got everything I need to make a pretty damn authentic Indian meal.
Potato and Pumpkin Samosas (Makes roughly 20 dumplings)
Ingredients for the Filling
½  Medium Kabocha (Japanese Pumpkin, 275g peeled and diced)
3 Medium Russet Potatoes (580g, diced)
2 Tbls. (30ml) Vegetable Oil
½ Tbls. (13g) Black Mustard Seed
1 Large Shallot (90g, finely diced)
½ Tsp. (10g) Fresh Turmeric (grated)
½ Thumb (12g) Fresh Ginger (grated)
3 Garlic Cloves (17g, grated)
1 Medium Chile pepper (9g, finely sliced)
½ Cup (80g) Small Peas
Salt and Pepper
Method
Bring a large pot of salted water to a boil and toss in the diced pumpkin and potatoes. Lower the heat to a simmer and cook for 12 minutes or until both are tender. Strain and smash 'em up while they're still steaming. Not too much though! Leave some lumps! We're not making baby food here.
In a Wok or large frying pan bring the vegetable oil to a high-heat shimmer and toss in the mustard seeds. Shock them in that hot oil for 20 seconds or until they've stopped spluttering. Add the shallots and fry another minute until they've gone translucent. Next comes the turmeric, ginger, garlic and chile which will only spend 40 or so seconds sizzling in that oil before dumping in the pumpkin/potato mixture and the peas. Lower the heat to medium and keep everything moving around until the whole shebang is heated through (apoprox. 5 minutes) now, breathe deep… your kitchen smells amazing!
Ingredients for the Dough and Cooking
2 cups (250g) All Purpose Flour
1 Tsp. (5g) Salt
2 Tsp. (8g) Ground Fennel Seed
1 Tsp. (5ml) Sesame Oil
2 Tbls. (30ml) Vegetable oil
1 cup (240ml) Warm Water
Method (Get out your stand-up mixer, it's kneaded)
Mix the flour, salt and fennel in your mixer's bowl and slowly drizzle in first the oil and then the water while a dough hook mixes it on medium speed. It will only take about 3 minutes for it to form a solid, smooth dough with a glossy surface. Wrap it in plastic wrap and refrigerate it for at least an hour before cooking.
Dust your work surface with a generous amount of flour and start rolling out the dough into a rough shoebox-sized rectangle. I say "Start" because this dough is dense and doesn't take kindly to being told what to look like. Go back and forth over it with a rolling pin then give it 10 minutes to relax and come back at it again. Once it's thin as lasagna dough it's ready for some filling.
Plop a line of the pumpkin/potato filling in rows 1 ½ inches apart onto the dough. Each lump of filling should be approx. 2 Tbls. and have an equal distribution of potato, pumpkin, peas, etc. Run a knife in straight grid lines between the lumps of filling.
Everyone's got a different way to shape 'em from just folding over like a calzone to twirling 'em up like a tortellini. The classic Indian shape is like a pyramid and involves picking each one up and making a little hand pocket. I haven't got that kinda time so I just grab the edges of each little square and fold them up together into a rough pyramid shape, squeezing the edges as I go to seal. Let them sit for 30 minutes before baking/frying.
Bake the samosas on a lightly-oiled sheet pan for 20 minutes or until the dough is golden brown and the filling is warmed through. If you're deep frying then get out a large wok and fill it with oil. Bring it to 350˚F (175˚C) and carefully slide a couple samosas in at a time. Use a slotted spoon or spider to carefully turn the samosa to get 'em evenly browned and remove them from the oil after approx 4 ½ minutes. Drain them on a rack or paper towel.
Tamarind Sauce
Soak a handful of tamarind pulp or pods in 1 ½ cups of hot for an hour and strain into a bowl, pressing the remaining solids to get all the good stuff. Fire up a large frying pan or wok over medium-high heat and swirl in 2 Tbls. of vegetable oil. Fry up a big pinch of black mustard seeds for 20 seconds and once the sputtering subsides toss in a pinch each of fennel seeds, fresh turmeric, ground cayenne pepper, ginger and garam masala. Give them a stir in the oil to get fragrant and pour in the tamarind liquid. Reduce the liquid down by half with a medium simmer for about 5 minutes. Thicken the sauce with a slurry of ½ Tsp. Cornstarch and ½ Tsp. Water. Season with salt and sugar to taste and remove from heat.  Serve cold alongside your steaming samosas.
Music to Squish Tamarind To:
Tycho – Epoch