It's been little over a year since all the rumours about a CR brewery were confirmed and the buzz amongst local food 'n beer nerds began. The survey followed quickly after and the anticipation grew, then came the zoning meetings and it grew a bit more. By late spring we were a frenzied mob! Our Lucky-lovin burg was getting into the craft brew scene, just like the big boys… Then it was quiet all summer long.
Boom, clang! Like a ninja the Beachfire Brewery and Nosh House appeared and opened for business seemingly overnight without me or many of my fellow industry folks noticing. Its beer time kids! I hopped on my bike after an early admin day and beelined to a block of downtown I haven't visited in years.
The exterior has been completely overhauled with a brand new deck/bike corral, a sweet burnt wood logo and a fresh coat of vibrant blue paint that stands in sharp contrast to the drab beige offices that surround it. The interior is just as slick with a hip bicycle 'n driftwood theme (it's like they know me) with a beautiful set of recycled wood counters and even a turntable.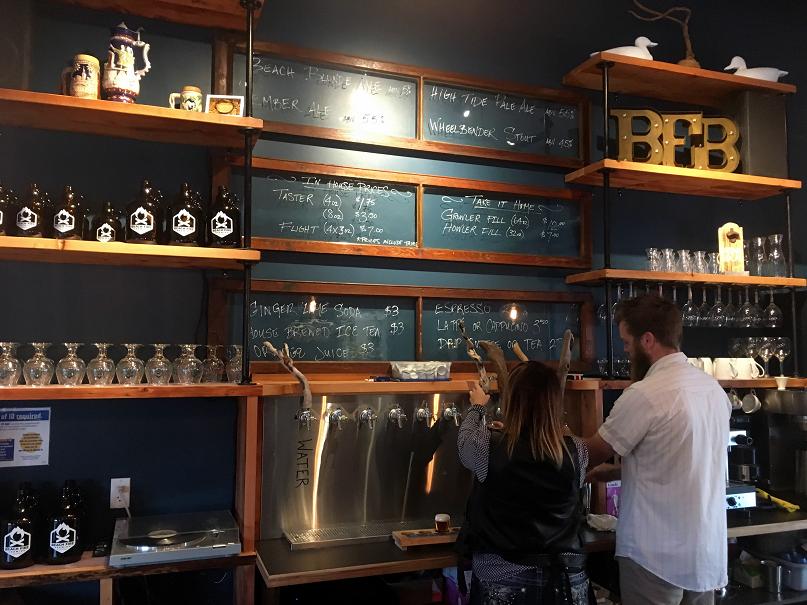 I sat at the bar alongside a couple industry buddies and chatted with Matt (one of the owners) while I sampled their flight of four beers. These four represent the cream of the initial survey crop and a wide spectrum of brews for both seasoned hipsters and off the streets know-nothings like me.
It's all good stuff: The Beach Blonde Ale is a nice light affair with enough hopsy bite to balance its sweetness. The Ember Red is a malty middle 'o the road workhorse that will warm the tummy and play well with a variety of tapas that I'm sure the Beachfire kitchen will soon be pumping out (more on that in a sec). Their Wheelbender Stout is exceptional, with a light, dry body more reminiscent of a dark lager than a traditional "candy in a glass" porter.
The real rock star is the High Tide Pale Ale which hits all right citrusy notes you'd expect from a top of the line IPA like Fat Tug but with a nice mellow finish and a hint of creaminess. Be warned though, it aint no Oakanagan Spring Pale Ale. There's a surprising bitterness at play (as Crystal instantly lamented) but it's pretty tame for those who've seasoned their palettes with all the over-hopped craft brews available nowadays.
The beer menu stated that they're interested in swapping out different hops for each batch of their Pale Ale, which is cool and might hit upon that magic balance that will propel this beer from rock star to rock God and make it the one beer everyone associates with the brewery (ala Cumberland's "Forest Fog").
I didn't get a chance to try anything from the menu, but as I was unlocking my bike to head out Chef Laura popped her head out the door to chat. Her enthusiasm for local producers was evident as she ran down a laundry list of products she'd worked into the brewery's ever-changing selection of small plates, soups and desserts.
The menu was funky as all get-out! Mussels 'n tacos jumped out as did the selection of middle-Eastern-inspired fare. The chef said there'd be some daily stew or curry bowl for people looking for more of a meal in the near future. All of it sounded great and I wished I had more time to sit and sample. Next time, I promise!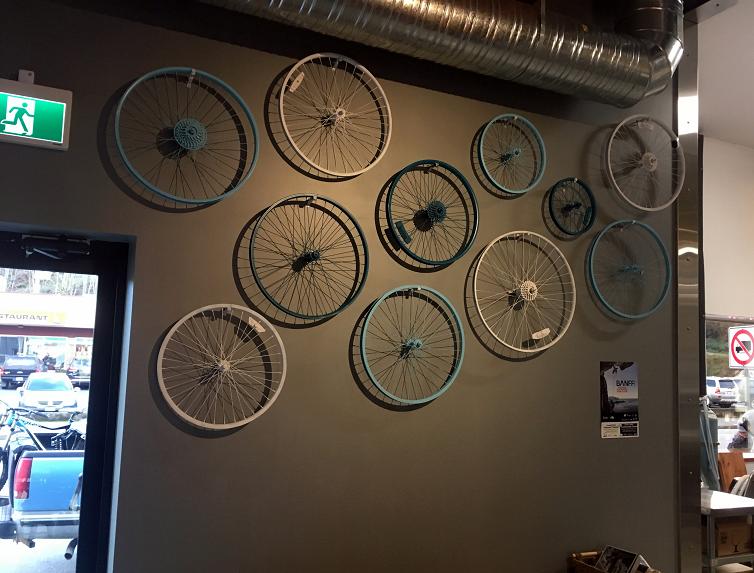 Two growlers heavier I headed home, my head full of ideas for beer-braised dinner options. Of course once I got home I nearly polished off half a growler before Crystal got in and admonished me for not waiting for our brewery crew to assemble (her, me, Jen and Sean). The pork chops with sage and Ale cream sauce I made did much to smooth things over. *laughs*
Head on down to the Beachfire Brewery and try the flight at the bar and chat with the fine folks who have made our little burg a wee bit hipper. Also, like 'em on Facebook and head over to their website to take the survey, or just to say hi.
I'll be the dude in the corner stuffing his face with tacos and ale.
Save