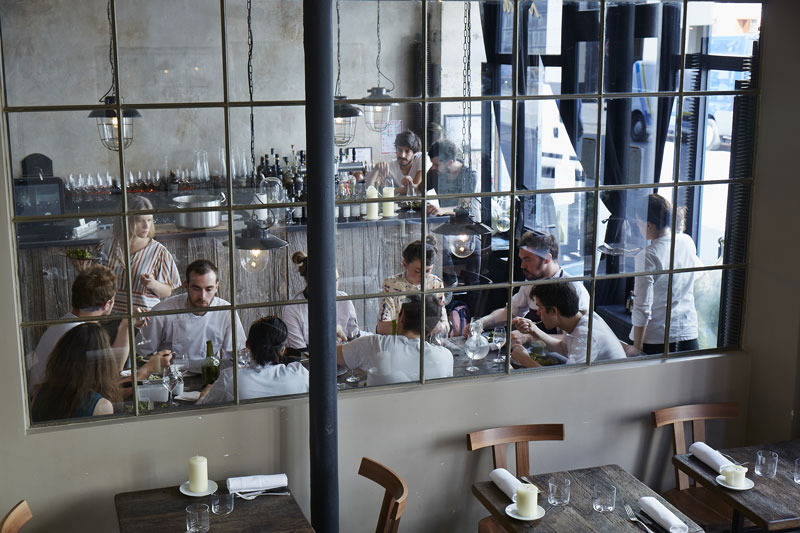 The weirdest year most of us can remember has almost lurched across the finish line, but before we can all raise a glass to 2017 there's still the matter of Christmas. I 'dunno about ya'll but this year we plan to keep our holiday festivities as low key as possible and focus on family, with moments set aside here and there to escape to the blanket fort with a good book.
The last couple of years I've suggested all manner of gadgets and do-dads for the kitchen, but this Christmas I'd like to go oldschool and point out a couple great cookbooks that I've collected over the years that have inspired me. Some of them were given to me as gifts and many I have gifted to others with similar results so they are 100% vetted for giftabillity!
I think industry folk will especially dig these titles, as there is a common nu-bistro theme amongst them: Every cook's got that secret dream of opening a little joint with a funky menu and doing their own thing and each of these books taps into that in some way.
It's a deeply refreshing concept and a wonderful fantasy for those of us slogging away for the gain of others. Imagine leasing a small space with an even smaller kitchen, use a bunch of local producers to get your ingredients and ideas then bang out 80-100 covers a night under 40 bucks a plate. *laughs* It's a long shot, but hey… We all 'gotta dream!
So enjoy yourself this holiday season and give your loved ones a hug and a high five for surviving 2016. And when all the schmoozing gets too much, sneak away and meet Crystal and me in the blanket fort where we'll be sipping sangria, scouring cookbooks and planning our future bistro.
2016 Gift Guide : Bistro Cookbooks
Bistronomy by Jane Sigal
I bought myself this book last Christmas on a lark and immediately upon receiving it fell down the nu-bistro rabbit hole which has led to (among other things) this cookbook list. Jane Sigal's book is a stroll through the bistro kitchens of Paris helmed by a new generation of 30-somethings that serve simple, delicious, local food without pretense. All the points I mentioned in the preamble above are at play in these bistros: Small crowds, local ingredients, stripped down plates, no fancy sauces and lots of good wines. It's the book that I'm cooking and drawing inspiration from the most right now.
Le Pigeon by Gabriel Rucker and Meredith Erickson
Chef Rucker's joint in Portlandia brought the punk attitude and French haute-meets-diner food goodness that made Au Pied de Conchon famous in Quebec to the US West Coast. The cookbook, sub-titled: Cooking at the Dirty Bird brings lots of recipes at you with a relatively limited list of key ingredients like offal (sweetbreads and fois) little birdies (ducks, pigeons, quails and bits) and rabbit.
It reads like a bunch of cooks working their way through their favourite stuff with a tiny dining room and an appreciative audience as guinea pigs… Or as Crystal summed it up: "It's a bunch of boys cooking boy food for their hip friends" *laughs*whatever, it's an inspirational book and a couple 'o recipes really got my hot sauce and pear dumpling, rabbit-poaching juices flowing. Also, there is a two-page ode to the 1969 Plymouth Valiant… So you should buy it.
The Les Halles Cookbook by Anthony Bourdain
Alright, you 'wanna know the ropes? Make your bones? Figure out where this whole bistro thing came from. Or maybe you just desperately need a last minute, authentic, crowd pleasing entree up on the blackboard with a side order of irony? This is the bible for you.
Crazy Uncle Tony needs no introduction and I would probably buy anything the man prints, but all sycophantic bullshit aside this is a very useful guide to the kind of food that French bistros made in ages past. It's concise and entertaining to read, plus the recipes are kitchen tested and really freaking delicious! I have splattered my copy with so much kitchen shrapnel that it's unreadable on some pages and have bought more copies as gifts to family and kitchen kin than I can count.
Nopi by Yotam Ottolenghi and Ramael Scully
Nopi is the cookbook that sat atop pretty much all of last year's Christmas cookbook lists for two reasons: a) It is absolutely beautiful and b) It's got Yotam Ottolenghi's name on the cover… Even though the majority of the recipes come from his employee chef Scully, the magnetic pull of über-food-celebrity Ottolenghi makes this must-read stuff for the housewife and hipster crowd. I'm on board as well thanks to Scully's killer brasserie/bistro-style recipes. His careful selection of three to four flavours per plate – protein, soft veg, broth or emulsion and pickled garnish – would be as at home on a bistro chalkboard in Paris as on little stenciled cards in Soho. It's a good book for discovering new flavour pairings and got me reaching back into my pantry for spices I hadn't thought about in years.
Prune by Gabrielle Hamilton
Chef Hamilton's personal life is public knowledge thanks to her Bourdain-esque tell-all Blood, Bones & Butter and just like Uncle Tony she quickly followed up with a guide to cooking all the best bits from her New York bistro. It looks like a kitchen notebook, complete with food splatters and messages scrawled in the ledgers in nearly un-decipherable industry shorthand. The chef's reverence for fresh local ingredients is matched only by her irreverence for pretension (triscuits and sardines please!) and the recipes, though mostly dead-simple are packed with bright, clever and sometimes nostalgic flavour contrasts.
Happy Holidays folks!