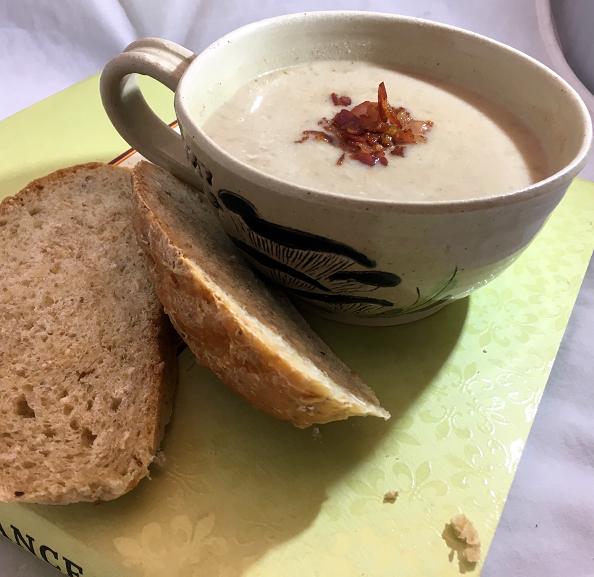 Many years ago on a whim I purchased a rather strange cookbook by Lois Anne Rothert dedicated entirely to the various soups of rural France. Normally I don't pitch in for something so bizarrely specialized but something about this tome's yeomen charm captured my imagination and it's survived many cookbook purges over the years when shelf space became scarce.
Now, three months deep into my still-UN-identified illness this book has more than earned it's keep with such soul-satisfying and sanity-soothing soups as Country Sorrel and Potato, Oyster and Cognac stew, Lentil Potage and this deeply savoury winter soup of pureed chestnuts, aromatics and crispy pancetta.
Rothert asserts that this simple soup contains "The ingredients essential in Coriscan cuisine: chestnuts, fennel and pancetta…" and its deep sweet and savoury character doesn't require any other additions aside from maybe a shallot. After making this Corsican comfort food a couple 'o times I heartily agree that the flavours mesh beautifully, but I still threw some garlic and cream into the mix.
Chestnuts can be purchased fresh from mid-autumn through 'till the holidays, but unless you're prepared to dedicate an afternoon to roasting, cracking and shelling them might I suggest one of the many pre-boiled 'n shelled options available all year long. I used a couple vacuum-packs of the T&T brand organic roasted chestnuts and the results were excellent and tendentious-free.
Chestnut Soup with Cripsy Pancetta (Serves 2-4 People)
Ingredients
1 ¾ oz Pancetta (50g, finely chopped)
1 Tbls Butter (18g, melted)
½ Large Onion (115g, diced)
½ Large Fennel Bulb (110g, diced)
2 Garlic Bulbs (8g, minced)
3 ¼ cups (770ml) Water or Light Chicken Stock
7 oz. Shelled-Boiled Chestnuts (200g, chopped)
1 ½ Tbls. (22ml) Heavy Cream
Salt and White Pepper
Method (this recipe can be made with either an immersion blender or a table-top food processor)
Grab a medium-sized pot and fire it up over medium heat. Cook the pancetta 3-5 minutes or until crispy and remove with a slotted spoon to a waiting plate with some paper towel to absorb any extra grease. Pancetta isn't a fatty piece of cured pork so you don't have to pour off any excess fat like you'd do with bacon.
Drop the butter in and wait for it to melt and fizzle before adding the onion, fennel and garlic. Stir them around and cook until translucent, approx 5 minutes. Pour in the water/stock, add the chestnuts and bring to a simmer. Slap on a lid and cook for ten minutes.
Remove the lid, check to make sure the chestnuts are soft and squishy and carefully blitz until smooth using either an immersion blender or food processor. Pour in the cream and season with salt 'n pepper. Bring back up to a simmer before serving. Garnish with crispy pancetta and serve with some good, rustic bread.
Music to Shell Chestnuts To:
Khruangbin – Con Todo El Mundo