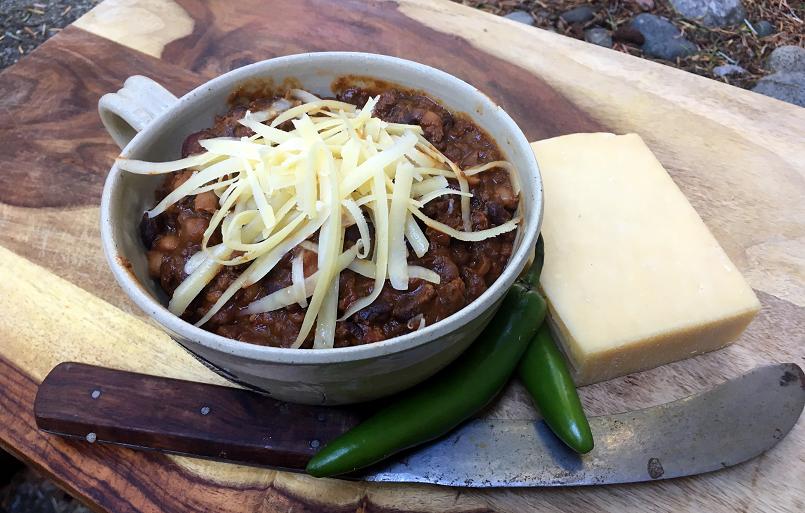 My wife and I have done our fair share of dinner parties as well as catered quite a few friends' weddings and the number one most requested item by far is Crystal's patented chilli. The fact that I've been producing high-end catering/resto food for almost fifteen years doesn't ever factor in. If we're showing up to the pot-luck you can bet we're bringing chilli.
Everyone loves it! Especially on a cold, rainy autumn day (which we sure do have a lot of out here) with a buttermilk bun it's the perfect snuggly, warm blanket for the soul. It's also got a big, rich flavour profile that other soups, stews and casseroles just can't beat. And yeah, I'm comparing chilli to a stew… 'Cause that's what it is… I'm not going to debate any opinionated Texas or Chicago chilli baron about what chilli is or what it should or should-not include. It's just a tex-mex stew that is big on flavour heat, and meat.
And Crystal's recipe's got all three: Plenty of savoury beans and sharp tomato acids play off myriad south American spices cooked in both ground chuck and bacon fat until you can feel the spaces behind your eyeballs sweat. And the best part, it's all done in one big pot that you can drop on the table amongst your friends 'n family and let 'em have at it.
A quick word on meat: Depending on what time of year it is and what's available we will make this chilli with ground beef, elk, deer or whatever else your local butcher's got. If you can grind your own meat, good on 'ya; Go for chuck or round, anything that is lean and sinewy. Avoid pork though, due to its high fat content (even in "extra lean ground") which is being handled in this recipe by the bacon.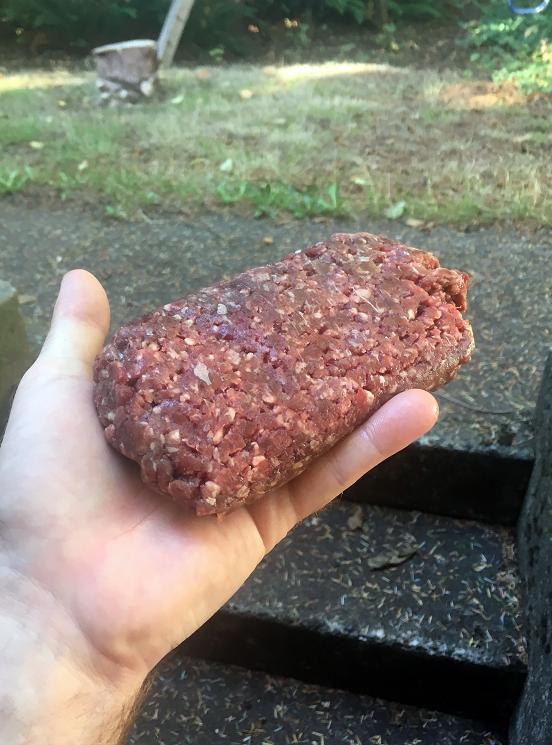 This time of year our go-to meat is definitely elk: a super-lean alternative to beef that packs ten times more flavour and browns really quick. If you are lucky enough to get an elk tag (or know someone who got one) now is the time to get out there and stock your deep freeze. If you're not a hunter The Butcher's Block in Courtenay has a full range of elk products including loins, sausages, burgers or (in our case) ground.
Elk Chilli (Be warned: This recipe makes enough chilli to feed an army! Roughly 5L )
Ingredients:
½ lb. (230 g) Fatty Bacon (diced)
1 ½ lbs. (680g) Ground Elk
2 Medium White onions (approx. 300g, diced)
6 Garlic Cloves (approx. 17g, minced)
1 oz. (30ml) Vegetable Oil
6 tbls. (40g) Ground Ancho Chilli Powder
2 tbls. (12g) Ground Cumin
2 tbls. (12g) Ground Coriander
2 tbls. (12g) Ground Cinnamon
1 tbls. (6g) Dried Oregano
12 oz. (350ml) bottle of Stout or other Dark Beer (we love to use Hoyne's Dark Matter)
32 oz (946ml) of canned Tomatoes in liquid (roughly 1 ½ big cans)
16 oz. (473ml) can of Kidney Beans
16 oz. (473ml) can of Great Northern Beans
16 oz. (473ml) can of Black Beans
Salt and Black Pepper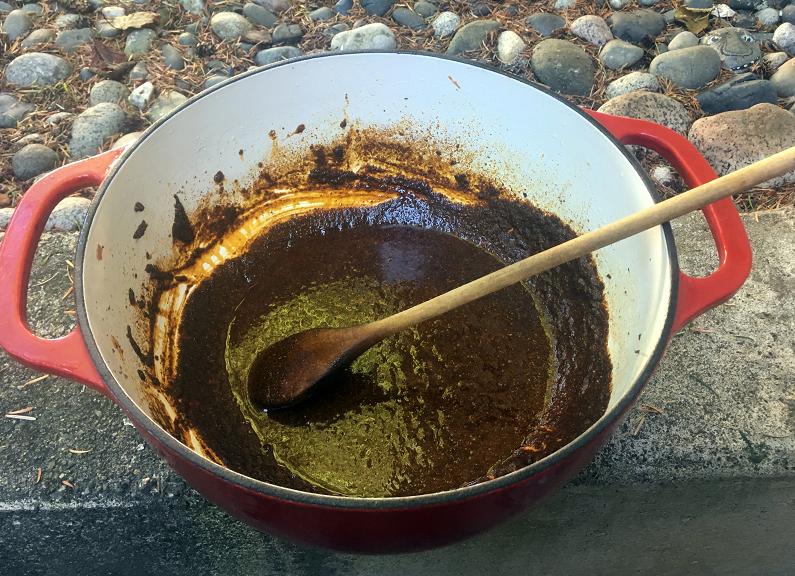 Method:
Fire up a big, heavy-bottomed pot over medium heat and toss in the bacon. Cook for approx ten minutes, stirring constantly until the bacon is crisp and the fat has rendered out. Remove the bacon with a slotted spoon and drop the elk into the pot. Cook the elk in the bacon fat for about eight minutes or until it has evenly browned. Remove the elk from the pot and use whatever fat is left in the bottom to cook the onions and garlic for four minutes or until they are translucent, now remove them as well. There should be very little fat left in the pot at this point and a beautiful caramel-colour in the bottom. That's 'gonna be flavour!
Pour the veg oil into the pot (still on medium temp) and dump in all your dried, ground spices. I know it looks like waaaaaaaaay too much, but trust us. Cook the spices in the steadily heating oil for five to eight minutes, stirring constantly to unlock all the flavour and fragrance you can. Now the bottom of the pot should be damn near chocolate-brown.
Pour in the beer (Fffffssssssstttt!!!) and scrape up all the flavour stuck to the pan's bottom. Pour in the canned tomatoes and all the beans (with all the juices from the can… I know, I know, it's gross… But it really works!) then add all the bacon, elk onions and garlic back in as well. Slap a lid on the pot and turn the heat down to low. Simmer that beast for at least 3 hours. Season with salt and pepper and serve with a bit of grated cheese, some sour cream and a dash of hot sauce if you're masochistic like me.
Music To Simmer Chilli To:
In The Country – Sunset, Sunrise