Recently I discussed at great length how the best part about working in the culinary industry is the people I get to work with. These people are the best people and this past August on a sun-soaked hill in Sannichton I got to be with my people doing what we all enjoy most; serving food to appreciative people surrounded by the astounding beauty of BC at the 2017 Vancouver Island Feast of Fields food festival.
Over forty different food service vendors ranging from restaurants to cola companies all with a "farm to fork" ethos filled ten circus-sized tents and a barn full of more good stuff at Ravenhill Herb Farm. The event raised a ton of money for FarmFolk CityFolk  (a local non-profit that raises awareness of and provides help to local food producers) and gave us cooks a chance to get out of the kitchen and into the late August, fried-eggs-on-tarmac heat for a few hours.
I got to hunker down with the guys and gals behind the burners thanks to Berwick, who had secured a space to show off our cheffing talent (more on our impressive cast of chefs in a bit) get some inspiration from the best and brightest and (in the case of my riding crew) have a really good time. I can't thank them enough!
We left CR early enough to hit both True Grain Bakery in Cowichan AND Drumroasters Coffee before zooming down to the Brentwood Bay ferry and across into the beautiful Sannich Valley before noon. The whole way our expert driver Lynn blasted opera music to get us all in the right head space for the epicness to come.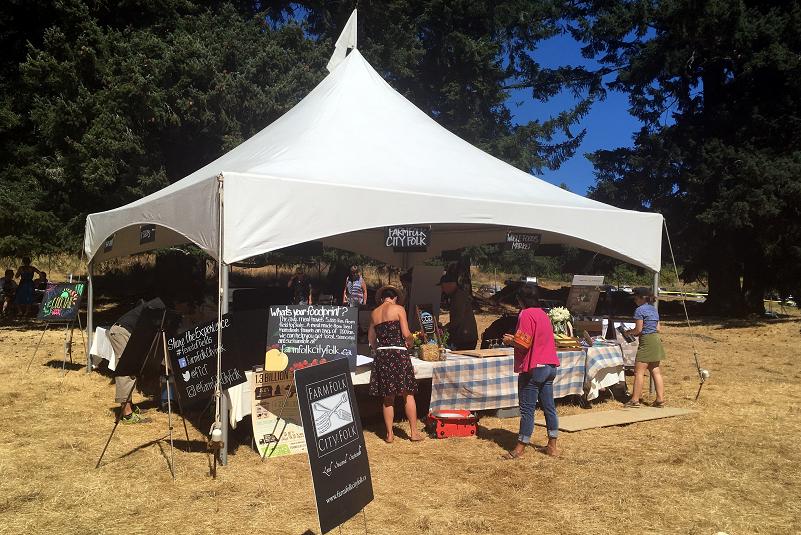 I hopped out and joined the crew of Berwick chefs already on site while my riding buddies shot away down a dirt road towards some local cider maker. Jeffery Brothers, our district manager and fearless leader was joined by Executive chefs Leon Wang from Victoria, Nicole Mackie from Kamloops and Matt Macdonald from back home in CR. That's a lot of talent to pack into a ten by ten foot corner of tent!
Before the floodgates opened I had a chance to run around the grounds and chat with many of the other crews at the event, try some early-access samples and meet up some old friends: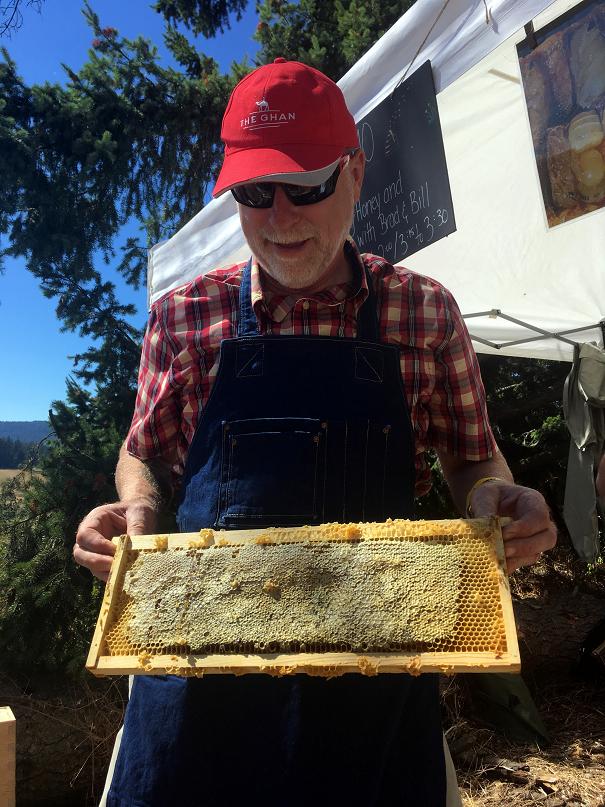 The Bee People!
Right in the middle of Ravenhill's vast herb garden was (fittingly) a group of local beekeepers named Brad and Bill (I hope I got those names right) from just down the road in Jordan River.  They had just bottled some of their patented, explosively flavourful and buttery smooth fireweed honey for the event and were preparing to extract honey from raw honeycombs right in front of everyone! They didn't have any contact info (which is why I'm sketchy on their names) but their honey was and is available at the Ravenhill Farm store.
Bentwood Bay Resort
I ran into an old friend while snooping around Ravenhill's ridiculous hillside pool. Chef Jesse Wilson, who I met waaaaaaay back at the 2015 Shellfish Festival was leading the team from Brentwood Bay Resort right across from the beekeepers. Their grilled local plums with sage ricotta, star anise dust and pink peppercorns was easily the best appy of the afternoon and the perfect representation of the Feast of Fields ethos: high quality, hand crafted, seasonal, simple and delicious.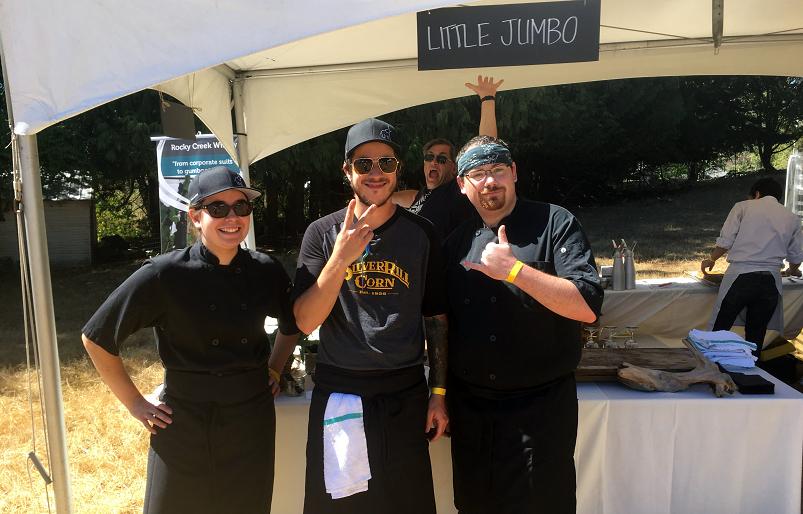 Little Jumbo
Speaking of old friends, Chef Gabe Fayerman-Hansen (also from said Shellfish Festival) brought his enthusiastic and super-talented crew from Victoria's Little Jumbo to lay down some sweet, sweet local food 'lovin. There are few people in this industry that I've met that can beat Gabe's easy style and boundless enthusiasm for good product and the art/craft of cooking. Their stall was packed all day long!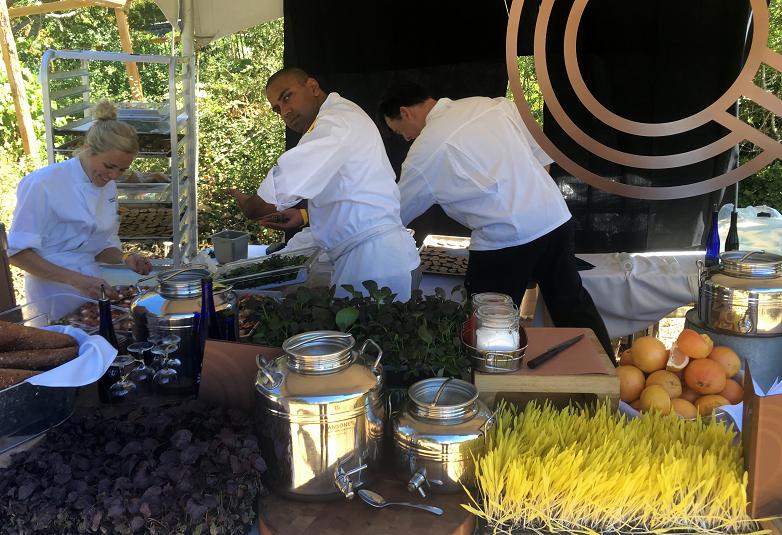 Q at the Empress Hotel
The crew from Victoria's Empress Hotel were not playing around, bringing with them the most eye-catching display of the afternoon: A giant metal "Q" suspended in the middle of their serving area and rows of amaranth and sweet corn microgreens (neither of which I've ever seen/eaten before) bookended by sparkling decanters of artisan oils. It was a wonderland of little edible additions to their already spectacular smoked tuna crostinis.
Sea Cider Farm and Ciderhouse
It wasn't until the event was in full swing that we realized Sea Cider Farms (the very people who made the cider we braised our pork in-spoiler alert!) were over in the herb garden passing out flutes of tasty apple booze. *laughs* I stopped by just before leaving and thanked them for producing such an amazing product.
Spinnaker's Brewing
Squished in beside us in tent five was none other than Victoria's Spinnaker's Brewery. During breaks in the action I got to chat with our neighbours about their fabulous line of beers and their recovery from last year's unexpected fire. They assured me that everything was back to normal and their 2017 line was stronger than ever, a sentiment I can attest to after sampling their 30th Anniversary Ortega Blonde.
The Whole Beast Meat Co.
When someone hands you a Chicharrón – you eat it. That's one of the most sacred rules in any kitchen. Now when someone hands you a Chicharrón made from a pig that spent it entire life less than a mile from where you stand, met its end and was processed by the hands of the guy who just handed you said pork bite and comes liberally dusted with sea salt made by another guy you know – you live it. One bite and I straight-up sold my soul to The Whole Beast and their team of artisan butchers.
Twelve thirty! Back to our tent!
Matt gave me the nod and we all took position behind our makeshift line. The first wave of guests flowed into the sun-soaked field and broke against our tents separating into little groups eating and chatting at one vendor or another. Nearby a banjo band started up and the afternoon officially began.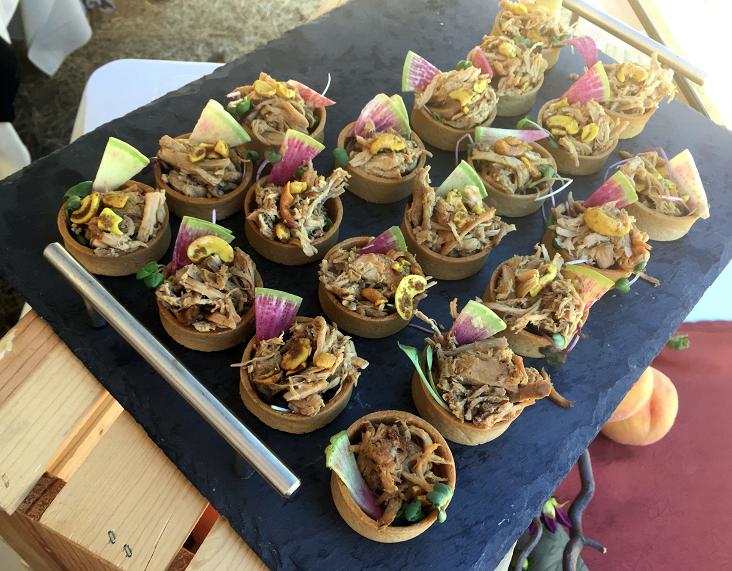 Our contribution to the event was a beautiful little two-bite canapé of meltingly-soft pork shoulder braised in Sea Cider, shredded and accompanied with a twangy chutney, spiced cashews, watermelon radish and microgreens. It was a surprisingly complex dish, both in flavour and plating.
We assembled our appys while Jeffery slid out from the tent and effortlessly mingled with the public. He was totally in his element; explaining each little bite, the individual ingredients and how it had all been brought together. It bought us time and soon Matt and I were in a good groove, hitting each barquette chutney and pork while Leon and Nicole finished with the radish 'n greens.
Soon it became a scrum for ingredients and we all switched jobs mid-plating to keep up with demand, but we were keeping up! As each row of appys was eviscerated by eager fingers a new row replaced them and more platters were piled high and passed around. It was repetitive, but fun!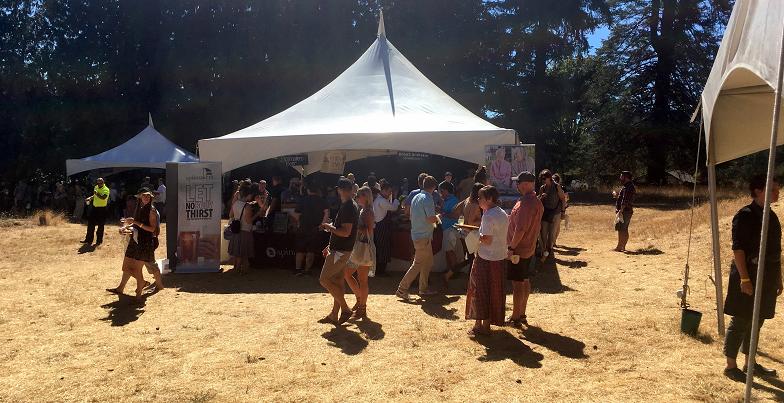 Three hours later I looked up and realized I hadn't moved from my prep position save to grab some bottled water. We had made hundreds of appys and still the people came, smiling and hungry for more. I could see lots of guests relaxing under trees, nodding their heads to the live music and trying not to doze off after their sixth glass of wine. *laughs*That's the sign of a good event right there!
And that was it for me. My riding crew were on a tight schedule back to CR and let me know that we had to leave to make it back to the ferry. I cleaned my station as best I could, smiled my thanks and goodbyes to the kitchen crew and tore off across the field, hopping over chicken scat and bleached deer femurs to the parking lot… And home.
It was a great day! Looking back almost two months later (sorry for the delay, guy's 'gotta work) I'm amazed at the amount of talent that was on display for those four hours, not to mention all the prep, organization and straight-up love for food and our industry. All that comes from the people… And like I said: These people are the best people.
Save