I've spent the last decade on this rock doing two things related to birthdays: Spending them in kitchens and denying they exist. This has worked pretty well for me as I don't like fuss or obligation or having to admit that I'm getting old. Win freakin win.
This year was a bit different. My chef Matt MacDonald offered me not only a day off, but an invitation to one of the Comox Valley's most celebrated and exclusive parties; The BC Shellfish Gowers Association Gala Dinner! Six of the raddest chefs in BC (hell, in all of Canada!) were converging on Filberg Park to showcase local seafood paired with local wine. I couldn't refuse!
The best part, I didn't go there to eat… I spent the day in the kitchens alongside the chefs (and let's not forget the crew of equally-talented and super badass sous-chefs!) ducking, dodging, watching, gophering and pestering. I helped arrange plates, dotted various sauces in arcane designs, chatted, shared a beer with and most likely annoyed a line-up of foodservice pros I had no damn business being in the same kitchen with. Their patience with a goof like me was staggering!

Each chef got a different protein to play with and custom dishware to express their unique style. Plating was all over the map: First course compact, second goes wildly complex, fourth was just an oyster…Why mess with it?
First Course – Sidestripe Shrimp Carpaccio (Chef Trevor Bird, Fable Kitchen, Vancouver)
"Make it whimsical, you know… Whimsical!" Chef bird kicked off the night with this bit of hilarious instruction, giving everyone in the plating tent a laugh. His relaxed, matter-of fact attitude and good humour eased me and the handful of other volunteers into the plate-arrangement game. Other chefs and sous-chefs grabbed squeeze bottles and jugs of tomato glace. Under the watchful gaze of Chef Bird and sous-chef Brandon the machine started churning out plates.
What a way to kick off! The shrimp were brilliantly fresh/clean tasting with just enough of a sweet hum to play nice with the aforementioned tomato glace and horseradish creme fraiche. Wafer-thin strands of tsukemono-style veg and fried bits of prawn tails finished off the dish, adding sour and salty notes. A shimmering little mound of brilliant colours, lazer-beam flavours and (very importantly, according to the chef) contrasting textures.
For the rest of the night everything had to be, "More whimsical!"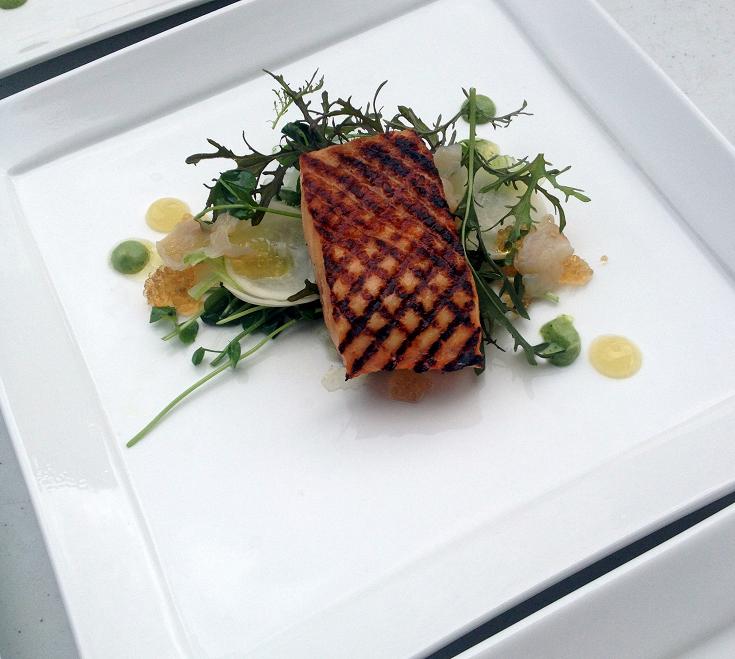 Second Course – Lightly Seared/Smoked Chinook Salmon (Chef James Walt, Araxi, Whistler)
Watching chef Walt and his sous-chef Mark work was like watching two brain surgeons, master violinists, bomb disposal technicians or something. In the early afternoon they prepped silently, the chef slicing sashimi-style geoduck while Mark charred delicate lines onto the cold-smoked salmon. Only occasionally did they look up from their work or comment to one another.
They fielded all manner of questions with aplomb during plating; never failing to provide an enlightening bit of kitchen wisdom or the name of a good local farmer all while darting in and out with squeeze bottles and arranging tiny wisps of organic micro-greenery into precise shapes.
Yes! Precision baby! Each plate meticulously arranged to look like it wasn't. Citrus and salsa verde dotted around micro greens, geoduck sashimi (I remember my chef calling for "More duck!" and me stupidly responding, "There's no duck on this plate!") lightly pickled organic turnips/fennel and (hold onto your El Buli cookbook kids!) apple juice caviar. The delicately cooked salmon was laid over top at a jaunty angle and another course flew out the door.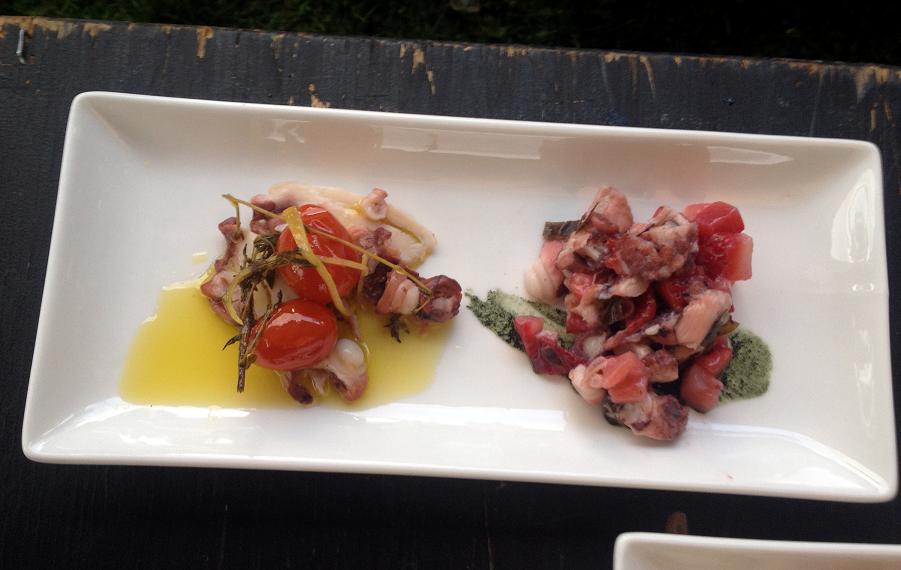 Third Course – Octopus Duo (Chef Mariana Gabilondo, A'Muse Eats, Quadra Island)
Quadra Island's own chef Gabilondo (formally at Gowlland Harbour, now free styling it with her own A'Muse Eats) represented our corner of the island in style with a rustic octopus and strawberry salad paired with an olive oil poached octopus carpaccio with tomatoes and thyme. The flavours were exceptionally clean and evocative of tapas. The kelp puree (at least I'm quite sure that's what it was *laughs*) was a really nice touch.
We chatted later and she expounded on the necessity for chefs to have the freedom to roam. Not just take a couple days off, but really ramble, hit up new kitchens and work with other chefs. She was eager to learn new techniques and grow crazy new ideas that she could then bring back to the Quadra scene. Inspirational stuff!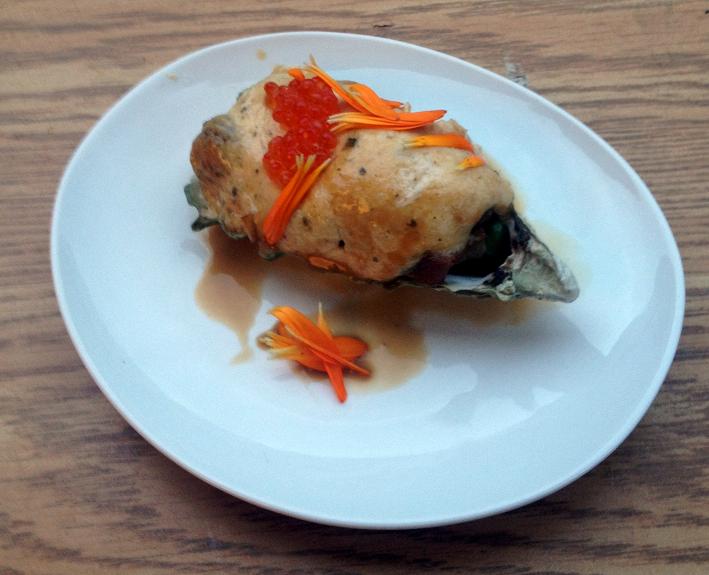 Fourth Course – Grilled Beach Oyster (Chef Nicholas Nutting, The Wolf In The Fog, Tofino)
My adoration of TWITF is very well documented (as is most of Canada's gastronomic community) so going into this thing I knew I'd possibly rub up against the chef of said phenomenon. What I didn't imagine is the moment when I (doing dishes during the Am prep 'cause everyone didn't need an extra hand) turned to this dude and asked, "Uh, hey… seriously, can I help… With, anything at all?" and he generously said yes.
Chef Nutting and his sous chef Jamie were paragons of patience as I leapt blindly into the middle of their well-laid plans. I helped tray oyster shells and fill 'em with bracingly-fresh organic peas and garlic scapes. Then we layered freshly-shucked oysters, caramelized onions and massive lardons of ham. All the while I hosed them down with questions and comments and praise and jesus who the hell is this guy and why doesn't he ever shut up? Yeah, like that.
Later at the Filberg Tea House (adjacent to the plating tent) the chef leans over to me with a spoon full 'o something, "This is the sauce for the oyster, I've been cooking it down, I think it will go well…" This stuff was a dark, buttery wet dream, a uniquely savoury gourmet version of a Teppan-Yaki sauce. Afterward he stood, beer in hand, amongst an ever-swirling mass of cooks, chefs and some dinner guests and shared his thoughts on the local food scene. A mad culinary Buddha within a hurricane.
Fifth Course – Albacore Tuna, Two Ways (Chef Gabe Fayerman-Hansen, Brentwood Bay Resort & Spa, Victoria)
Of all the restaurants represented at the event, The Brentwood Bay Resort was the only one I hadn't done my homework on, which now seems unforgivable after meeting the guys helming the kitchen. Chef Gabe and his sous chef Jesse were rock stars; Laid-back surfer-cook attitude, bucket-loads of enthusiasm and talent all grounded in tough nights slogging on the line and a love of local food. When I asked if they, "Did a lot with local stuff?" the chef broke into a five-mile smile and shrugged, "Local stuff is ALL we do!"
The star of their plate was medallions of local sumac-rubbed albacore tuna seared so red 'n rare you'd swear you saw it twitch. Next door garlic scapes encircled dashi-cooked quinoa and a little toast piled with toro braised in oil until it was fell apart like duck confit. It looked like a little tuna fish sandwich! A bit of tuna-oil (saved from braising the toro) rounded out the plate with a nasturtium flower picked moments before from the Fillberg's garden.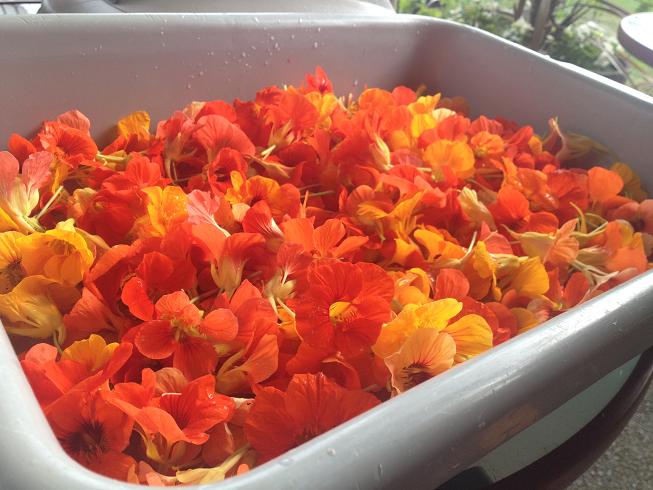 After plating Jesse and I stole a couple moments of zen along the shore to discuss food, cook culture, the inescapable beauty of vintage funk and life in general. Though only a short stroll from the buzzing dining tent it felt like miles. I asked him why he got into kitchens and he said simply, "The people are the best, they're like a tribe." Amen!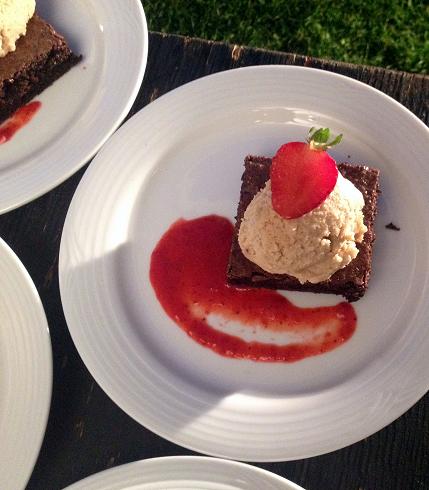 Sixth Course – Sinless Bliss Cheesecake (Chef Greg MacDonald, Waverly Hotel, Cumberland)
Chef MacDonald had the un-enviable task of following up the last five courses of wildly creative and delicious seafood with what (in my opinion) is the hardest course to really nail. It was time for dessert! As I helped him and the other MacDonald (*laughs* that'd be my chef!) sort through edible flowers he shared his thoughts on tonight's closer.
"Just simple, nothing fancy. Good food… And my secret weapon!" He opened a plastic tote full of perfectly spherical, insanely juicy organic strawberries. The kind that shows up at the farmer's market for just a couple of weeks near the end of July and you spend the entire year pining for 'em.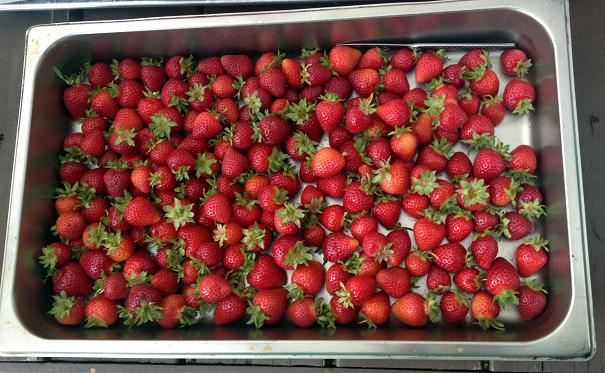 A quenelle of what I assumed was ice-cream, but now think may have been some sort of cream cheese-ice cream hybrid sat atop a flour-less brownie brushed with simple syrup. A swatch of fresh strawberry coulis brought the sizzle while one of those beautiful little strawberries, perched precariously on each knob of whatever brought the sexy.
The final plates flew out into the darkness between the tents and after some perfunctory pictures for this or that online magazine the chefs dispersed into smaller groups to talk shop and bask in some well-deserved accolades from the diners. Chef Matt and I had enough time for a slug of bubbly and a couple handshakes before we jetted back to CR.
Back to work tomorrow!
If anyone is prowling Comox for a place to escape the blistering sun, hit up Fillberg Park's Tea House! Seriously, Chef Kathy Jerritt is hospitality incarnate and her venue is one of the best in the Comox Valley, they even have Cumberland Brewery's Forest Fog on tap!
Mad love and thanks to all the chefs that put up with me. Especially chefs Matt MacDonald of CR Berwick By The Sea and Aaron Rail of Courtenay's The White Whale Restaurant for letting me crash the party and driving my broke ass to the venue.
Best birthday ever.