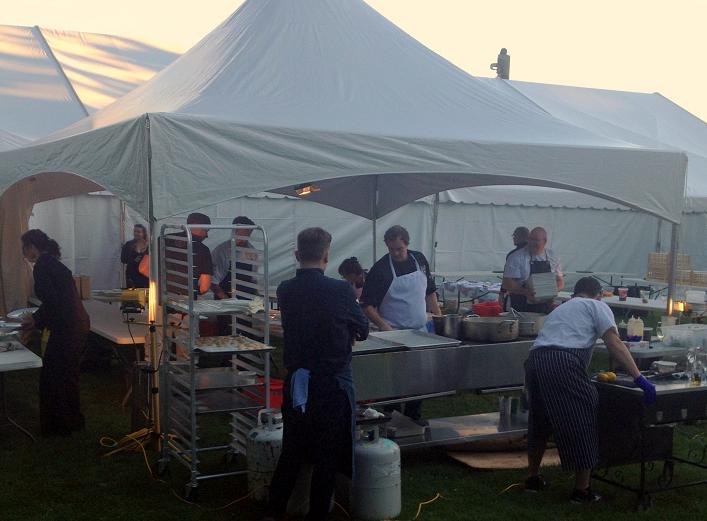 Two weeks ago an army of talented local chefs, sous-chefs, servers, sommeliers and a mob of hungry guests converged on the pristine Fillberg Park for a night we're all still recovering from in one way or another. *laughs* It was time again for the BCSGA Shellfish Gala Dinner, the island's annual wine-soaked celebration of all the good things that come from the sea!
Just like last year the tickets had sold out in mere hours and soon the enormous dining tent would be packed with dignitaries, food bloggers and other glamorous people. Six brand new chefs were on the docket to each produce a dish for the evening's six-course, three-hour marathon of feasting, boozing and fire dancing (wha?) all to support local seafood businesses. That's nearly 1,400 plates of food all told!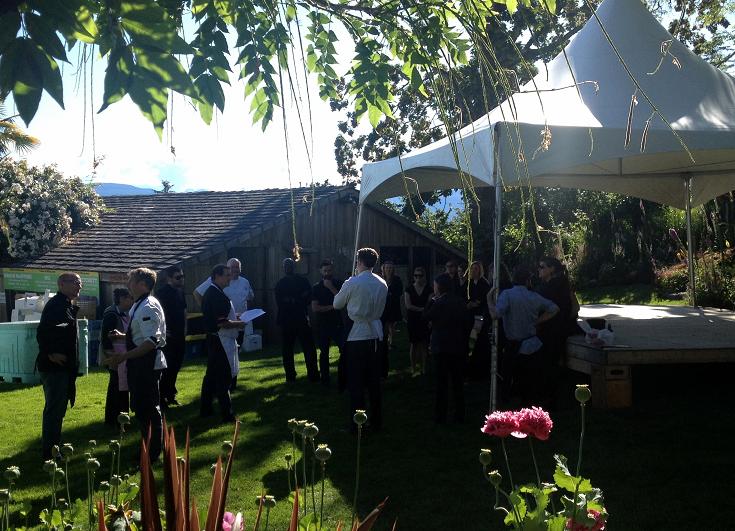 Unlike last year I wasn't just some annoying punk crashing the party. Chef Aaron Rail from Courtenay's The White Whale (once again organizing this circus) had reached out to his 'ol buddy Matt (my chef) to join the Gala lineup and produce a dish inspired by one of a handful of proteins. We accepted and got albacore tuna! Now Matt, Whitney and I were in the trenches representing team Berwick with our very own course. We were the party!
And what a party it was! The news that this would be the final Gala Dinner did nothing to dampen the spirits of the guests, in fact everyone seemed pretty amped up (and a little wasted) as they finished their last freshly-shucked oyster 'n bubbly and took their seats.
The mighty band of chefs and sous-chefs launched into the plating game: Sauces dotted and drizzled, herbs and greens artfully piled and piece after piece of pristine seafood plunked into rakish asymmetry. Each plate the same as the one next to it, but each course wildly different in style and flavour from the last.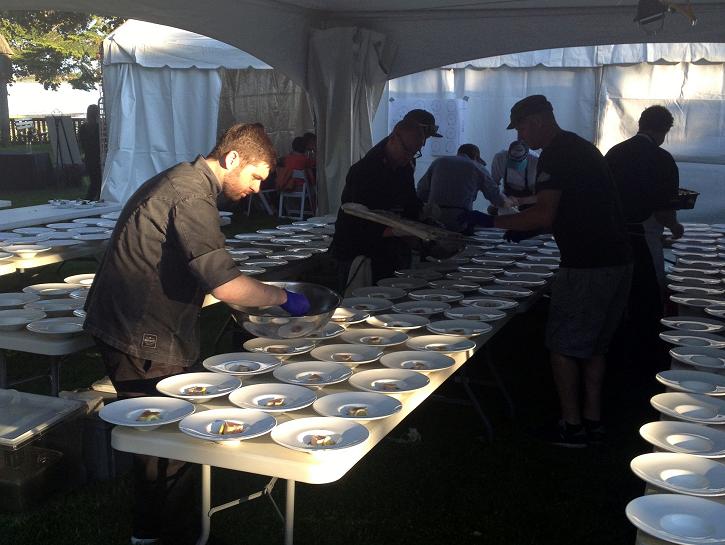 The six long prep tables facing the dining tent filled with endless rows of plates and just as the last fennel frond touched down the signal went out and the waiting servers whisked the plates into the dining room. I had just enough time to snap a pic and sneak a sip of wine before the next course's plates came sliding down the table *laughs* It was going to be a long, crazy night!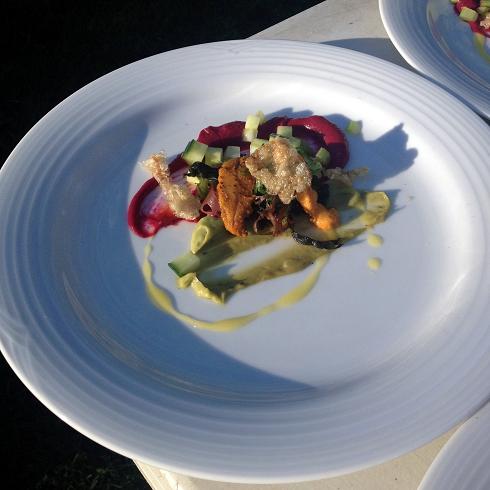 Course 1 – Jeff Keenliside, The Marina Restaurant, Victoria
Balancing the subtlety sweet, buttery twang of uni can be a challenge, so why not throw three different sauces at it? *laughs* Chef's Keenliside's ambitious starter also featured a small seaweed salad, cucumber brunoise and beautiful little crispy chicarrons. The bar had been set high! Big flavours, crazy design and the extra special touch of the chef torching each piece of uni himself just before the plate left for the dining room.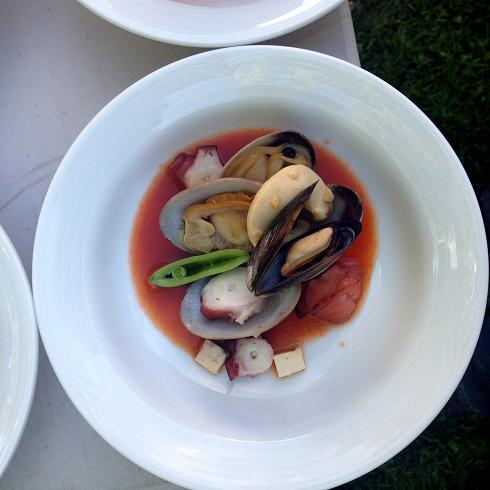 Course 2 – Peter Zambri, Zambri's, Victoria
"It's a bowl full 'o cephalopods!" laughed the chef when asked what he had in store for the diners, "and get this… They're cold!" This got a laugh and a couple of odd looks, but Peter Zambri wasn't completely kidding around. His dish did indeed feature a mountain of lightly-steamed octopus, clams and scallops, but the cold tomato and fennel broth was no joke: somehow rich and light at the same time with a seriously refreshing finish. The dish was finished with scallions, chillies and a last minute hit of freshly grated horseradish then sent on its way. The rustic look and flavour of the dish was a perfect counterpoint to the refined and elaborate first course.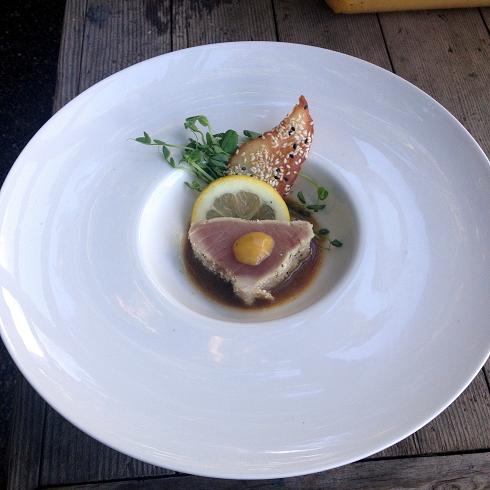 Course 3 – Matt MacDonald, Berwick by the Sea, Campbell River
After a month of tweaking, fiddling, deconstructing and re imagining our tuna dish may have looked nothing like the original recipe that inspired it but it still shared a couple common elements: It was compact, cute but not pretentious to look at, simple to plate and packed with aggressive Indonesian flavours that got a big reaction from the diners.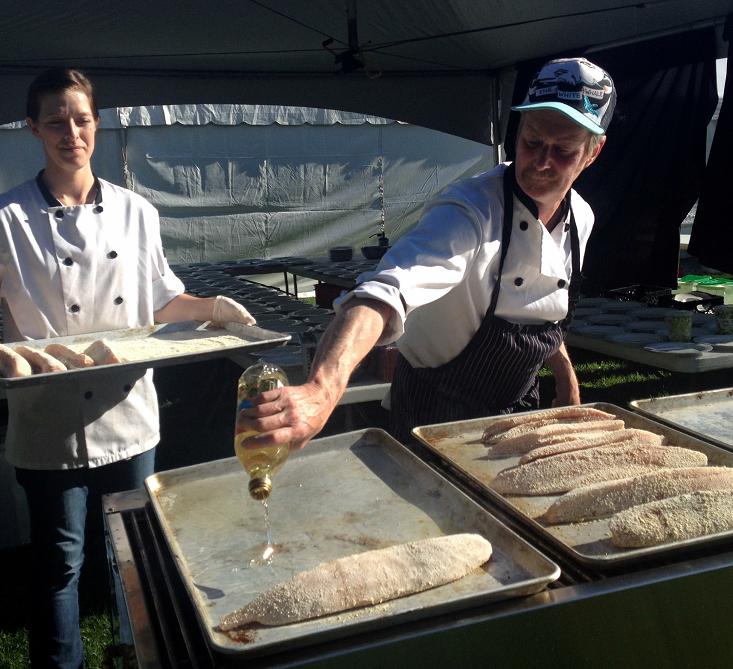 The tuna was dredged in a mixture of roasted rice, peppercorns 'n lime leaves and seared blue-rare on screaming-hot sheet pans over the Fillberg's two outdoor BBQs. Each bowl got a ladle-full of Matt's super-fragrant Indonesian broth, then the tuna, a dollop of my preserved lime emulsion, lemon 'n pea shoots and finally a crispy little sesame tuile.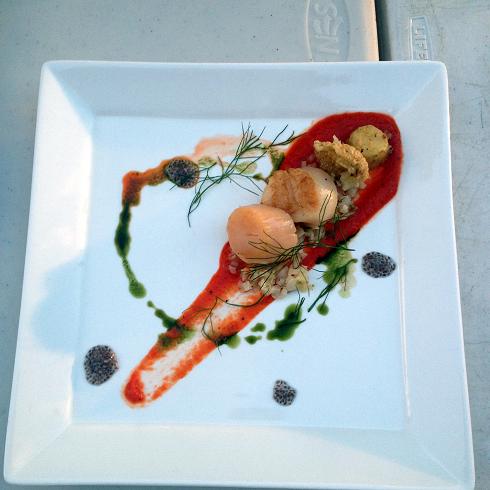 Course 4 – Garrett Schack, Vista 18, Victoria
Chef Schack kept the BBQs cranked up and enlisted some fellow chefs to sear pounds of pristine island scallops while he got down to business: Each plate got a swoosh of roasted red pepper puree, crispy potato crackers, sautéed fennel, basil seeds and a chlorophyll sauce – Which I'd never heard of before and later researched the hell out of.
The scallops dropped, still sizzling from the grill onto waiting sheet pans and the whole crew got to work piling them "just so" onto the plates. Away they went, still warm and cooked perfectly; proving that with a bit of teamwork and mad speed a hot entree was possible! Which was good news for the next chef…
Course 5 – John McManus, The Vancouver Fish Company, Vancouver
Everyone raised an eyebrow when chef McManus outlined his plan to fry 700 spot prawns and have them out fast enough to be served hot, but when it came time to plate all concerns had evaporated… By now, we were machines! Each small plate got a light brushing of maple syrup, dots of spicy mayo and a couple walnuts topped with the deep-fried prawns. Volunteers with good co-ordination and little fear ran the prawns down to the plating area from the tea house in big bowls and within a couple minutes all plates had gone out. The now-completely inebriated diners roared their approval between bites of crispy, sweet 'n salty prawns.
Course 6 – Ian Riddick, Long Beach Lodge Resort, Tofino
Last course, time for a big finish! Chef Riddick's beautiful smoked oysters sat atop a simple, yet elegant corn panna cotta (which as far as I can tell was made with a corn puree and served semi-fredo? Damn…) two different sauces, watercress and thinly shaved radishes. Despite being the only course meaty enough to be paired with a red wine, it was still light and fresh, reminding me of an Italian insalatta.
By this time the sun had set, but we weren't quite done! Chef Aaron and his team had been waiting in the wings with a special family-style dessert of homemade cream puffs filled with (get this, no wait… prepare yourself, it's a little gross) a shellfish cream! Despite the inherent weirdness of this dessert our brave diners found a second stomach and polished off a seventh and final course with gusto. The night was over and there was not much left to do but take a bow and start cleaning up.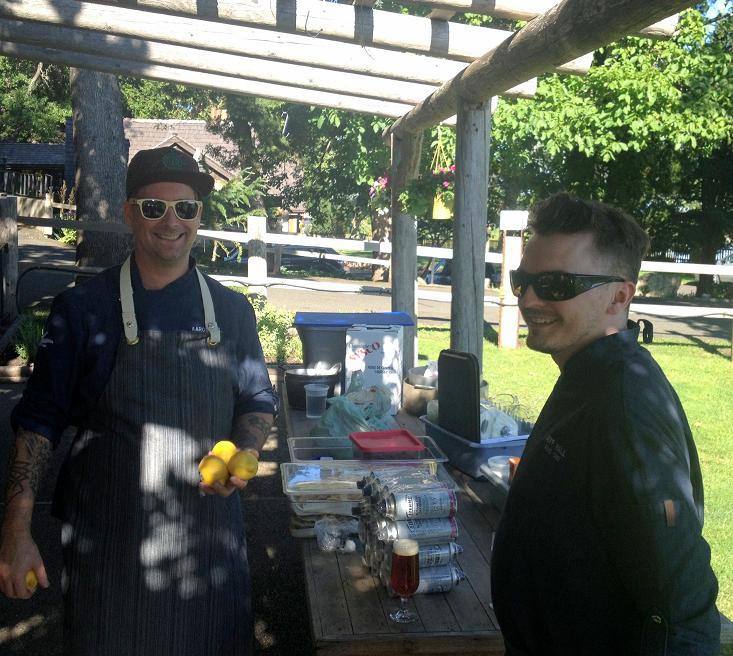 Thanks again to Aaron Rail and the whole team at The White Whale for providing prep and cooler space, bringing extra cutting boards, transporting our precious cargo to the venue and gently wrangling everyone like we were a herd of demented cats… Which we were… Your patience and tact was greatly appreciated!
More thanks to Shayna, Allie G and Elizabeth our very own team of ninja servers, who represented the Berwick front end in fine style and slung plates and bottles 'o wine like pros.
Thanks finally to Chef Matt Macdonald, without whom none of us would ever have been part of this event or the one previous. And Britta! Who, without a second's hesitation jumped in and helped run prawns and wipe plates like it was just another day on the line. Way to live the dream!
I wonder what we'll all do next summer.
Save
Save