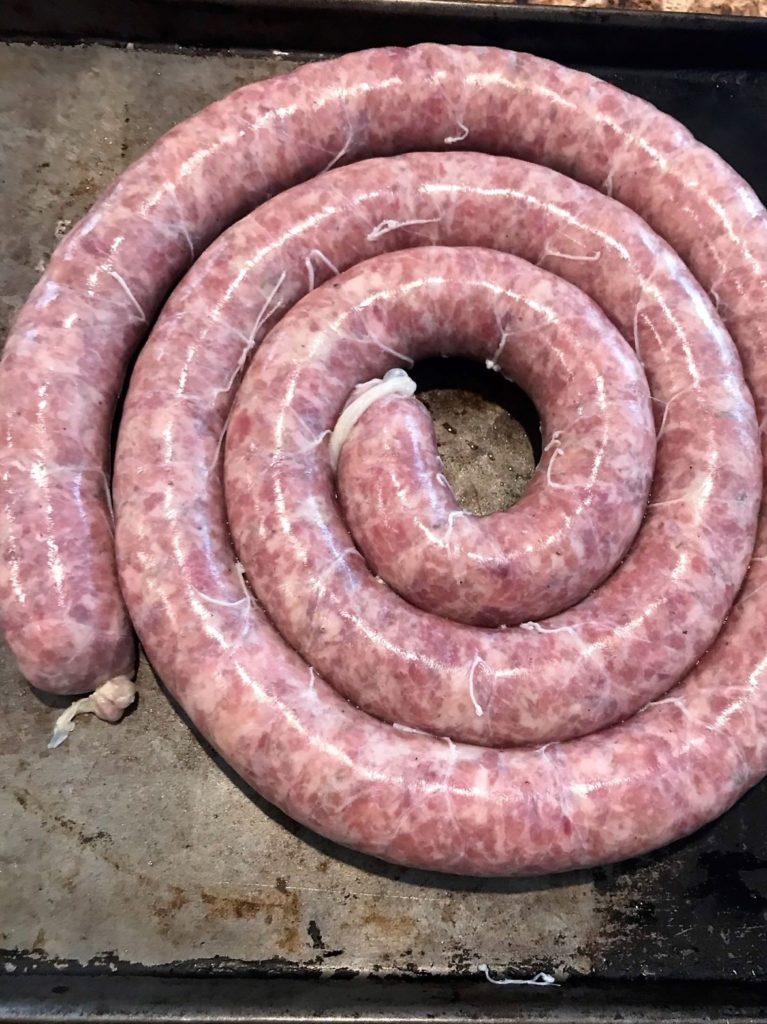 The pork shoulders are back on sale, so it's time to clear the counters and get to sausage making! This recipe is for a much subtler, pork-forward sausage than the fresh chorizo recipe I posted previously but comes from the same cookbook: Charcuterie by Ruhlman and Polcyn. The only change I have made to the recipe is to sub water for wine. Fitting as this is a traditional Polish sausage eaten at Christmas and Easter.
You can check out my step by step Guide For Beginners over here
Fresh Polish Farmhouse Sausage (Makes 20 to 25 6" sausage links)
Ingredients
2.25 kg (5 lbs) Pork shoulder (skinned and diced)
40g (1 1/2 oz) Kosher Salt
72g (2 1/2 oz) Fresh Garlic (minced)
18g (approx 1/2 oz) Fresh Marjoram
10g (approx 1/3 oz) Ground Black Pepper
125ml (1/2 cup) Ice Cold White Wine
Hog casings, soaked in water
Method (A stand up mixer with a grinder attachment and a paddle will make your life immensely easier)
Mix up all the ingredients except the wine, cover and and refrigerate overnight..
Grind the mixture through a medium die, collecting the results in a bowl set over ice.
Pour the wine into the ground mixture and beat with a paddle until it becomes sticky and slightly shiny, approx 1 minute.
Take a minute to cook off a piece of the mixture and adjust the seasoning.
Get out your stuffer and feed your mixture into the hog casings nice and slow. Every 4-5″ gently twist the sausage to create a link. Twist the opposite way for the next link and so on until all your mixture has been stuffed. Alternatively you can tie off a single long 10" sausage and hang them to dry in the traditional Polish way. Prick the casings to keep your newly minted sausages from exploding during cooking.
These sausages will last four or five days in the fridge so unless you are stewing a giant holiday bowl of bigos it's best to either smoke your extra sausage or bag them and keep them in the freezer for up to four months.
Music to Stuff Sausage To: Squarepusher – Feed Me Weird Things (Remastered)