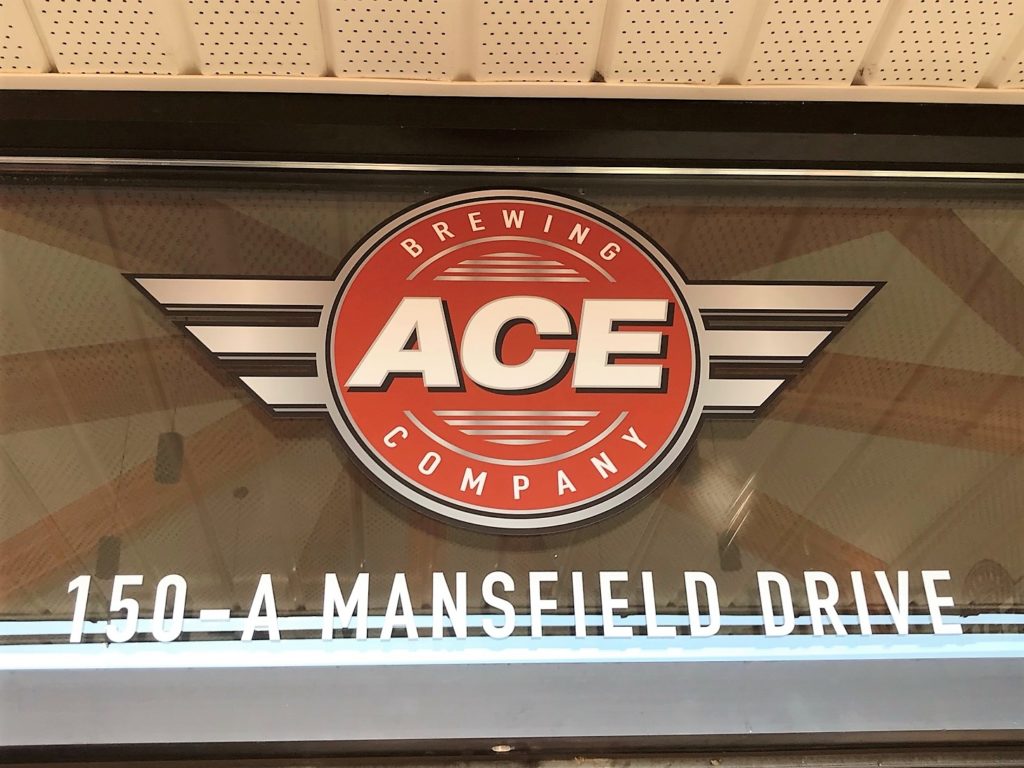 During a couple days off this summer Crystal, me and our MTB buddies Jen and Sean spent a scorching afternoon thrashing around Hornby Island's beautiful Mount Geoffrey trail network. After packing up the bikes the crew needed shade, food and alcohol and seeing as the local Meadery was closed we headed to nearby Courtenay where the breweries are plentiful and the IPAs flow like Mrya Falls.
The newest of these watering holes, Ace Brewing opened up in 2019 just in time to fill the vacuum left by the now- defunct Forbidden Brewing. This cemented Courtenay's hipster cred as a two brewery town and gave people a place to enjoy craft beer and a bit of socially-distanced social time during the worst of the pandemic.
From the minute our sweaty band stumbled through the door I could see why Ace was steadily becoming Courtenay's go-to: Ten beers on tap, ciders, radlers, sexy menu and space, lots of space! The cavernous interior was shaped like a wood 'n brick circus tent – I wondered what the hell this building housed before this – with an equally large outdoor patio spilling into the parking lot. That patio was the key to surviving the pandemic as many restaurant and bar owners learned last year.
The brewery's theme (because you absolutely need a theme!) pays tribute to CFB Comox, a nearby Canadian Air Force base established during the second World War. All the beers have airplane names and the brewery's decor has been lifted from old RCAF bars. I especially liked the collection of parade band records along the back wall.
We ordered a bit of food and flights of beer with funny names, here's what we loved:
Spitfire Lager: Simple and crisp workhorse of a light beer with just a bit of bitter to keep it interesting. Crystal had it mixed with fresh lemonade as a radler and it was exceptional!
Kitty Hawk Cream Ale: Sweet and smooth with a nice nutty, caramel finish. Pretty light as far as cream ales go, but that was nice on such a hot day.
Jet Fuel IPA: Ace's signature brew is a West coast IPA with a huge floral, spruce and citrus aromas followed by an old school facepunch of hops and a smooth finish.
Low Altitude Hazy Pale: The other kind of IPA is equal if not better to it's West coast brethren. This brew is all tropical and minty aromas with a very reserved hops bite and a nice herbal finish. It was definitely my favourite of the bunch!
Alongside all this great beer we had a massive, warm and perfectly spungey pretzel with a house made beer and cheese sauce and an absolutely massive plate of nachos with shredded chicken, scorching jalapenos and all the fixings. Both were delicious and messy fun to eat.
A couple groups sauntered in after us looking for food but had to be turned away because the kitchen was closed (so if your coming for food, come early!) later I had a chance to ask the ladies running the bar why this was and got the answer I expected and feared: Staff shortages. Turns out Courtenay is just as bad as CR, with over 40+ open ads for line cooks unanswered in town at the time of this writing. I thanked the crew for their honesty and for the fantastic service.
I brought home a growler of the Hazy Pale and emptied it with Crystal during the next evening's dinner. Now Ace stands shoulder to shoulder with all the North Island Breweries in my collection.