Holidays are the balm of body and mind. It's been a couple days into our long-awaited stay-cation and I'm already starting to feel my soul regenerating and plotting future adventures just like the hedonistic super villain I remember myself to be.
Ironically, one of the first recipes I got to work on between mountain biking trips was a banger I perfected at work. A sublimely simple way to take trout – a tasty and plentiful local river fish – clean up its mealy texture and enhance the profound sweetness buried deep inside.
Way back chef Matt and I wanted to smoke a ton of trout fillets for a function and needed to figure out a way to cook 'em moist 'n zingy while keeping them from dissolving during the process. Trout fillets run the gamut of size/weight from spring salmon-sized at the high end to something closer to a herring and everything in between, so overcooking can be a real problem. What we discovered shouldn't surprise anyone: Keep the smoke light, the temperature low and for goodness sake make sure the trout are fresh.
And the trout that Crystal I and I got for our holidays were fresh! Not that I caught them myself or anything; Fishing is as impenetrable and boring to me as golf or MOBA, but I do know a couple people who can get us the good stuff. Kitchen life perks! These buggers had the clearest eyes and most amazing rainbow-hued scales.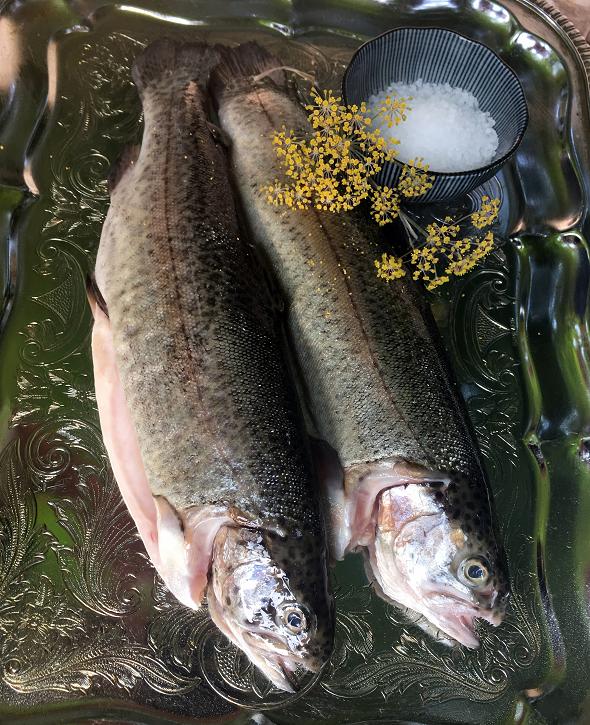 This is a two-step recipe: First marinate the trout in a fresh, herbal, Scandinavian-inspired marinate for about half a day (longer for the really big buggers) then fire up the BBQ with a smoker attachment and jus let them bathe in smoky, ambient heat for less than an hour. Its way less involved than smoking salmon or black cod and works just as well for similar-sized fish like herring or mackerel.
Smoked Trout (Makes 4 Fillets)
Ingredients
50g (1 ¾ oz.) Salt
35g (1 ¼ oz.) White Sugar
20g (3/4 oz.) Brown Sugar
60ml (1/4 cup) Vodka
The Zest and Juice of 1 Lemon
4g (1 ½ tsp.) Dried Fennel Seed
4 Medium sized Trout Fillets (95g each, cleaned with skin-on)
Method
Mix all the wet and dry ingredients together and rub all over the trout fillets. Wrap tightly in plastic wrap, place into a non-reactive container and refrigerate the trout in the marinade for six hours.
Fire up the coals in your BBQ and pile them all in a corner. Set up the grill across the BBQ over the opposite corner. Rub the grill with oil to prevent any sticking. Throw a handful of wood chips onto the hot coals and slap a lid on the BBQ.
Remove the trout from the marinade, rinse under cold water and pat dry with a towel. Once the BBQ begins smoking open it up and quickly place the trout fillets on the grill opposite to the coals. There should be no heat directly under any parts of the trout; it's all got to be ambient. Close the BBQ and check the internal temperature: It should never go above 225˚F (107˚C). Smoke the trout for 45 minutes or until it flakes at the edges.
Remove the trout from the smoker and set them aside at room temperature for about half an hour before digging in.
Here's two ways we served the smoked trout, both really simple, summery and packed with killer flavours:
Smoked Trout Nicoise Salad
Arrange a couple of plates with a generous portion of arugula or baby kale and top with an assortment of snappy summer veg: Boiled baby potatoes, fresh green beans, capers, cherry tomatoes, nicoise olives plus a flaked fillet of smoked trout and half of a boiled egg. Drizzle with a vinaigrette made of shallots, fresh horseradish, white wine vinegar and olive oil. This must be served al fresco with everyone helping to arrange their own salads and lots of steely Riesling for inspiration.
Smoked Trout Cakes
Mash a couple fillet's worth of smoked trout together with a couple boiled russet potatoes, bread crumbs, fresh dill, chopped spring onions, lemon zest, Old Bay seasoning and lots of black pepper. Form into small hockey pucks. Pat some more bread crumbs on the outside and fry 'em in a wickedly hot pan filled with plenty of butter, three minutes per side or until golden. Serve these little guys late at night with all of your friends around and a little tipsy. Make them shape the cakes while you fry 'em, sliding each batch off of your pan onto a large serving tray piled high with forks, napkins and lemon wedges. A cold, crisp lager or (Gods help you) vodka is a must!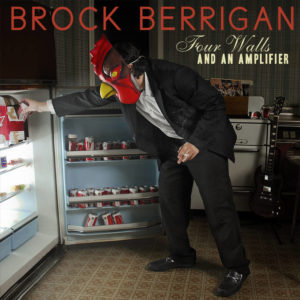 Music To Smoke Trout To:

Brock Berrigan – Four Walls and an Amplifier