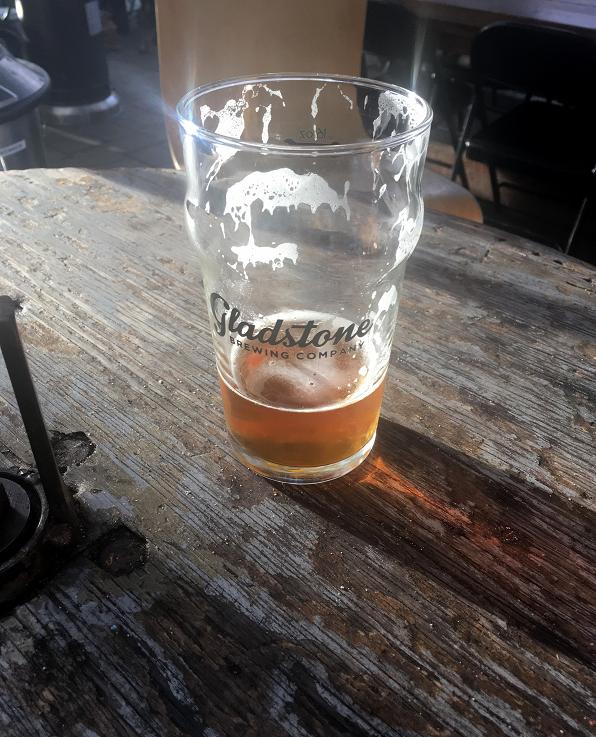 Gladstone Brewing is one of the Comox Valley's most beloved institutions. It's the flagship brewery of the North Vancouver Island craft brewing scene and it's an absolute blotch upon EDB's already sketchy reputation that we've only just got around to discussing them. For shame!
I'm definitely familiar with the brewery's work. In fact I've drank quite a bit more of Gladstone's beer at various local restaurants than I have almost any other local brewery. I'll also admit to frittering away more than a few afternoons at the brewery proper, debating proper pizza dough thickness with Chef Matt while quaffing some seriously tasty craft beer.
The real reason it's taken so long is a simple lack of documentation. Every time I'm there I forget to take both notes and pictures. But no longer! A couple months back a crew of our staff went brewery-hopping and I was finally able to get some pics of Gladstone, their beer and equally tasty pizza (more on that in a bit) and splice it all together to finally show this landmark some love.
First off, their location is perfect: Smack in the middle of Courtenay across from the Paleontology Museum (We've been in there, it's awesome!) with a boatload of parking and a big patio. It's easily within walking distance of anything you'd want to visit including most of Courtney's best restaurants. In short; Gladstone is the perfect summer day drinking destination.
The former auto garage is a great venue aesthetically as well as logistically. Instead of going for a bicycle theme like Cumberland and Campbell River's breweries, Gladstone embraces its grease monkey roots and incorporates all manner of reclaimed auto parts into their decor and uses mechanic's tools as their tap handles.
Our crew of fifteen or so people piled into Gladstone around 2:00pm (thank you to the staff, it's always hard to accommodate such a mob!) and found the place mostly empty. Within an hour the place was a hive of activity and by 4pm it was shoulder-to-shoulder shouting crazy. So yeah, day drinking is the best way to enjoy your company! *laughs*
Second, the beer is on point: The regular menu has all the usual suspects (ie. ale, pils, porter and of course an IPA) and every single one is solid, but for my money the best beer you'll taste at Gladstone will be Belgian or German. Their Dubbel, Berliner Weisse and Munich Helles are some of the best beers I've had in a while. They are big and boozy in character and though not the best for a hot summer afternoon (that's more of a Golden Bitter situation) they pack as much flavour into their individual punch as their ABV.
Almost everyone in our party got the tasting flight which featured four mini beers poured from whatever was on tap and served in a hollowed-out license plate. Like I said, the little auto shop touches are genius! The beer menu is ever revolving and evolving, subject to the whims of the brewers and their friends. Lately Gladstone has paired with other local breweries to create a series of additional seasonal beers that push the creativity envelope further with lots of exotic types of hops and ingredients added to the mix.
Third, the food is exceptional!
Like many other breweries (or perhaps in precursor to them) Gladstone has a pizzeria adjacent to the brewery named Pizzeria Gorilla. They feature a weekly board full of seriously thin, authentic Neapolitan-style pizzas topped with locally-sourced ingredients that break boundaries and spin-kick taste buds in equal measure. It's Matt's pick for best pizza in Courtenay/Comox… And Matt used to run the premier pizza joint in these parts, so take that recommendation to heart.
We got a couple pizzas to share amongst our Mongol horde and all of them were killer: The Pizza de Fungi  was meaty and deeply satisfying without having any meat, much like the equally amazing "Red Zeppelin"  which was stacked with grilled eggplant, peppers and all manner of complimentary cheese 'n herbs.
But forget the veggie pizzas! The best I had, by far was topped with caramelized onions and itty-bitty lamb meatballs. The contrast between thin, crispy sesame crust and the dense, squishy and deeply savoury meatballs was perfect and even the slight greasiness added to the overall comforting, beer-friendliness of it all.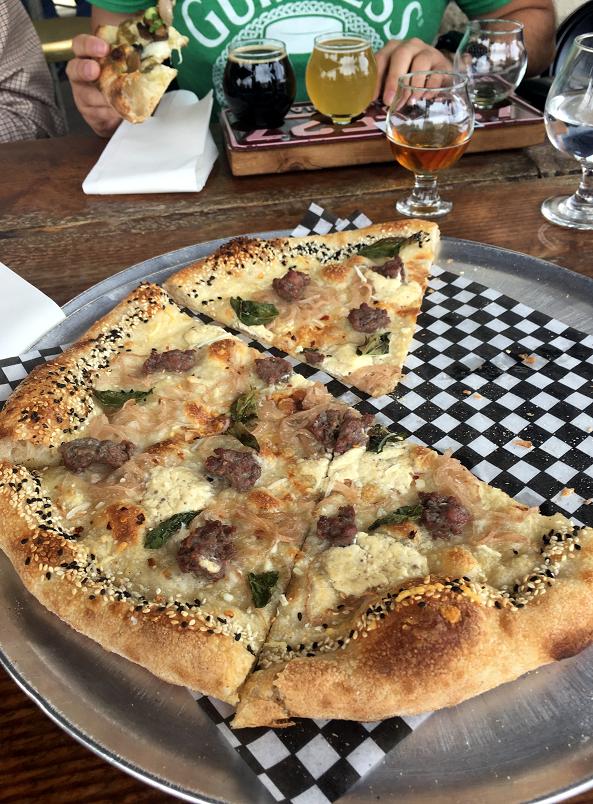 To review: Gladstone is the bomb, we had a blast and I've no doubt that anyone reading this will as well! Grab a spot outside for lunch before the weather goes full-autumn, order something Belgian and a pizza to share with friends and enjoy downtown Courtenay's vibe.
And when you're done you can cross the street and learn about dinosaurs!