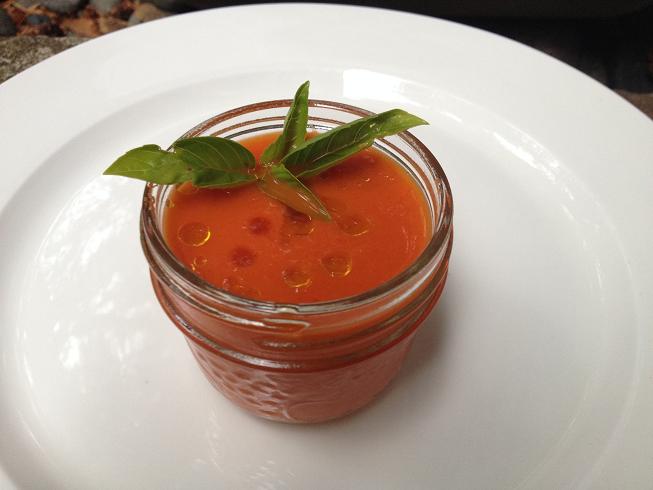 Summer's run aground and once again the cold winds whistle an autumn tune. It's time for us West coasters to throw on long pants, switch over to red wines and make plans for the weekend's mushroom hunt. But wait! Before all that fun stuff the garden needs to be cleaned up: Herbs trimmed, squash exhumed, Peas and tomatoes plucked.
This year's tomato plants (once again courtesy of the "Tomato People" at the farmer's market) equalled the mighty bushes of years past in height, but the amount of fruit they yielded doubled! I 'dunno whether its global warming, different fertilizer, or the sacrifices we offered to Demeter but we've got barrel's full of heirloom Roma and cherry tomatoes in every colour you can imagine. Even if I get around to canning and pickling and eating salad through to October we'll still have leftovers.
And so. Gazpacho.
I've spent a fair amount of my life behind a stove trying to make a really good gazpacho (ie. a cold tomato soup with lots of flavour and an old Spanish name) and I've learned a couple 'o hard lessons along the way. Most important was that the authentic Andalusian recipes with breadcrumbs and chunks don't appeal to me, my guests or most of the North American eating public. A modern gazpacho must be simple, explosively flavourful and smooooooth.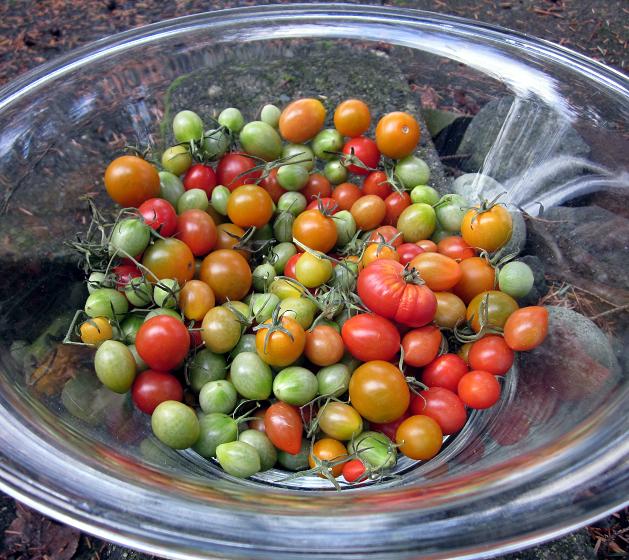 I think I've got it. For a modern restaurant-worthy gazpacho it all boils down (heh) to quality, care of preparation and courage to let the ingredients speak for themselves. These mantras I've put into practice and the results have gotten better and better:
Edict #1: Use the Best Tomatoes
Gazpacho only tastes as fresh and sweet as the tomatoes you put into it, it's as simple as that. Make this a late summer treat, use tomatoes you've grown yourself and never, ever use supermarket product… The results will only make you sad.
Edict #2: Don't Add Extra Liquid
Fresh tomatoes release enough moisture when they are cooked or pureed to make a soup all by themselves, do not dull their beautiful flavour by adding any stock our juice.
Edict #3: Strain and Strain Again
Every time you cook or puree a tomato you strain out all the pulp and save it for salsas, pasta sauces and soups. The smoothness that remains is the entirety of your soup. Praise be to it!
Tip #4: A Fresh Finish is Key
A little trick I picked up from Yoshihiro Murata's Kaiseki cookbook (which I never thought I'd actually use to cook!) was to cook half of the tomatoes and leave the other half uncooked to preserve their super-fresh flavour. Once everything is chilled, the fresh juice is used to finish the soup.
This recipe is crazy simple and a great base for experimentation. Try adding another fresh summer ingredient into the mix like pineapple, jalapenos, raspberries or tomatillos. Just always make sure to keep the focus on the tomatoes. Be proud of 'em!
Tomato Gazpacho (Serves 2-4 as an appy-sized soup)
Ingredients
2 Tbls. (30ml) Olive Oil
½ Medium-Sized Shallot (50g, chopped)
4 ¼ oz. Sweet Red Bell Pepper (120g, chopped)
25 oz. Roma Tomatoes (approx. 700g, chopped)
1 Clove (5g) of Roasted Garlic
14 oz. Cherry Tomatoes (400g, chopped)
1 Small Hand Full of fresh Basil Leaves (5g, chopped)
The Juice of ½ a Lemon (30ml)
Salt
Method (Grab an immersion blender and a fine mesh sieve)
Heat the olive oil in a small saucepan over medium heat. Toss in the shallots and cook 'em until translucent, about 2 minutes. Add the peppers, roma tomatoes and garlic and slap a lid on, cook for 10 minutes and remove from the heat. Puree and strain the liquid into a bowl and shoot it into the fridge to cool. Don't toss out all the solids, save 'em for salsas, pasta sauces and soups.
Puree the cherry tomatoes and basil in a separate bowl, strain and add that liquid to the first batch once it's completely chilled. Season with lemon juice and a bit of salt. Serve garnished with basil leaves, a couple drips of olive oil and white balsamic vinegar.
Music To Cook To:
Chef: Original Motion Picture Soundtrack