A month ago – Back when blueberries were blooming on alpine meadows throughout the Strathcona Park range – My wife and I were pulling into a hotel on another mountaintop. Whistler was the final stop on our invigorating mountain bike tour of the Caribou Highways and Byways and despite my physical exhaustion I was spiritually elated!
Whistler is home to, among other things, the restaurant that I most wanted to cross off my local bucket list. I'd met the chef of Araxi at the BCSGA Shellfish Dinner months back and had decided that if we ever made an appearance on the mainland that was to be my Mecca.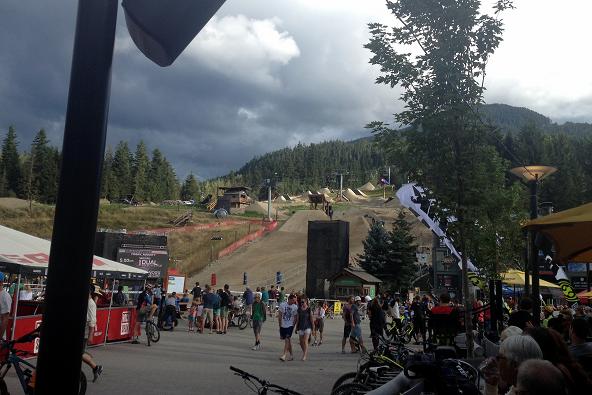 But my wife and I weren't the only ones making this pilgrimage. The finest mountain biking maniacs in the world, along with TV crews and thousands of fans were descending Whistler's legendary slopes as part of the glorious week-long catastrophe that is Crankworx.
There we were, less than a block from the Boneyard sipping exquisitely prepared Peach Sangria and frosty Moscow Mules (yes, of course in a copper mug!) while drooling over oysters and every $30,000 downhill bike that zipped past. It was the ultimate dinner theatre for a couple 'o MTB nerds like us!
Our appetizer was a special end-of-summer treat: Stuffed Zucchini Blossoms with local micro greens, sundried tomato shavings and a dazzling array of purees and sauces. All of the flavours unique and strong in their own right, yet gelling together without any fuss to ultimately compliment the crispy-yet-yielding blossoms. Sexy stuff.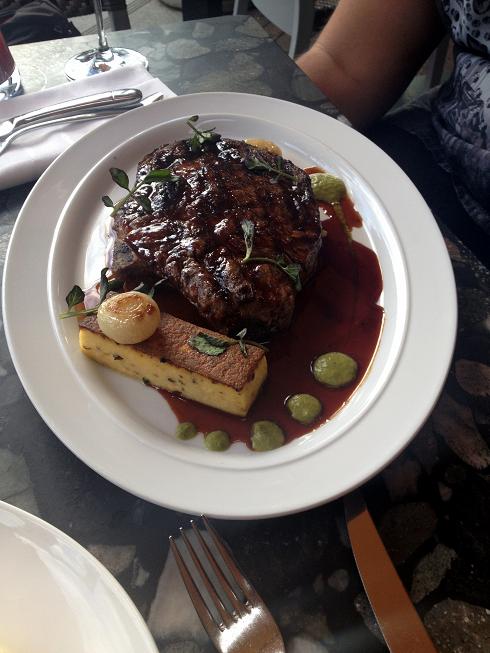 Crystal, craving red meat after a week of constant hiking and peddling ordered the biggest goddamn steak on the menu! A massive 10 oz. Ribeye blasted to a perfect medium rare on a "High Temp Inferred Grill" (whatever that is) accompanied by grilled chipolini onions, a dainty little seared Parmesan polenta cake and a can't stop till you get enough peppercorn reduction. Maaaaaaaargh! It was big, meaty Valhalla!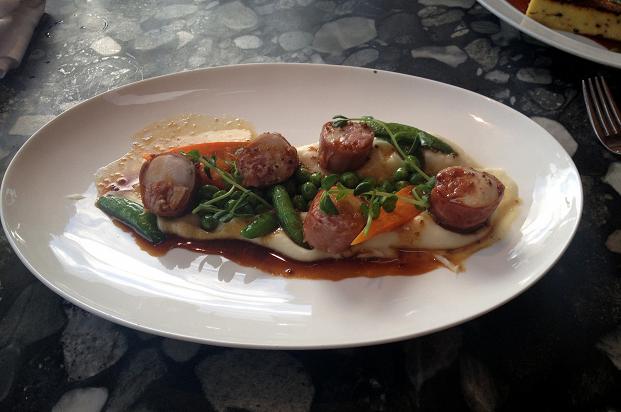 I chose a slightly more subtle, yet no less flavourful prosciutto-wrapped rabbit loin with whipped potatoes, seared local carrots, peas and shoots with a Dijon sauce. Beautiful, finely-grained meat with a hint of saltiness from the prosciutto with a fluffy cloud of starch to make it all the more filling/satisfying. If Crystal's steak was Houses of The Holy, my rabbit was Dark Side of The Moon.
All of the veggies we ate were perfectly cooked, knobbly, dense and incredibly flavourful. They weren't just a freeze-dried afterthought piled next to the proteins, but unique little surprises that added extra layers to already nuanced plates. The peas especially sang loud and proud.
The service was excellent. An army of well-trained, informative and not a bit pretentious staff flitted in and around the tables on the patio like ninjas making dishes disappear, arranging complex wine flights with a few deft moves and patiently explaining the menu and landslide of specials to each and every diner with charm and guile. The table of barely-intelligible Japanese business men beside us got every strange request their scotch-soaked hearts desired and seemed pleasantly surprised by all of our server recommendations. They saluted us many times during both our meals with big, loopy grins before going back to planning the Izakaiya joint they were opening across the street.
No, we didn't get dessert… I'd already ate and drank my fill (as well as two-thirds of Crystal's steak) and could feel my body assailing the walls of Gourmandom without a grappling hook or a prayer. Any more and my night would be spent (as so many of my nights are) groaning and tottering back to wherever we're staying, propped up by my ever-indulging wife before total mental and physical collapse. Check please!
What a meal! Even better than the meal we had in Van at Araxi's sister restaurant the Blue Water Cafe! Chef Walt's wildly-complex-looking plates were in fact very accessible and packed with an insane amount of flavour, both comforting and surprising.
An absolutely class act from top to bottom, and one of the best damn patio experience we've had in a while!
Did you see that kid go by with the pro downhill Santa Cruz? He looked fifteen! *laughs*