Nestled in the pine beetle-infested cockles of south-central BC, along the Cariboo Highway waaaaaay past the mountains is a sleepy little valley with a really strange name:
108 Mile House (along with a handful of other stops along this route) were once inns for American prospectors back in the 1850s providing a chance to rest and avoid bear attacks between civilization and the big Barkerville mines up North. Nowadays it's a quiet little spot with a museum, clean public restrooms, poorly marked mountain biking trails, pissed-off looking cows and acres of wild raspberry bushes.
I'd never seen raspberries in the 'ol wide open before! There my wife and I were, only a quarter mile from the highway, turning the map 'round and 'round in the dwindling light wondering if the local farmers would ever find our bodies when Crystal, surveying the endless meadow says, "Well, at least we won't starve…" The bushes we'd been riding by for the last couple 'o hours were all exploding with tiny red miracles of flavour.
Wild Raspberries grow all over the interior of BC and some parts of the island. Much like wild Blueberries they prefer high elevations and flourish in dry, sandy soil with plenty of direct sunlight. With CR's cooler climate and densely-packed black earth, I'd never come across such a huge congregation of 'em. They enjoy the company of Fireweed and Oregon grape, so if you see either of them around, raspberries won't be far away.
The bushes grow anywhere from two to five feet high with woody central stalks and younger rust-coloured shoots extending out into green, arrow head-shaped clusters of three leaves. The stalks and shoots are covered with small wickedly-sharp little barbs and the leaves have tiny little teeth as well so it's best to come prepared for war.
What You Will Need To Forage For Wild Raspberries
Container – A bag or plastic container with a seal-able lid is ideal for storing your berries.
Gloves – Though raspberry bushes aren't as heavily armed as their larger, darker cousins they will not give up their jewels without a fight. After a while those little cuts add up, so protect your fingers!
A Proper Map and Compass – Sometimes the search for wild berries takes you far outside the un-blinking stare of Google Maps. Getting turned around and around is another common occurrence, so it's best to pack a couple old-school tools to get back home.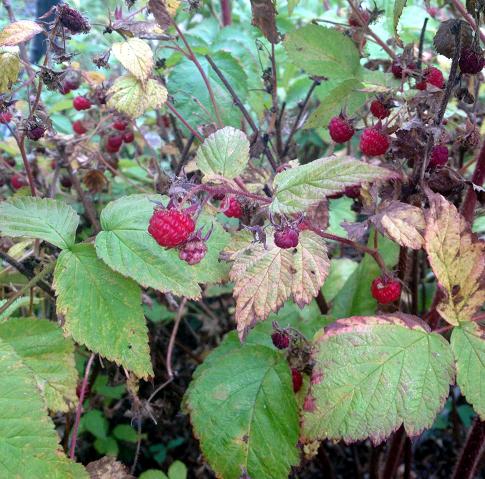 The leaves will begin green in the early summer and slowly yellow as the season wanes. By mid-august, when the berries are at their sweetest the leaves will have a yellowish-orange tint along the edges which makes 'em easy to pick out of the surrounding flora. *laughs* Once you know to look for them!
The little white flowers develop into berries early on, but won't be ready to pick until they turn bright red and become slightly squishy to the touch. A bit of pressure and a slight twist should be all that's necessary to pop one off from its stem. Despite this softness, they'll keep their shape for a couple 'o days in the fridge as long as they aren't tightly packed together.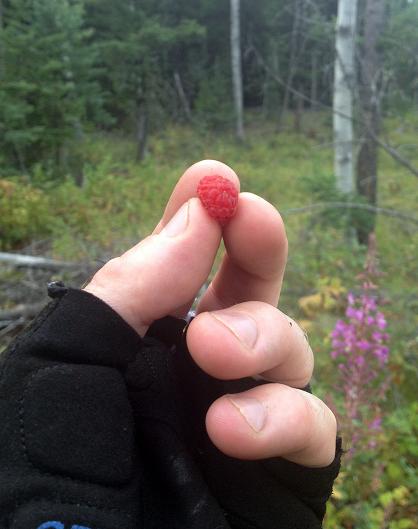 Comparing ripe wild raspberries to their store bought domesticated cousins is like comparing a fresh Florida orange to a lump of week old frozen concentrate. Wild rasps have a balsamic sour-sweetness (from weeks in the sun, their sugars reducing and congealing) backed up by the most satisfyingly wild herbal finish that reminds one of thyme, savoury and lemon verbena. The finish is light and fizzy like a blood orange.
In the kitchen, wild raspberries are very versatile lending a sweet 'n sour element to desserts like gelatos, granitas, tarts, cakes, pavlovas, trifles, and a host of summer cocktails. They also complement savoury dishes, pairing especially well with goat's cheese, pork, duck 'n other game fowl and chillies.
Imagine a shredded duck leg taco with jalapeno and raspberry salsa and a chilled glass of prosecco… Damn. The perfect goodbye to summer!