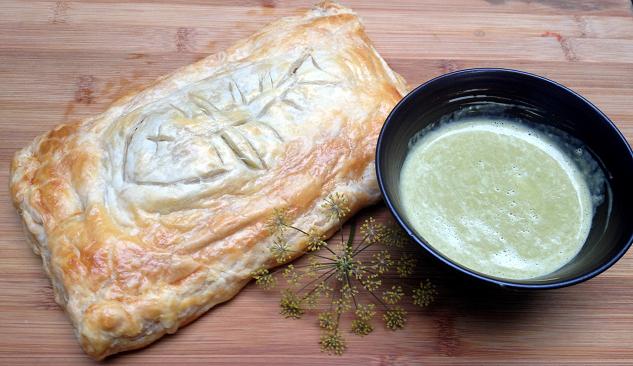 When you are knee deep in pink salmon – So much so that the local markets are selling whole fish from the backs of trucks for five bucks apiece – A particularly fish-friendly herb takes over your zen garden and your cousin Facebooks a picture of a meal you've been dreaming of for months and tags you in it… The universe is giving you signs.
Beef Wellington, which may or may not be named for the Napoleon-smiting English Duke (not, unfortunately the Legendary Jazz Leader) is a lavish piece of English gastronomy which in involves slathering a premium piece of beef tenderloin in pate and cooking it in pastry. Salmon Wellington is the same pastry-wrapped behemoth with a little of the Westcoast's best known seafood swapped in for the meat. It is much lighter in both taste and price than the beef fillet, yet still commands the table at any dinner party.
Speaking of saving money: Its pink salmon season, and from what my fishing friends tell me, it's been a hell of a run! These small humpbacked fish have much paler flesh and nuanced flavour compared to other varieties of Pacific salmon, but are cheaper and abundant during the late summer. Right now whole families take to the pier with fishing rods in hand and (as mentioned) local grocery stores sell salmon for pennies a pound.
Now pinks are just as delicious as any salmon, but because they aren't the prettiest shade of red to show off to your dinner guests, they're perfect for stuffing into pastry and hiding under leeks and creamy sauces. As a former chef of mine once said, "I use 'em whenever people don't need to see 'em."
The sauce I'll serve with my big salmon hot pocket will feature a new addition to this summer's herb garden. Sorrel is a juicy, arrow-shaped leafy herb native to Europe and the Mediterranean that is packed with oxalic acid which gives it a surprising sour taste like under-ripe kiwis. It's fun to sneak into soups and salads and pairs nicely with seafood of all kinds. Shallots and heavy cream will join the party making this sauce both very rich and very, very French.
None of this would have happened if it wasn't for a random facebook post from my cousin Ernie. He's a great cook and recently hosted a dinner party, presided over by a damn fine looking salmon wellie. Thanks for the inspiration cuz!
Salmon Wellington with Sorrel Sauce (Serves 2-4)
Ingredients
1 – 8oz. (225g) Sheet of Butter Puff Pastry (cut into two equal 6×4 inch pieces)
14oz. (400g) Salmon Fillets (cleaned, scaled and pin bones removed)
Salt, Pepper and Fresh Dill
4oz. (115g) Leek Confit (room temperature)
1 Egg (beaten)
1 Tbls. (15g) Butter
1 ½ oz. (45g) Shallots (finely diced)
1 cup (30g) Sorrel Leaves (chopped)
2 Tbls. (30ml) White Wine
½ Cup (120ml) Heavy Cream
Salt and White Pepper
Method (Pre-heat oven to200˚C or 400˚F and grab your immersion blender)
Sprinkle a handful of flour onto your cutting board or cleaned workspace to keep the pastry from sticking. Lay out one of the pieces of pastry and place the salmon fillets in the middle of it, tucking the belly bits underneath to form a vaguely rectangular block of salmon that will cook evenly. Season the salmon with salt, pepper and dill and spoon the leek confit overtop.
Place the second piece of pastry over the salmon like a shroud and gently pull the edges of both sides until they meet. Pinch or roll the dough to seal them together all along the edge. Cut off any excess dough from the edges and make sure there are no tears that will let out the heat during cooking. Decorate your big pastry pocket with any excess dough, or cut patterns into the top that will darken and expand when heated. I went for the cartoon fish look and everyone thought it was pretty cute.
Lightly brush the surface of the pastry with a beaten egg and fire it into your pre-heated oven for 20 minutes or until it glows golden brown. In the mean time, make your sorrel sauce:
Melt the butter in a small saucepan over medium-high heat and add the shallots. Cook 'em until they are soft and translucent, about 2 ½ minutes then add the sorrel and cook another 2 minutes. The sorrel will take on khaki, Che Guevara green colour. Deglaze the pan with white wine and cook for 4 minutes or until the wine reduces by ½. Add the cream and cook another 2 minutes before a final seasoning. Puree the whole shebang together with your handy immersion blender and strain through a fine mesh seieve to get a nice smooth consistency. Serve with the Salmon Wellington.
Music To Cook Too:
The Clash – London Calling